In every sort of E-commerce business, product images play a vital role to attract buyers and bring conversion. According to research, 7 out of the 10 people give priority to the product image while purchasing online.
Without beautiful product image, the customer assumes that the product might not be good enough to make a purchase. Let me guess, you are connected with the Product Selling Business. Professional Photo editing can assist you to get rid of these unexpected scenarios.
Are you enthusiastic to know about E-commerce Image Editing for your Product? You are at the right place. In this article, I am going to reveal how to edit Product Photos like a professional photographer. Through this article, you are about to learn everything you need to edit Product Photography.
Can't wait anymore? Let's make a dive forward.
First Things First – The Very Basics of Product Photo Editing
Let me start with the basics of optimizing your product images. Do you know what Product Photography is? It is not only the process of taking commercial images.
It has three steps: Pre-Production, Production, and Post-Production. Pre-production is the preparation you take before capturing Product Photos. The production stage refers to the photo shooting session.
Product photo editing is the post-production step. You need to use photography editing software to do the post production stuff. This final step is important for optimizing your product images and making them ready to upload online. Plenty of methods are available to edit pictures. In this section, I want to inform you about the very basics of Product Photography Editing.
Image Cropping And Resizing
First of all, you have to level out the image and present it in a straight view. Many photo editing tools have the straightening option. If your product isn't looking straight enough, you can use this option to level out the image. Image cropping can be done without using any expensive software.
After that, you have to focus on the Product Image Size requirements. The requirements are different in random platforms. You need to figure out the requirements and crop the image according to the size requirements.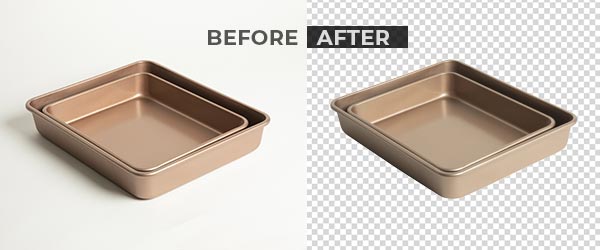 Also, you have to ensure that the product is filling most of the frame. Don't place the product too far from the frame. Using the crop option you can adjust the size of your picture.
BEAT YOUR COMPETITORS WITH BEST QUALITY IMAGES
Color Color Of Product Images
After making the size correction, you have to make the product color correction. In some Photo editors, you might find the Auto color adjustment option. The auto-correction does not provide an accurate result whatsoever. So, you have to do it manually.
The raw image doesn't present the original color. While doing color correction, you should add a duplicate layer to the background layer. Therefore, you can go back to the primary view at any stage.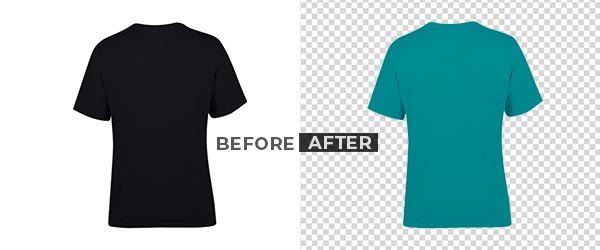 Lighting, weather conditions can create color differences with the original product. The color correction process will fix the color issue and make the image look more attractive.
Background And Unwanted Object Removal
You can't keep any distracting background with the product images. White background product photos look appealing than busy backgrounds. If you feel that the background is not suitable, you can use the photo background removal technique.
Spot healing brush tool may come handy for beginner photographers. Then, you can use a plain white background or any solid color background that fits well with the product. Also, we have to remove unwanted objects from the picture so that the focus of viewers remains on the e-commerce product. The spot removal tool can be used to remove any unwanted mark from the product.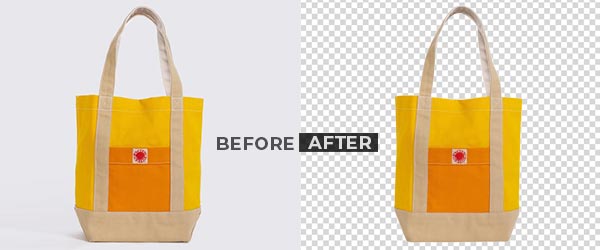 At this stage, you have got an idea about the basics of Product Photography Editing. Those tips will help you to convert from simple product photography shots into excellent shots. Now, I would like to introduce you to 9 tools that you can use to edit your own product Photos. Hopefully, it will help you a lot in your product photo editing.
9 Software/Application You Can Use to Edit Your Product Photos
This is the best choice for the product Photo Editing. Photoshop is the all-in-one solution for professional image editor. With the help of Photoshop, you can crop your images, change image size, and remove background from a picture, color correction, Clipping Path, shadow creation, and photo editing to get quality product images.
Let me inform you that Photoshop is a paid application. It has lots of powerful tool that make the post production work easier. If you are looking for a free photo editor, Photoshop won't be the right choice for you. Alongside, you need to have the skill and knowledge to make the best use of Photoshop.
Photoshop express is the mobile version of Photoshop. This is not as powerful as the computer version. Still, this is one of the best mobile applications to edit Product Photos in Mobile. It will assist you to enhance your product photography editing.
You can use Photoshop Express to optimize your product Photos for changing image size, background removal, color correction, and editing.
You can get it for free from the Google Play Store. Using the mobile version is easier compared to the computer version.
Know More: Ultimate Product Photography Pricing Guide
Pixlr is another superb tool that you can use to edit your own product photos and get beautiful product photos. This photo editing tool is a convenient option to do basic photo editing. You can easily crop a picture and change the hue & saturation of your images. This is also a convenient option for changing brightness and contrast.
If you have taken a picture in low light condition, you can improve the light condition of the picture using Pixlr.
Want to optimize your product photos in a quick time? BeFunky can be the solution for you. This is an online Photo Editing Tool. In product photography, natural light and artificial light both are used to shoot product image. You can modify color and light with this editor. So, you don't have to install any software on your device. You just need to visit the BeFunky website and you can get started to edit your own product photos.
On the top of the right side, you can find the option "Get Started". After clicking on this, you will see their 3 categories of Photo editing options. With the Assist of Befunky, you can also create collages of your product images.
Are you looking for a free photo editing tool to optimize your product images? GIMP is one of the best free photo editors available online. It doesn't have lots of features like Photoshop. Still, we can use this platform for editing product photos. It does the job of cropping and resizing an image pretty well.
Also, Gimp can assist you to improve the brightness and contrast of a picture. This photo editing software does not eat too much storage. So, you can install it on low storage devices.
This is also an online-based tool. You can use this tool to remove the background from your product photos. This is an automatic background remover. You do not have to install any application on your device for that. you just have to visit the clipping magic website and upload your images to their server.
Then, their AI will automatically remove the background from your product images. As the tool works automatically, you might not get decent results for Complex and super-complex objects. Besides, this is a paid tool. you have to pay for editing your photos.
Looking for an online photo editing tool that can help you with your product photo editing, creating, and making collages? Then, Fotor is the solution for you. This is one of the best photo editing tools for beginners.
To use this tool, you do not need to have too much experience with photo editing. You can simply upload images to this website and start optimizing your product images from variety of angles. This photo editor has a simple and convenient user interface. Want to know about the types of editing you can do with this tool? Well, You can crop your product photos, resize them, change brightness and contrast. Also, You can use this image editor for basic retouching.
Looking for a professional image editor as powerful as Photoshop? Affinity Pro can be the perfect alternative to Adobe Photoshop. With the help of this photo editing tool, you can professionally edit your own product photos. This professional photo editing tool provides lots of options to bring the best look to a Photo.
You can use Affinity Pro for E-commerce Product Retouching, Ghost Mannequin Effect, Background Removal, Color Correction, Drop shadows and so on. To get the most out of this software, you need to have a sharp knowledge of Photo Editing.
Clipping Way is the best photo editing service company. If you want to hand over the responsibilities of your product images to professional Image Editor, you can rely on Clipping Way. They provide product photo editing for E-commerce product photos, etc.
The best thing is CW provides a money-back guarantee. So if you are not happy with their work, they will refund your money. That's a great deal, isn't it? Sometimes you may need to do post-production work on a large number of photos.
Managing lots of images single-handedly is nearly impossible for e-commerce business, eCommerce platforms, and online marketplaces. Alongside, You may find it difficult to keep the images to the best quality. Clipping Way will be a helping hand for you. They have more than 100 professional and experienced designers.
They can deliver 3500+ images per day maintaining the best quality. Would you like to have a look at their quality? A free trial is available for you. You can take the trial now without any cost.
That all was all about the 9 tools that you can use to edit your own product photos. At this stage, you have learned about the basics of photo editing and the tools that you can use for editing product photos. Now, I would like to inform you about 5 important steps of Product Photography editing. It will give you a better idea of how to edit product photos.
GET PREMIUM QUALITY EDITING FROM OUR EXPERT
5 Important Steps Of Product Photography Editing
Step 1: Raw Corrections
The primary step is making raw corrections to get attention-grabbing photos. Raw files keep the most details of an image. That's why I recommend you to use raw file type while capturing product photos. For making corrections of images, Open your images in Photoshop.
Then you need to fix the color and tone of the images. If you feel that you want to apply editing to a specific area, then you have to make a selection of those specific areas.
Then you can apply your changes. After applying your changes, you can save your images in JPEG. What to do after that? Let's have a look at the 2nd step.
Step 2: Spot Retouching
After making the raw correction, you have to retouch your product images for compelling product photos. When you are editing a picture in Photoshop, you get several options for spot retouching. I highly recommend you start with the patch tool. It is a convenient tool to remove unwanted spots from your product photos. You can find the option here.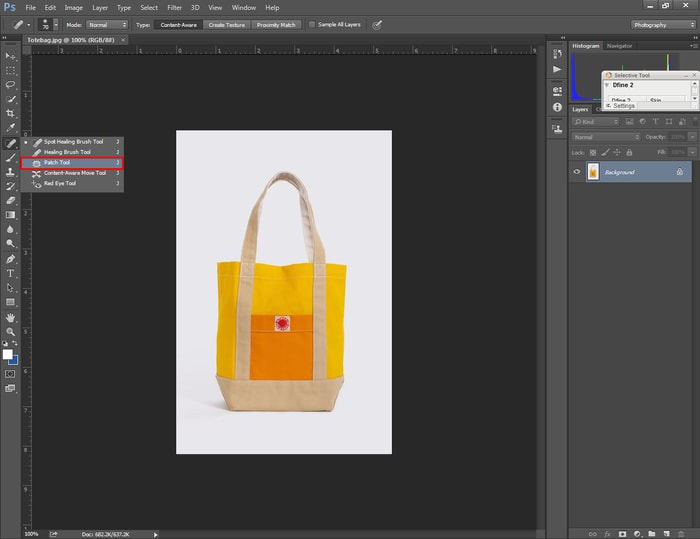 If you find that the patch tool is not doing enough, you can go for the clone stamp tool. It will assist you to place any portion from a decent area to the damaged area.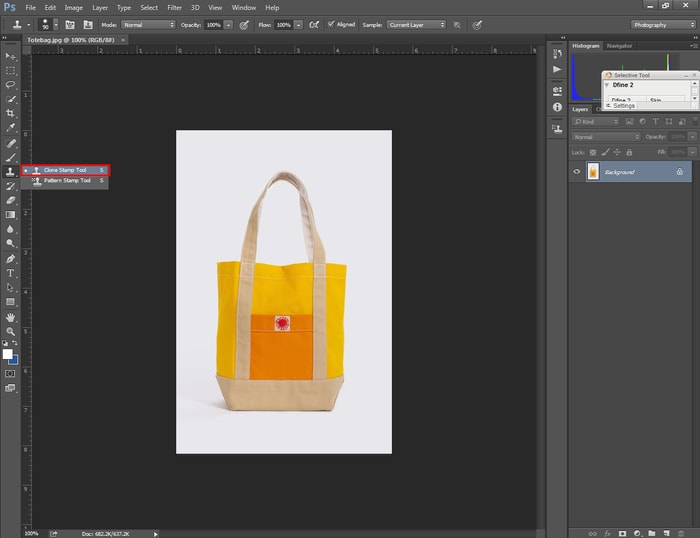 After that, You can proceed to the final touch with the burn tool. This is one of the best tools to use when you want to darken an area. If you want to handover the task to professional designers, you can order image retouching service from Clipping Way.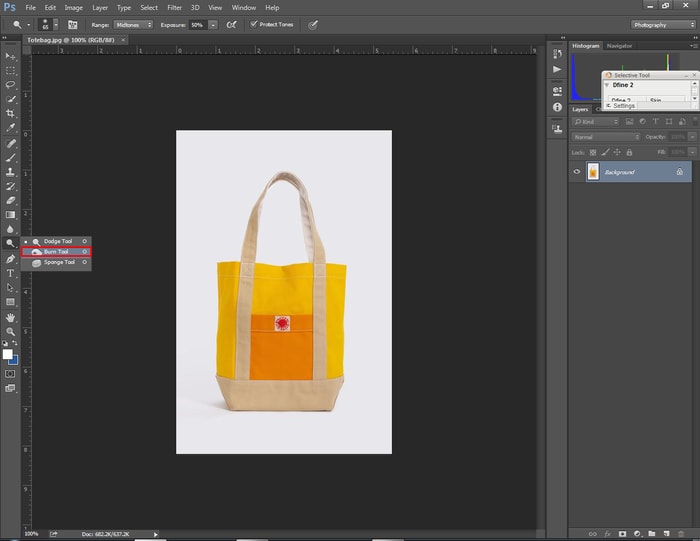 Step 3: Quick Color Adjustment
In the third step, you have to perform the color adjustment technique. a picture never looks great without proper color adjustment. Using the Curves option in Photoshop, you can easily perform a quick color adjustment. Original photos or raw photos don't look much attractive in most cases. The quick color adjustment program gives you great control over White, Grey, and Black. To enable the curve adjustment option, you need to press CTRL and M together.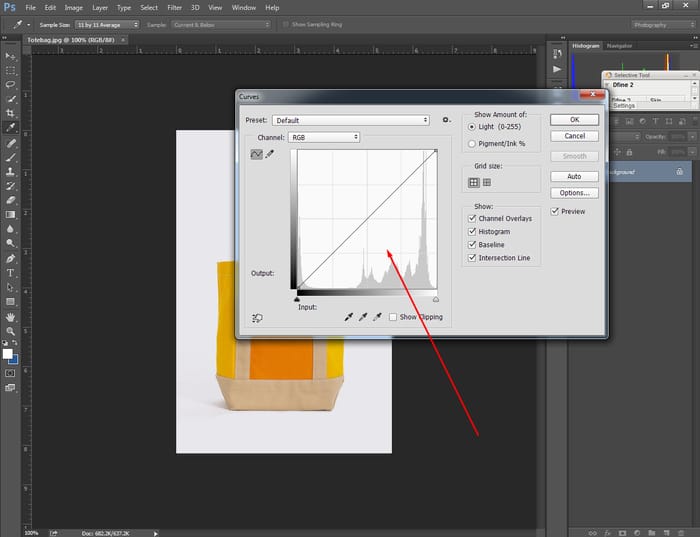 From the top, you can adjust the white color. The middle of the curve applies changes to the grey color. The bottom side gives you control over the black. What about the colorful area? You can use hue and saturation features to make changes to the color. Also, you can adjust color balance and white balance.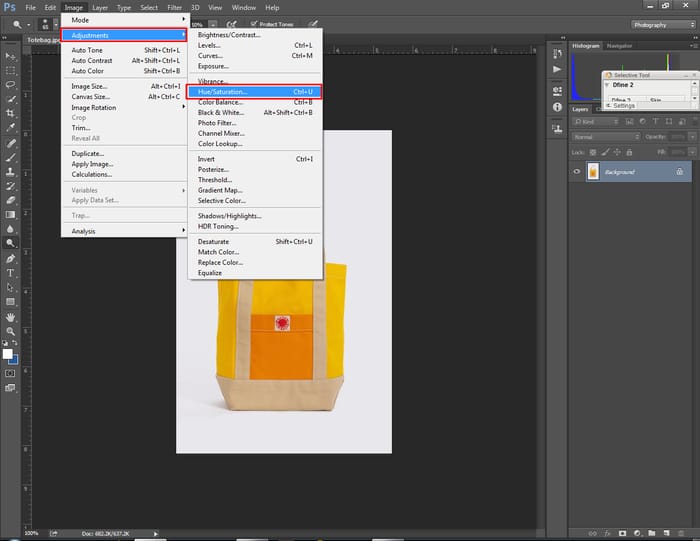 Next to that, you can use the Brightness/Contrast option to edit your own product photos in Photoshop. That will maintain consistency across images. You will get the option here.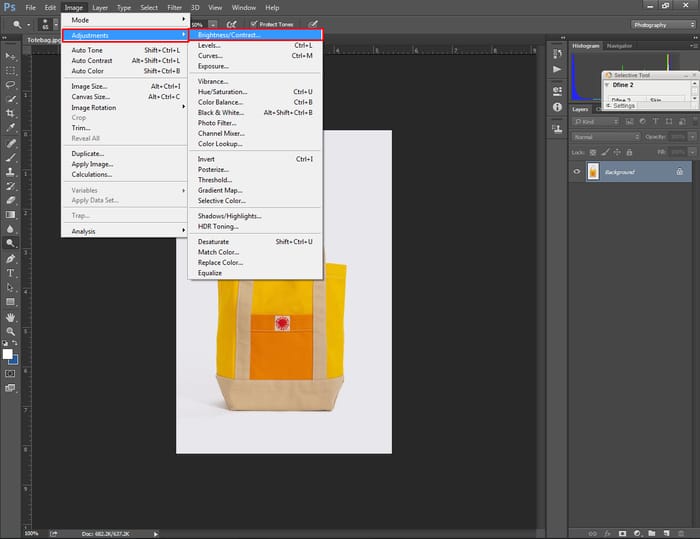 This will help you to do the overall color adjustment of your product photography. Have you done the quick color adjustment? Move to the 4th step.
Step 4: Making File & Alignment
Now, You have to make your ecommerce product photos ready to upload online. To do that, you have to follow the guidelines about the image requirements of the online store. If you are an Amazon seller, you have to follow Amazon Image Requirements. Set the filename according to the guidelines and use the proper image size as given in the instruction.
Disobeying any guidelines can be the cause of not getting approval for the listing. So, you have to follow the steps carefully. You can use the Cropping and free transform option in Photoshop to present your image in the proper size.
Step 5: Shadow & Saving
This is the final step of how to edit a product photo. Before saving your image, you can add a shadow to the product to make it more attractive. Reflective shadow, drop shadow and natural shadow should be used considering the product. Do you know that Photoshop has an automatic shadow creation feature? To use the feature, you have to unlock the background layer. Then, double click on the layer and you will find that option.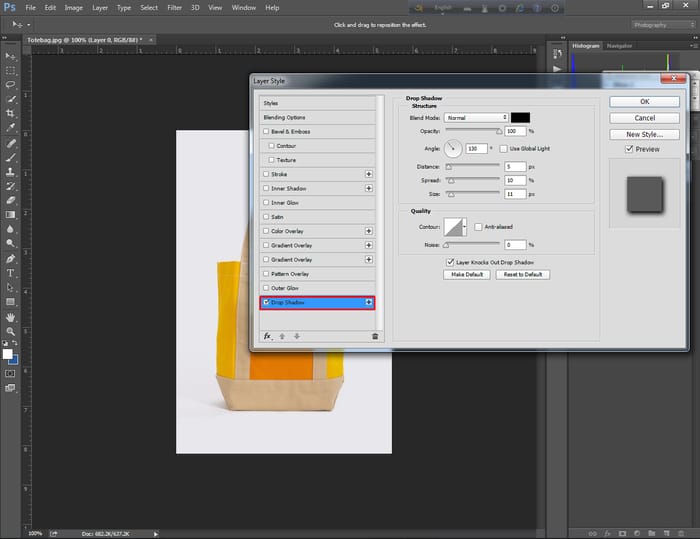 After clicking on that you will get a shadow customizing option. Without proper customization, the shadow won't look realistic. You should maintain consistency in imagery. You can contact Clipping Way to get Professional Shadow Creation Service for your E-commerce product Images to achieve that goal.
OUTSOURCE YOUR IMAGES TO THE EXPERT DESIGNERS
Conclusion
Eventually, we have come to the end of the article about how to edit product photos. Hopefully, you have got all the answers to your questions related to Product Photo Editing. From now on, you can edit your own product photos and upload them in publishing platform with ease.
If you want to take help from professionals, feel free to contact Clipping Way. They will professionally edit your product Photos and deliver you the best quality work.
Stay connected with us to get more updates about Photo Editing Services. For any queries, you can contact us anytime. Thanks for being here.
Frequently Asked Questions
Q: How Can I Edit A Product Image?
A: You can start with the color adjustment and retouching. Then, remove unwanted elements from the product image.
Q: How Do You Retouch Product Photography?
A: You can use the Patch Tool, Clone Stamp Tool, Dodge Tool, and Burn tool to retouch product Photography.
Q: How Do I Change My Product Image Background?
A: Using photoshop you can change the background of your product images. You can also take Background Removal Services.
Q: Should You Edit Product Photos?
A: Definitely, editing product photos is a mandatory task.
Q: How Do I Make My Background White?
A: Select the current background and replace the entire background with the white color.
Q: How Do I Remove The White Background From A Picture?
A: You can select the background using a clipping path to remove white background from a picture.
Q: How Do You Change The Background Of A Picture To White Online For Free?
A: You can use the Remove BG tool to change the background of a picture to white online.