AMAZON PRODUCT IMAGE REQUIREMENTS: HOW TO OPTIMIZE PHOTOS FOR AMAZON
First impressions count when you sell online. So high-quality images are the best clicks on the "buy" button. Speaking of Amazon, what is the first that comes to mind? A great online store for all your shopping needs? An impeccable online merchant with a lot of exclusive product types? The fine platform for retailers to market and sell their products online? Is that something that comes to mind at the beginning? These are the most common answers you get in thinking about Amazon. It is the largest and important e-commerce platform in the world that leads the online market. This is important to know Amazon product image requirements for all e-commerce owner. If you are a beginner e-merchant, you intend to become an affiliate with Amazon. There are several things that you need to take into consideration. Each e-commerce platform shares a specific set of guidelines for the product image. It is to maintain a presentation that is synonymous with your site. This also helps improve the customer's shopping experience. That's why Amazon product image requirements are very important. Especially who wants to sell their product in this marketplace.
Let us explain about Amazon Product image requirements. Think, these guidelines will help you much to make stunning product images. Some of Amazon's preliminary product image guidelines mentioned below.
IMAGE OPTIMIZATION AND AMAZON PRODUCT IMAGE REQUIREMENT: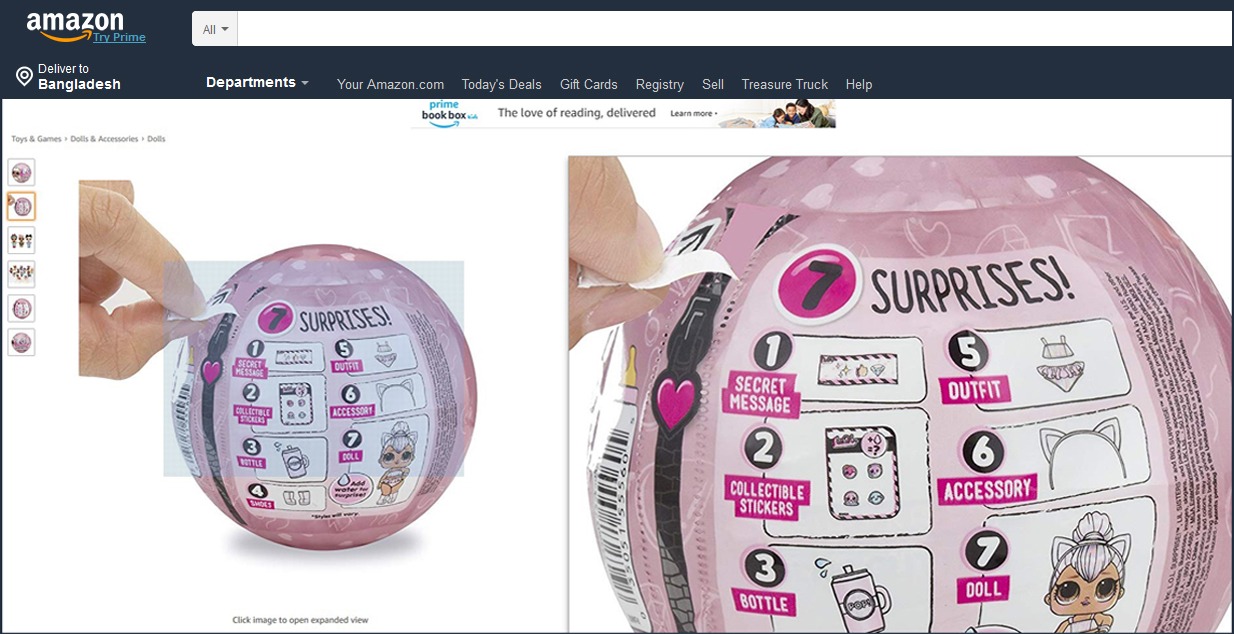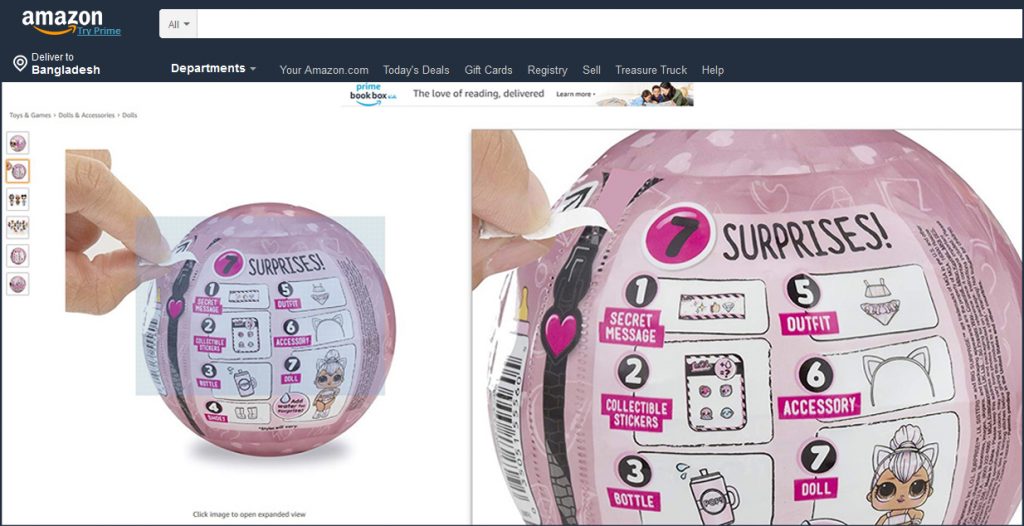 The images must represent the product and show only the product that the client will receive.

Product and all its characteristics must be visible.

Main images need to have a pure white background. And this white background must be with an RGB value of 255, 255, 255.

Main images must be professional photographs of the product. They should not appear with accessories that are not included.

Main images should not include several views of the product.

Images must match the product title.

The object must occupy at least 85% of the image for better visualization.

Images must have a resolution greater than 72 dpi.

Images must have a least height or width of 1 000 pixels. This least size need is used by the client to enlarge the image (zoom function) in the website.

The image must have at least 500 pixels on the longest side for correct viewing.

Amazon accepts the file extensions JPEG (.jpg), TIFF (.tif) or GIF (.gif), although they prefer the JPEG format.

The product should not appear on a mannequin, except if they are socks or stockings.

The image should only show the product in question; we do not allow extra accessories.

No models should appear on the image unless it is a clothing or accessory product.

Images should not be out of focus, blurred, pixelated, have irregular edges or appear cut.

If the product is shown on a model, it must be standing.

Considered product must have to be outside of the package. And it should be shown without any external brand labels except for stockings or socks.

The images must not contain nudity or be provocative.
HERE ARE ADDITIONAL RESOURCES FROM AMAZON:
Amazon Seller Central: Prepare product images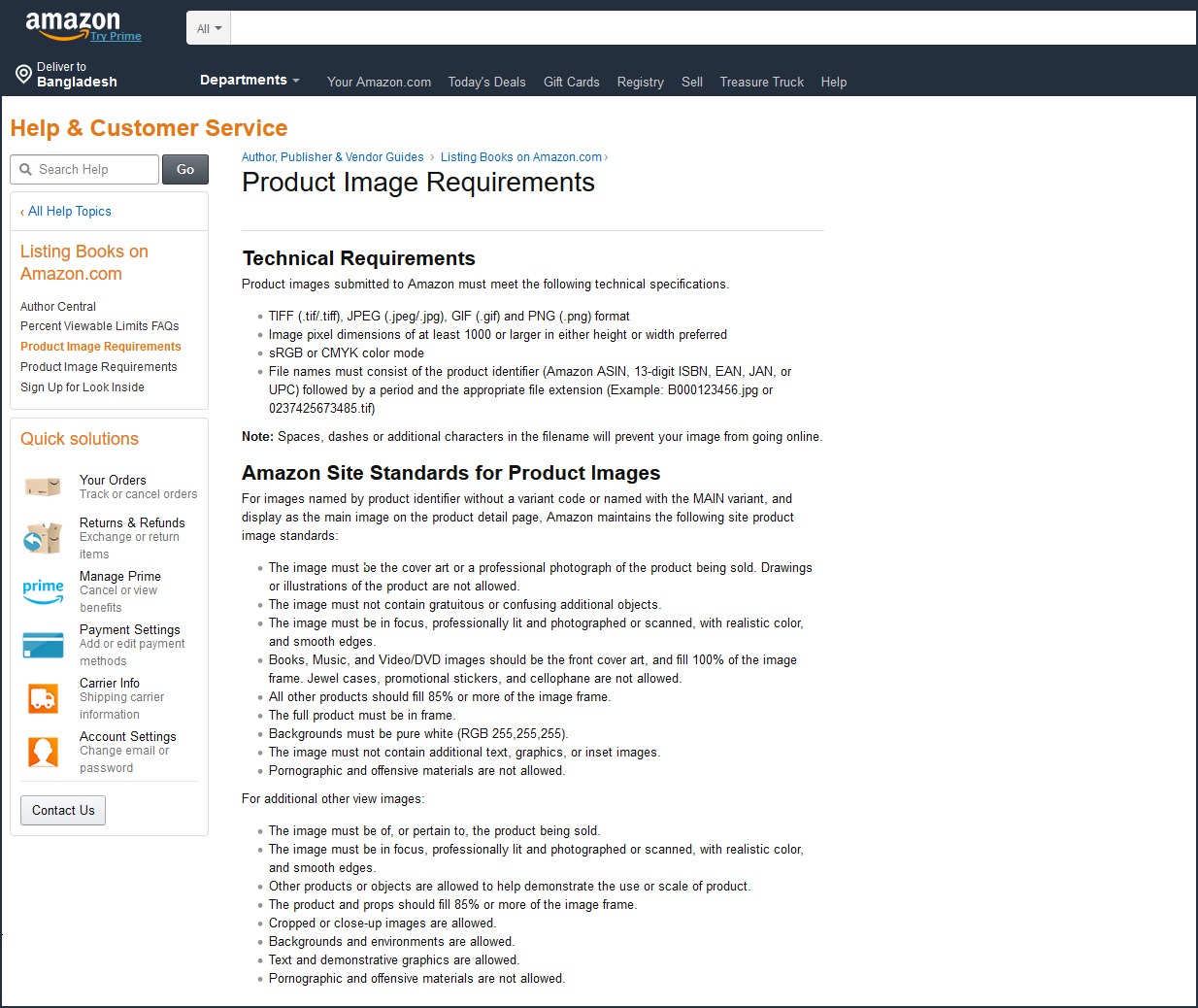 Amazon Seller Central: Add an image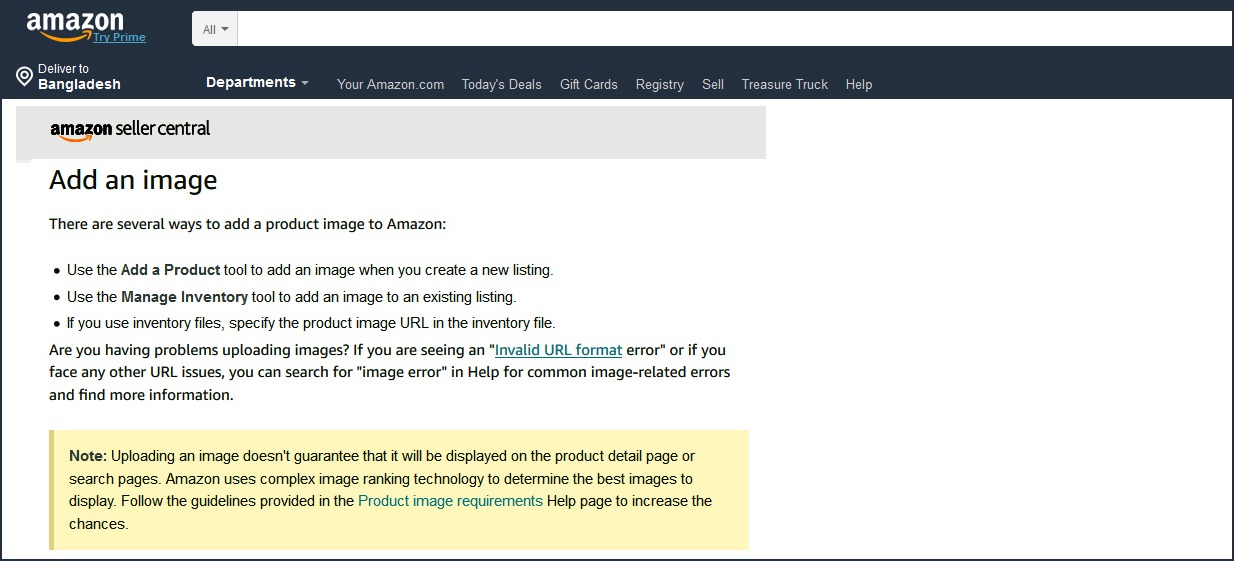 Amazon Seller Central: Image standards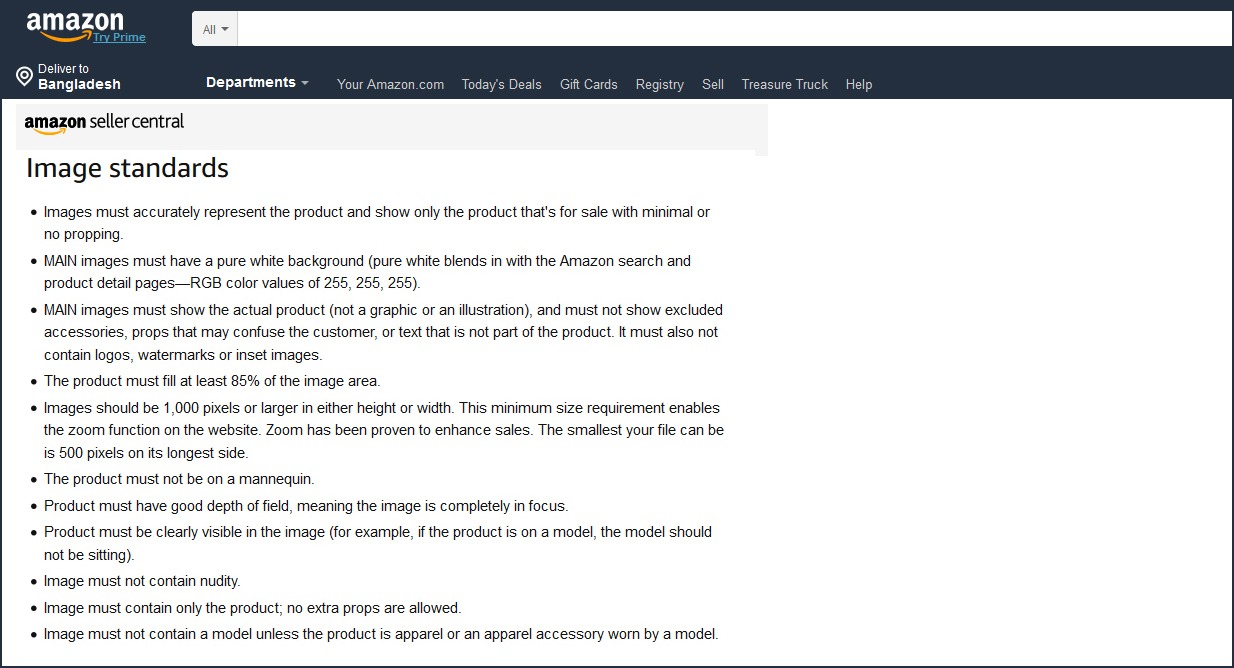 Amazon Seller Central: Add secondary images

LEARN AMAZON PRODUCT IMAGE REQUIREMENT AND HELP YOURSELF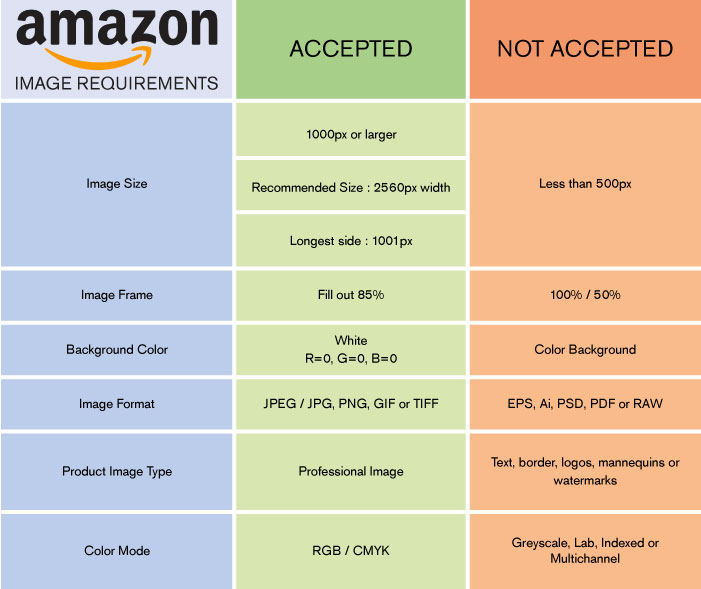 Lately, we have discovered there are variations in the guide for product images. Where you can use dimensions of an image in the form of pixels: W-1001 × H-2100. It allows the activation of the zoom up to the pixels of 1000. It is necessary to follow all the above-mentioned guidelines. Especially if you want an incessant flow of business in Amazon. Non-compliance with standards can create unpleasant obstacles in your way. So we recommend that it's better to go with the flow. Follow these simple rules and dazzle with impressive sales at Amazon. We recommend to go with the main images of secondary images that show the product from various angles. In use or any detail that is not appreciated in the main image. Follow the requirements indicated above to maintain quality. And consistency in all your product images. If you are fresher to Amazon you can use this company to prepare your Ghost Mannequin images as per amazon guideline. They are also providing image background removal services to make your images look professional. If you are a freelance or professional photographer get Free Tips from this articles: How to be a good photographer
Read Also: