If you want to sell your products, get the necessary attention, and stand out among other products in the market, then choosing the best camera to showcase your product will be a thing of concern for you.
However, it won't really be a problem because I've got that covered here.
Plenty of camera models are available for different budgets. That makes photographers even more confused about which camera to choose.
However, you should focus on Ecommerce Image Editing Service also to make your photographs look professional. 
Through this article, I want to assist you with making the best decision about the 10 best cameras for product photography in 2023.
10 Best Camera For Product Photography
1. Nikon D7200
In case you are looking for a camera with high megapixel, suitable for both landscapes, macro and studio work to showcase your product, search no more, as this Nikon D7200 will get you covered.
The camera comes with a great focusing even in a low light setting. It usually comes with a 24.2 MP DX-format and a CMOS sensor. The ISO sensitivity for this camera is between the ranges of 100 – 25,600.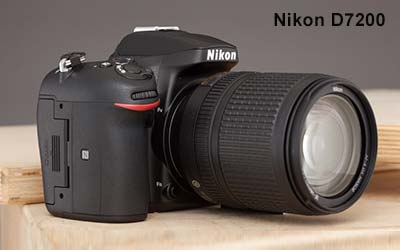 This Nikon D7200 also comes with Autofocus point of 51, which usually makes it extremely convenient to focus on your product when used.
It has an LCD screen size of 3.2 inches and FPS shooting of 6 which usually enables it to a good view of the product you are capturing.
If you are looking for a camera with good camera grip and button placement for greater use, go for this camera and you won't regret it. Apart from the fact that it comes with good specifications listed above, it is also a camera with a reasonable budget.
2. Sony Alpha a6000
This is one of a kind camera that is very easy to handle due to its lightweight. It is very portable and easy to carry around. It comes with a brilliant resolution of 24 megapixels, which usually makes the picture of any product taken with to really look glamorous.
It also has 1080/24/60p video HD record resolution, which can allow you to make a nice video of your product for your customers to watch.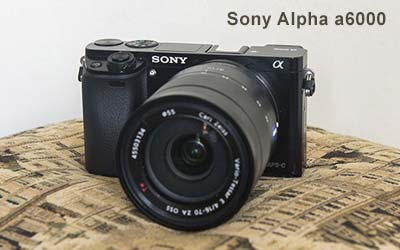 This Sony Alpha a600 usually comes with very fast autofocus which will always make it easy for you to track moving objects and it is as well equipped with an autofocus point of 179, which usually enable products taken with it to look very sharp.
Although this camera is a mirrorless one that must always be handled with care but it is no doubt the best for beginners, as it is just too easy to handle and operate.
You can consider this camera for your product photography because of its specifications, especially the sharpness it will add to your product.
3. Sony a7R III
This is yet another mirrorless Sony digital camera that is good for product photography. It is a uniquely made with 10 FPS shooting, 42.4 MP sensor and ISO range of 100-32000 with an extended mode of 50-102400.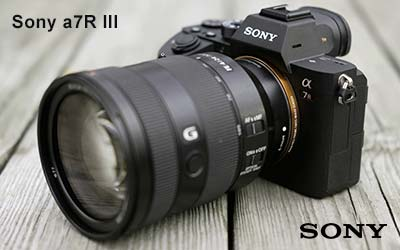 This Sony a7R III can give way for sharp, vivid, and colourful images for your products photography when used. It is made with a longer lasting battery that usually makes it highly durable for use. It is also made with an enhanced eye AF to detect a subject's eye for clear and sharp photos.
Know More: Essential Photography Tips for Beginners | Ultimate Guide to e-commerce product photography [2023 Update]
If you need a good camera that is easy to use and offers good qualities for your product photography, just go for this particular camera.
Although the price seems to be expensive but the qualities you will get from using this camera really worth the price. This camera isn't only good for taking pictures of your product but also good for capturing videos.
4. Canon PowerShot G9 X Mark II
Are you a beginner who has never handled any camera before but in need of a camera to capture his products? Do you need not just a camera but one that is easy to handle and operate?
Don't be disturbed, this camera is just the perfect one for you to achieve your dream of being a professional photographer, while you as well capture your product effectively.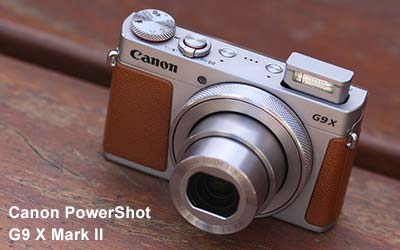 This camera comes with a touch panel for easier navigation and changing of camera settings, it also comes with picture style functions for you to choose from and for you to switch styles depending on what kind of photography you are doing and it also comes with wireless connectivity that makes transferring of images easier and faster.
Other features that make this camera standout include 20.1 megapixel, high-sensitivity CMOS sensor, Digic 7 image processor, Ultra-slim, lightweight and pocket-size with touch-screen panel. The camera is also relatively cheap.
5. Canon EOS 5D Mark IV
This is another Canon camera that is good for product photography due to its high megapixel of 30.4 and full-frame, ISO range of 100-32000 with 50-102400 expansion, AF points of 61, LCD screen size of 3.2 inches and FPS shooting of 7.0.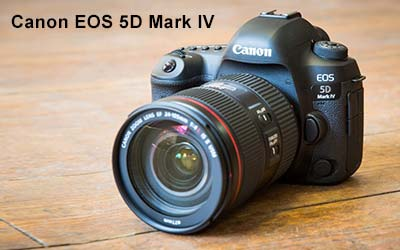 This Canon EOS 5D Mark IV has 61 autofocus system which will help you build focus on multiple or specific subjects in your pictures and as well help you develop sharp images. It also has a touch screen which usually makes it easier to navigate the camera's settings.
Although the operation of the settings of this camera may seem to be too cumbersome, thereby making it difficult for beginners to operate but it is just one of the best cameras for capturing product pictures and videos.
6. Canon EOS Rebel T7i
This is yet another Canon camera that is affordable and good for capturing products. Although it is a DSLR camera type but it offers wide varieties of features that give it an edge over other cameras that perform the same function.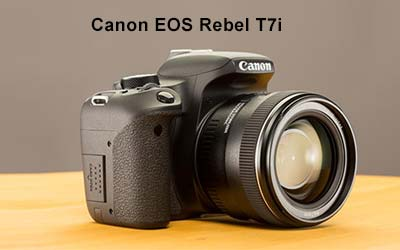 This camera is equipped with a 45-point all cross-type phase-detection autofocus system, 24.2 megapixels CMOS (APS-C) sensor, ISO range of 100-25600 (Extended Mode: 100-51200) and FPS Shooting of 6.0.
It also has different creative filters that can be used to refine the look of your products when captured. More so, beginners have nothing to fear with this camera because it is easier to operate and also helpful for photographers who are just starting to learn more on photography and want to improve entry-level DSLRs features.
Know More: Amazon Product Photography
7. Fujifilm X-T20
This is also a mirrorless camera that is suitable for capturing product photography with its sophisticated features that entail 24.3MP X-Trans CMOS III APS-C sensor, 91 or 325 focus points, 3 in LCD screen size and an FPS shooting of 5.0.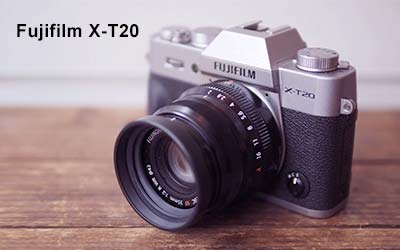 Fujifilm X-T20 camera is one of the best for photographers with the aim of having a better mirrorless camera and wants to have multiple options to choose from.
It is also one of the best cameras for photographers, who want to take advantage of the wide range of the camera settings to create a stunning and bright picture that would make your product look genuine, adorable and appealing to customers.
This particular camera possesses Wi-Fi for easy transfer of pictures taken with it; its LCD screen also gives room for easy navigation and to capture a good angle of any target product. The FPS that comes with the camera also enables continuous shooting and reduced blackout time.
8. Fujifilm X100F
This is also another Fujifilm camera that is relatively cheap and good for capturing product photography. It comes with a mirrorless feature, 24.3MP X-Trans CMOS III APS-C sensor, 200-12800 (Extended Mode: 100-51200) ISO range, 3 inches LCD screen size and autofocus point of 91 (up to 325 points).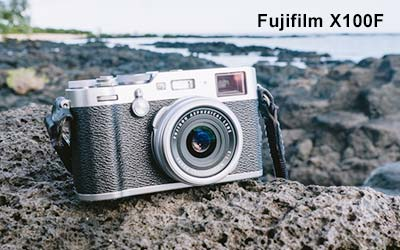 It also sells at a reasonable price. It usually comes with Wi-Fi which will allow you wirelessly transfer images or remotely control the camera from a linked mobile device.
It is also made with a high focusing accuracy in a variety of lighting conditions that enable it to capture products clearer and brilliantly.
Fujifilm X100F also comes with a reliable autofocus that enables you to have a clearer view of your product before snapping it. Most of the keys attached to this camera are fixed on the right part of the camera to enable easier or one-handed use.
If you are looking for high specifications camera that performs varieties of operation conveniently, just go for this particular camera.
9. Nikon D850
This is yet another camera you can use to showcase your products to the world and have the necessary attention and sale in returns. It comes with great features that entail, CMOS, 35.9 x 23.9 mm sensor, 64-25600 (Extended Mode: Auto, 32-102400) ISO range, 153 AF points, 7 FPS shooting and 3.2 LCD screen size.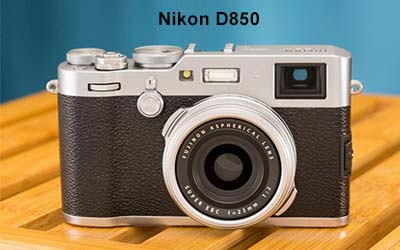 Nikon D850 is specifically made for professional photographers, I mean if you want to make the image of your product look unique and perfectly represented, you won't even think of the exorbitant price attached to this particular camera before purchasing it.
If capturing quality pictures of your product with a decent picture is the goal, then go for this particular camera.
This camera has a bright LCD screen which gives way for stunning and bright images, which playback and live view shooting options. Its 153 autofocus point also enables an excellent focus of any product you are capturing.
10. Sony a9
Although this is an expensive Sony camera, but if you are a photographer or camera enthusiast that knows the value of sophisticated camera with standardized features that will offer your product an attractive quality, you won't even think of the price before getting this particular camera.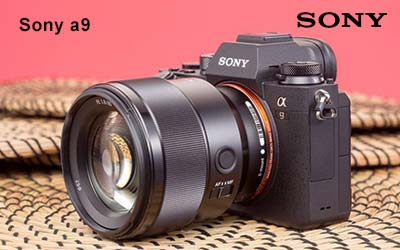 Sony a9 is a mirrorless camera with the following unique features; CMOS, 35.6 x 23.8 mm sensor, 100-51200 (Extended Mode: 50-204800) ISO range, 693 AF points, 3 inches LCD screen size and up to 20 FPS shooting.
This particular camera is basically made for people that can afford an expensive camera that is portable and easy to carry around. Believe me, go for this camera if you can really afford it because you will enjoy the features it offers.
This camera can offer you an image quality of 92% with its focal-plane phase-detection autofocus system incorporates 693 points along with 25 contrast-detection areas for very quick and precise focusing in a different of lighting.
Customize Your Product Photo As You Like
Conclusion
In conclusion, there are numerous types of camera you can purchase to showcase your product but it all depends on your budget and the features you really want in a camera.
Great cameras come with unique features are quite expensive but there are still some portable cameras with awesome features that you can get at a reasonable price.
Each camera has its own unique specifications that can help you get the shot you need for your product. You can visit Clipping Way to get photo editing service for photographer.
A good, nice, elegant and effective product photography is paramount to you and your brand and that is why it is of utmost importance for you to choose a befitting camera for your product photography.