In 2020, United State's consumers spent approximately $861 billion on E-commerce purchases. The e-commerce industry is growing at a rapid speed. With this rapid growth, demands for product photography are also increasing.
Product photography has great potential in the upcoming days. It is also important for E-commerce business owners to know about product and e-commerce photography. Are you thinking about getting into product Photography?
Congratulations, you have come to the right place. In this article, I am going to inform you about how to get into product photography. After reading this article, you will get a clear concept of product photography. Why are we making a delay then? Let's get started.

Purchase Equipment – Amazon product Photography
At the very first, you have to purchase the necessary equipment for product Photography. Some folks make a mistake at the start by investing a huge amount of money in buying equipment.
In the beginning, you don't have to buy all the expensive gadgets. You can start with mid-budget gadgets. When your business will grow, you can replace them anytime.
Now, permit me to inform you about the equipment that you need to have for starting a product photography business.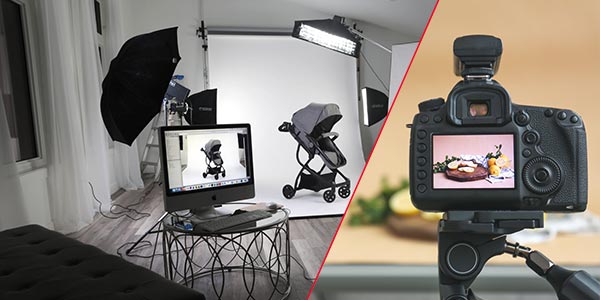 Camera For Amazon Product Photography
This is the most important piece of equipment for a Photographer. Lots of expensive models are available in the market with attractive features.
As I have said earlier, you don't have to buy the most expensive one. Purchase a decent one within your budget. Let me tell you, a professional photographer can shoot excellent photos even with an old model camera.
So, it isn't only about buying expensive Cameras to become a successful photographer. It's your skill and determination that will help you in the long run.
Lens For Amazon Product Photography
After the Camera, it is the 2nd most important thing. Along with the Camera, you will also need to purchase a suitable lens. A lens with approximately 50 mm Focal length can be a decent choice for product photography.
DECORATE YOUR ONLINE STORE WITH EYE CATCHY IMAGES
Tripod For Amazon Product Photography
It is important not to shake the camera while capturing a photo. To get into product photography, you should purchase a tripod. It resists the Camera from shaking and provides stability. It is also helpful when you are doing Photography alone.
You can move around without losing the Camera Position.In the beginning, you can start with an aluminum tripod. Typically, the aluminum tripod's prices are affordable.
Know More: How to make a table in Photoshop – 4 Best way | How to make something look Gold in Photoshop
Backdrops For Amazon Product Photography
The background is one of the most important factors for product photography. Sometimes, choosing the wrong background ruins the beauty of the objects. Even, it can be the cause of losing attention from the products. As a product photographer, you need to purchase at least one backdrop.
Thinking about which types of backdrop you should purchase? For product photography, choosing a white background backdrop is the best option.
Light Source For Amazon Product Photography
Some beginner photographers avoid this equipment and that hurts them in the long run. You don't make a similar mistake. Without proper lighting, the picture won't get a professional look. So, before starting product Photography purchase lighting gear within your budget.
Set Up the Studio for Amazon Product Photography
After purchasing all the equipment mentioned above, you are ready to set up your studio. The equipment that I have mentioned won't take too many spaces. You have to choose the best place for installing the backdrop. Thinking about which place to choose?
Permit me to give you some hints about it. The place should have sufficient space for the product table and light source. A good ventilation system will be a point for that place. After choosing the place, follow the below procedures.


Firstly, place the backdrop on the wall. Then, keep the product table in a place maintaining some distance from the backdrop.
Next to this, position the light source in a convenient place.
In the 3rd step, you have to set up the tripod and place the Camera on it.
That is it, have another look at the room. Is everything placed perfectly? If you feel any change is needed, make the change. After completing the set-up, move to the next step.
Learn And Practice About Amazon Product Photography
To become a successful photographer, you have to learn more and more about Photography. Along with the learning, you should also keep practicing and apply the lesson that you have learned.
Don't capture photos in Auto Mode. Every detail is important when it comes to product photography. A photo captured in auto mode cannot capture everything in detail. It makes the post-processing work difficult. That's why you should learn about Manual Mode. Capture various kinds of products in different light conditions.
Exposure For Amazon Product Photography
To become a professional product photographer, you should have good control of exposure. Learn about Aperture, Shutter Speed, and ISO. Good control of these trios will help you capture great photos. It will also enable your habit of not using the Auto mode.
Never stop practicing. You should try different settings. Also, capture from various angles and distances. Gradually, you will understand what will be the best distance and angle for the best-looking product picture.
Lighting For Amazon Product Photography
Lighting is another key factor for product photography that you should focus on. When you are going to get into product photography, you have to learn how light reacts to a product. You have to be proficient in making the best use of lighting.
The light condition of a picture can create a big difference between a professional and an amateur photographer. You might struggle a little bit when you are just starting. Don't worry about that. Regular practice will give you good control over that.
Suppose you have followed all the steps above. Then, how to get the first client? Allow me to describe.
Offer Free Photoshoot For Amazon Product Photography
At this stage, you have achieved good knowledge of Photography. It is the time to jump into the professional field. To do that, offer a free photoshoot to your local e-commerce business owners.
If you can impress them with your skill, you are going to get orders from them. Even if you don't get any orders, the photos will be useful for you as your portfolio.
Edit Your Images
After capturing Product Photos, you have to edit your images. This step is one of the most important parts of photography. Professionally edited images can bring an attractive look to any product photo. On the other hand, dull image editing can ruin a good photograph.
Being a Product Photographer, you might not get enough time to edit your photos. In that case, you can take online Clipping Path Service Add professionally edited photos to your portfolio. It will also increase your confidence level. Hopefully, your clients will also be impressed.
Create A Website For Amazon Product Photography
Nowadays, creating a website won't cost you too much. You can get huge advantages from your own website. Upload some of your best-captured Photos on the website. It will make you more visible to the customer and chances increase a lot of getting more orders.
You shouldn't miss this exciting opportunity. Don't forget to mention your contact information on the website. You should also mention your physical studio location. It will make you trustworthy.
Tips for Amazon Product Photography
Before we finish, I want to share some valuable tips for product photography that actually works. Permit me to start.
Inspect the technique of the photos from some famous e-commerce websites. It will give you a better understanding of presenting products through the photograph.
You have to learn the "Rule of thirds". It will assist you to keep the composition balanced. Also, it will be helpful for you to understand where to place the object within the frame.
You have to describe products through an Image. The audience should feel after seeing the image how it actually is. So, taking multiple shots from different angles will help them to visualize the actual product.
Last but not the least, read the product photography specifications for Amazon. These specifications are not only important for Amazon sellers but also other e-commerce businesses can benefit from it by following those instructions.
BEAT YOUR COMPETITORS WITH BEST QUALITY IMAGES
Final Thought
We have come to the end of the article about how to get into product photography. Hopefully, the lesson that you have learned from this article will be helpful for you. If you still have any questions, feel free to contact us.
Stay connected with Clipping Way to get more helpful articles about Photography. Thank you for being here.
FAQ's-I've Got Some Questions
Query 1: How Much Does An Amazon Product Photography Product Photographer Make?
Our Reply: In the USA, product photographers make approximately $3900 a year on average.
Query 2: How Can I Practice Amazon Product Photography At Home?
Our Reply: You can attend online Product Photography classes and follow YouTube Channel. Then, apply the lesson practically to available objects.
Query 3: How Much Should I Charge As A Beginner Photographer?
Our Reply: In the United States, beginner photographers charge 50 to 150 USD per hour on average.
Query 4: What Does An Amazon Product Photographer Do?
Our Reply: A product photographer captures product photos for using online and other promotional campaigns.
Query 5: Should A Beginner Photographer Use Auto Mode?
Our Reply: No, it is never okay to use Auto-mode as it doesn't capture proper details. You should practice in Manual mode.