People who are new to the photography career can get confused about choosing standard pricing for photography. Have you just started your Photography career?
If you're thinking about starting E-commerce photography as a career, this article will guide you about standard E-commerce Photography Pricing.
We have worked with thousands of professional E-commerce Photographers around the world. From our vast experience, we're going to share which factors you should consider while making your E-commerce photography pricing chart.
Besides, you'll know about the standard price of different e-commerce products. E-commerce owners and managers will also get essential information to set a proper budget for E-commerce photography.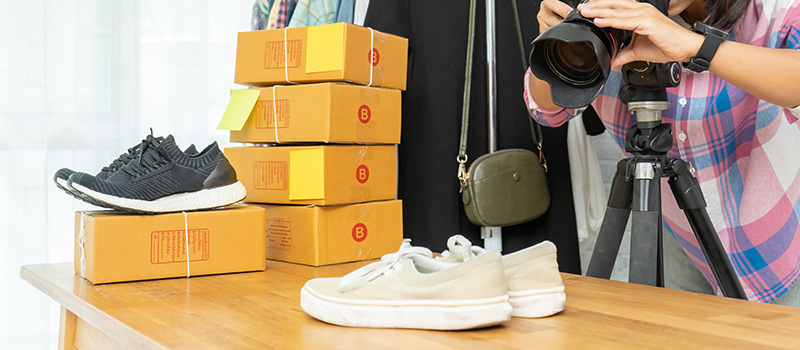 Things You Should Know About Ecommerce Photography Pricing
E-commerce industries are getting bigger at a rapid pace. To cope with the pace and stay ahead of competitors, it's essential to upload premium quality photos on E-commerce websites.
E-commerce photography refers to product photos taken for uploading in online stores. Professional photography is not only about preparing the product and pressing the shutter keys.
There are plenty of factors that you should keep in your mind as an Ecommerce photographer.
Would you like to know about those essential E-commerce Photography Pricing Factors? Let's move forward.
DECORATE YOUR ONLINE STORE WITH EYE CATCHY IMAGES
E-commerce Photography Pricing Model
More than 30 thousand professional photographers are employed in the United States. Different photographers charge for their photography considering 3 major criteria. Do you want to know about those criteria? Okay, let me inform you.
This is a common photography pricing model in the United States, Canada, Uk, and other European countries. In these criteria, photographers set a specific price per hour such as $100/ hour.
When E-commerce owners need to capture a minimum quantity of photos, they often decide to hire E-commerce photographers based on an hourly rate.
On average, Photographers set their hourly rates between 25 USD to 500 USD. Are you connected with E-commerce and want to capture bulk photos?
In that case, you should not hire a photographer based on an hourly rate. That would be costly for you. The next pricing method would be pretty helpful for you.
Considering The Number Of Products
Suppose you have to capture 3 photos of a product from the front, side, and back. In this E-commerce photography pricing method, photographers make an agreement with the customer based on the number of products.
Photographers and the clients both should come to an agreement about the minimum number of photos they expect from each product.
For small quantity photos, the photography price differs by around $35 based on the experience and expertise level of the photographers. If the photographer has to capture bulk product photos, the price gets lower significantly.
Considering The Number Of Images
In this pricing model, photographers charge a fixed rate considering the number of total images. The price can vary from $5 to $25 per photo.
This method is pretty similar to the above method. Do you have any specific image requirements? Well, you can hire E-commerce photographers based on this photography model.
This pricing model is beneficial for capturing bulk product photos. If you need less than 100 images, then this pricing model might not be suitable for you. For low quantity of images, photographers tend to charge a high rate.
At this point, you got the idea about 3 major E-commerce pricing models. Still you might be wondering, how much should you pay? Allow me to explain this.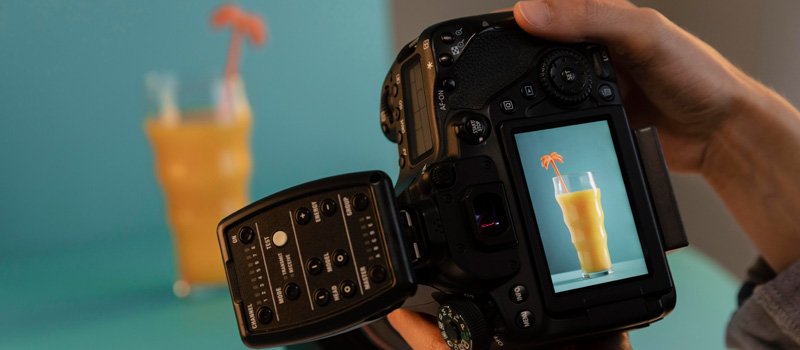 How Much Should You Pay For E-commerce Photography?
Most Online Store Owners, Managers, and individual sellers are curious to know about it. In 2022, we can't deny the importance of premium-looking photos for any website.
Most online buyers judge the authenticity of a website based on the quality of product photos. A few business owners want to capture their product photos on their own.
This can be disastrous for your business. You should hire a professional photographer so that you can focus properly on your business.
How much you should spend on E-commerce photography? However, it depends on the type of your E-commerce business. If you are working with seasonal products, then you can hire a freelance photographer whenever you need to capture your product photos.
If you need to capture product photos frequently, you can take photography services from Studios or you can hire full-time photographers based on your requirements.
To hire a professional E-commerce photographer by hourly rate, you need to pay around $25 to $75 per hour. The price can increase and decrease considering the expertise level of the photographer.
You have to negotiate with the photographer and set a suitable rate that meets your budget. Want to know the average price of E-commerce photography? Here you go.
Average Price For E-commerce Photography ( Per Image)
Clothing, Apparel, and Accessories Photos: $15 to $45
Group of Product Photos: $35 to $100+
Skin Care and Fashion Accessories: $25 to $75
Jewelry Items: $50 to $100
Clock: $50 to $100
Ornaments: $35 to $85
SPECIAL DISCOUNTS ARE GOING ON
Impact Of Professional Photography On E-commerce
Some online sellers underestimate the importance of product photography for E-commerce businesses and that becomes the cause of their dropping sales.
Let me inform you why professional photography is important for E-commerce so that you don't make any wrong decisions about that.
Millions of E-commerce websites are active in 2022. Surprisingly, most E-commerce websites are not generating the sales that they might have expected. On the other hand, some recognized brands are generating thousands of sales daily.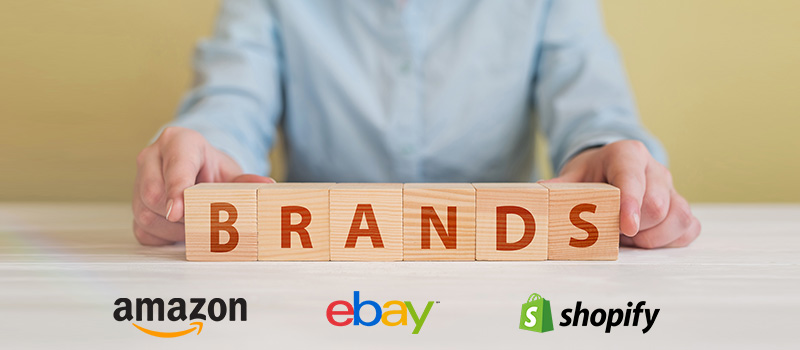 How would it be if you can also include yourself in that successful list? Quality photos with Professional Photo Editing can help you establish your brand and be recognized by potential customers.
Customers will remember your brand once they visit your website. That is never possible without uploading premium quality photos. Low-quality photos might save your initial budget but they will damage your sales in the long run.
While browsing E-commerce websites, more than 87% of online customers expect to see real photos that demonstrate a product as it looks in real life.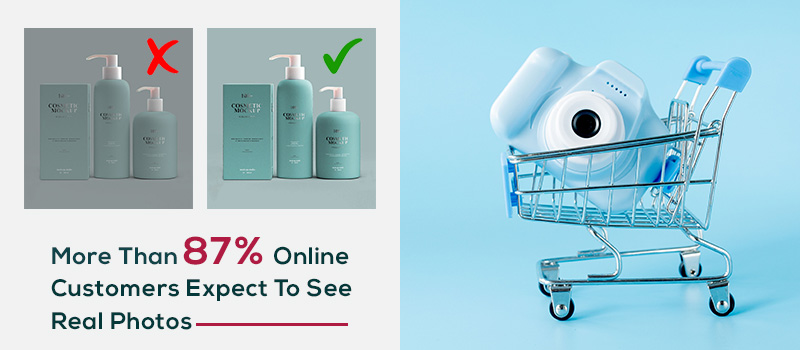 To provide visitors with the best user experience, you have to decorate your online store with top-notch quality photos. To get that sort of photo, you have to capture the product photos professionally.
Also, it will inspire the visitors to stay on your website for a while. It increases the chances of getting more sales. As a result, potential buyers can turn into your regular customers.
Would you like to grab those facilities? You should be extra careful about your product photos.
Trustworthiness is such an asset for online stores that can increase your business revenue by bringing more sales. While purchasing products from online stores, buyers can't judge the product physically. How do they make the final decision?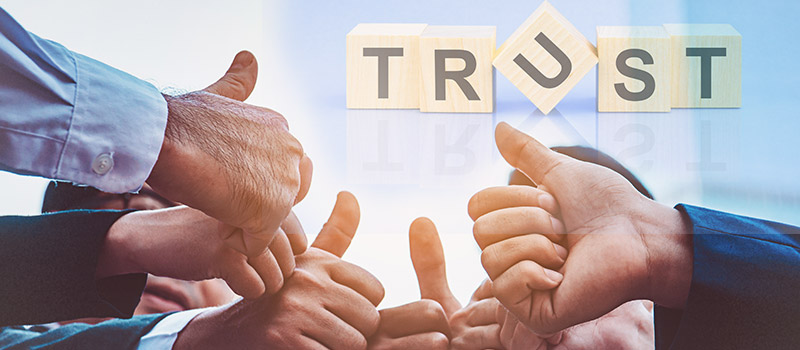 We have surveyed 100 random online customers about that. According to the survey, nearly 77% of online customers purchase a product based on the quality that it seems in the photo.
Therefore, you can't get more sales when your product photos are not beautiful enough to attract customers. To get perfectly polished photos, Image Editing Services are also mandatory along with professional photography.
Every businessman wants to expand his business but only a few can achieve this goal. Why do most people fail to expand their business? The reason is lack of making sufficient revenue. Professional photography has an impact on generating more sales. Ultimately, it can assist you in expanding your business.
For example, you can have a look at Amazon, Alibaba, Otto, John Lewis, and other successful websites. All of those successful e-commerce websites upload professionally captured and standard-looking product photos.
Do you also want to get those positive impacts? Professional photography can be the ultimate solution. As you know about E-commerce photography pricing, it will be easier for you to make the right decision.
Can Professional Photography Boost E-commerce Sales?
Obviously, it does. Professional photography plays a significant role to boost E-commerce sales. First of all, professionally captured photos attract up to 10x more online buyers compared to ordinary photos.
Secondly, professional-looking photos have a direct impact on getting more conversions. Professional photography can boost every type of E-commerce business.
Besides, it reduces the chance of product return rates. Around 20% of customers want to return their product after receiving it because the original look doesn't match with the photo.
Professional photographers represent a product with a realistic look. That builds trust in the customer's mind. Ultimately, you can enjoy up to 6x more sales.
BEAT YOUR COMPETITORS WITH BEST QUALITY IMAGES
Conclusion
We have come to the conclusion of guidelines about E-commerce photography pricing. Hopefully, those guidelines and information will be beneficial both for photographers, online business owners, and E-commerce sellers.
To get the best outcomes from E-commerce photography, you ought to edit your photos professionally.
E-commerce Photographers and Online sellers can outsource Image Editing Services to Clipping Way for the best result. A free trial is available for you so that you can judge our quality. Do you have any queries? Feel free to contact us.
Frequently Asked Questions
Q: How Much Do Photographers Charge?
A: Professional photographers charge from $25 to $250 at an hourly rate.
Q: How Do You Price Commercial Photography?
A: You can charge from $25 to $100 per photo or even more considering experience, required time, and expertise level.
Q: Which Price Model Is Best For Seasonal Products?
A: Pay-per-product is a suitable pricing model for seasonal product photoshoots. You can also hire photographers at an hourly rate.
Q: Which Price Model Is Best For Capturing Bulk Photos?
A: Pay-per-photos is the best pricing model for capturing bulk photos.
Q: What Is The Average Salary For An Ecommerce Photographer?
A: In the United States, around $2700 is the average monthly salary for an E-commerce photographer.