Sharing Photos with clients is the final step for photographers that fulfill a photography project. Professional photographers and studio people should have a reliable source to share photos without losing picture quality. At the same time, privacy is also an important factor to consider.
Keeping all those things in mind, we are going to inform you of the 8 best ways to share photos with Clients. We are going to describe step-by-step guidelines so that any photographer can follow them easily.
Overall, this article is going to be helpful for every person who is involved with Photography. Let me introduce you to those photo-sharing methods.
1. WeTransfer: Unlock The Power of Cloud-Based- Send Photos To Clients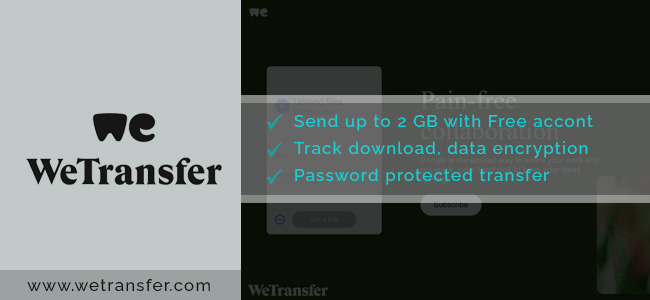 Photographers often get tense when they have to share large image files. That's where WeTransfer comes in. You can share up to 2 GB of files for free. If your file size exceeds the limit, you need to purchase a premium plan. Here's the process of file sharing.
How To Share Photos With Clients WeTransfer?
You need to create a free account to use the platform. If you have a larger file than 2 GB, you need to upgrade to a paid plan. After signing up, you can proceed to image upload. To upload your photos, simply click on the "+ Add your files" button.
Then, you'll need to add your client's email address. It has the feature to add 20 email addresses at a time. You also need to add your email address. Then, they will send you a confirmation email. Go to your Inbox and accept the confirmation.
Do you have any instructions to say to your clients? You can add a message to your clients about the files. This is optional. If you don't have anything additional to say, you can leave it blank.
Have you added all the necessary information? Well, you need to click on the "Transfer" button to send your files. The transfer will start automatically. You'll be able to see the progress on your screen.
Pros
Fast File Upload And Download
Notify When File Received
Cons
Lack Of Advanced Features
Time Limitations In Free Plan
2. Google Drive: Seamless File Transfers With Personal Cloud Storage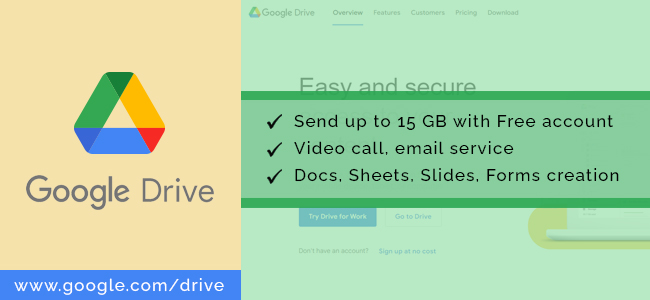 Google Drive is another best method to send photos to clients. The cloud storage service allows you to share files. You can share your images in different folders too. Here's the process of how photographers can share photos with clients.
How To Share Photos With Clients Google Drive?
First of all, you have to sign in to your Google account. Then, go to Google Drive and create a folder. To upload your photos to Google Drive, click on the "New" button in the top left corner and select "File upload".
After that, you have to choose the photos you want to share with your clients. After uploading the images, you have to click on the share option from the top of the right side of your screen. Enter the email address of your client in this field.
You will find different options to access. You need to choose which type of access you want to provide your clients and press send option. It will send an email invitation to the shared person to access the folder.
Pros
Easy To File Upload And Download
Accessible From Any Device
Cons
Advanced File Sharing Features Missing
Download Tracking System Not Available
3. Dropbox: Traditional Cloud-Based File Sharing Service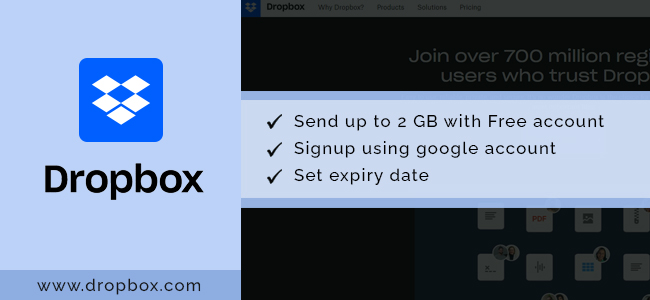 This image file-sharing platform is pretty similar to WeTransfer. It also allows users to share files up to 2 GB for free. If you purchase the business plan, you can share files up to 3 TB. Now, permit me to tell you about the image-sharing procedures.
How To Share Photos With Clients Using Dropbox?
Firstly, you need to create a Dropbox account. You have to visit the Dropbox website. Then, you need to click on the sign-up button. Then, you can start uploading your photos to the Dropbox cloud.
To do that, simply drag the images into the Dropbox folder on your computer. Dropbox will automatically sync your files to the cloud. It makes them accessible from anywhere. You have two options to share your photos with anyone.
You can create a shareable link for your clients. Also, you can invite them to a shared folder. Hopefully, you will be able to share photos with clients easily by following those steps.
Pros
Suitable Plans For Photographers
Collaboration features with customizable access
Cons
Not Convenient For Large Files
4. Smash: Fastest File Transfers For Large Files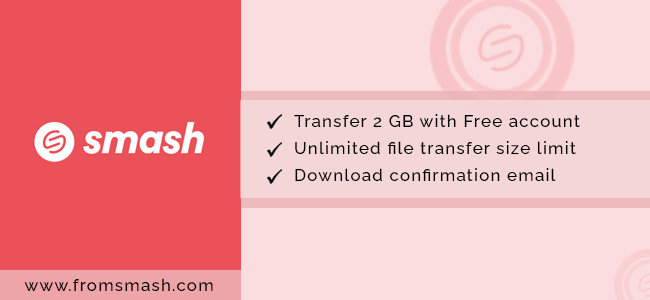 Looking for a convenient method to share large images easily? You can try Smash to get rid of photo-sharing hassles. Smash doesn't require any sign-up. It's a straightforward way for photographers to share photos with clients.
How To Share Photos With Clients Using Smash?
You just need to visit the Smash website and you will get the file uploading option. You can also directly upload a folder from your computer. After uploading your images, you need to provide your email address and the client's email address.
Then, you will have to fill in the subject box. If you have any information to say about the image, you can mention it in the message box. It will make the photography project memorable for your clients.
After that, you need to click on the send button. That's it. Your clients will receive mail from Smash to download the shared files. The link will expire within 7 days. If you purchase their premium plan, you can increase the time limitation.
Pros
Advanced File Features Available
Cross-platform compatibility
Cons
Limited Storage In Free Plan
5. Pixieset: Dedicated File Sharing Platform For Photographers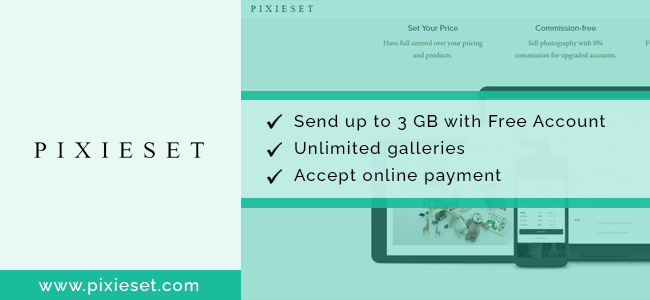 This photo-sharing platform is particularly designed for photographers. It is a popular online gallery platform that photographers use to share their work with clients. You can share your photos while maintaining proper privacy. Here's the process of sharing photos in Pixieset.
How To Share Photos With Clients Using Pixieset?
The first step you should follow is to sign up for an account. You can use your Google account to sign up. After signing up, you can create galleries to share your images from anywhere.
Then, you can choose the photos you want to include in your gallery. In Pixieset, you can add a password and watermark along with the photos. The photo-sharing platform makes it easy to share your galleries by providing a unique URL. You can send it to your clients.
You can also customize the email that your clients receive when you share the gallery with them. You will get the option to choose to allow or disallow downloads in your gallery settings. If you allow downloads, your clients will be able to download the photos in high resolution.
Pros
Personalized Galleries For Sharing Photos
Integration With Social Media Platforms
Dedicated Photo Sharing Platform
Cons
Limited Features In Free Plan
Not Suitable For Sharing Videos
6. ShootProof: Fast File Sharing and Collaboration For Photographers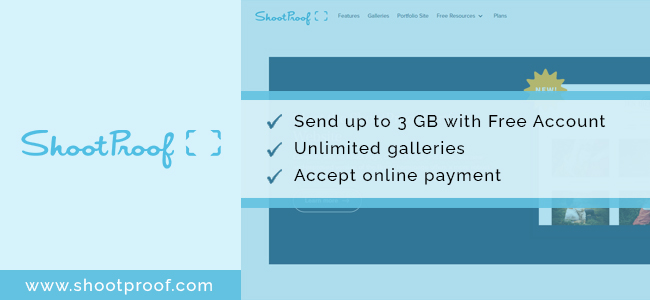 ShootProof is another convenient photo-sharing platform designed for photographers. On this platform, you can enjoy features like customizable galleries, automated workflows, and print fulfillment services. Here's the process of how to share photos with clients using ShootProof.
How To Share Photos With Clients Using ShootProof?
You can have a 14-day free trial without adding any credit card. You need to sign up for an account to get the free trial. You need to provide your name and email for that. Then, you have to create a gallery to start sharing photos.
There are different options to create a gallery. You can create a gallery for a specific person and specific event. Simply select the "New Gallery" button and choose a name for your gallery. Then, you can begin uploading your photos.
ShootProof allows you to upload photos individually or in bulk. You can also organize your photos into folders to make it easier for your clients. You will get a range of customization options to make your gallery unique.
Pros
Highly Secured With Password Protection
Suitable For Adding Additional Instruction
Cons
Size Limitation In Free Plan
7. Box: Explore the Box of Seamless File Sharing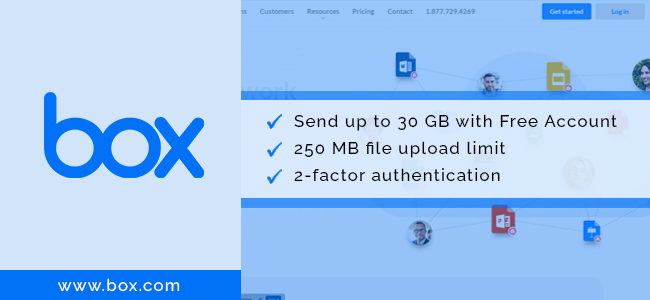 "Box" is a secured cloud-based file sharing system. It has both free and paid versions with some special facilities. You can share up to 30 GB without any charge. In premium packages, you can share photos without any limitations.
Delivering Photos To Clients Using Box?
To start sharing photos using Box, you have to visit the website and sign up with your mail account. After that, you need to provide the necessary information to complete your profile. After logging in, you will find the interface pretty similar to Google Drive.
After that, you have to minimize the window and open the Photos or Files that you would like to share. Next to that, drag and drop those files into the homepage of "Box". You can share all types of file formats.
There will be a "share" button on the right side of each file. You have to click on this button to get the shareable link. There are two different options for file sharing. You can choose "People with the link" or "People in this Folder".
Pros
Real Time Seamless Collaboration
Easy To Access From Any Device
Cons
Limited Transfer Limit In Free Plan
Not Convenient For Large Files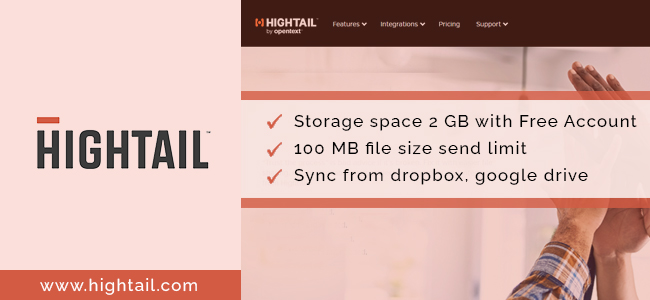 This is another excellent file-sharing platform both for free and premium users. Using this platform, you can easily share and receive big files without any hassles. This is one of the best ways to share photos with Photographers to clients.
Sharing Photos With Clients Online Using Hightail?
Visit the HighTail website and start with the sign-up process. Then, they will send you a verification link to your mail address. You have to click on the verification link to start sharing photos with clients for free. Then, you will be redirected to Hightail file-sharing space page.
It allows users to use online cloud storage along with a file-sharing platform. You can upload any files by dragging the file into that folder from your computer. After that, you just need to click on the share button from the above and get the link.
Two options are available here, Spaces and Sends. From spaces, you can upload files and share them with clients. From the Sends, option you can track your shared pictures. You can check whether the clients have viewed the shared file or not.
Pros
Unlimited Storage Capacity
Affordable Price For Freelance Photographers
Secure file transfers with encryption
Cons
100 MB Transfer Limits In Free Plan
Using any of those methods you can easily share photographs with clients. Now, I am going to inform you of some bonus tips that will make your photo-sharing experience even better. You can impress your clients with those tips. Here you go.
Customize Your Product Photo As You Like
Choose The Right Platform
The first step in sharing pictures with clients online is choosing the right platform. 6 different options are available for you including WeTransfer, Google Drive, Smash, Dropbox, Pixieset, and ShootProof. You should consider the features that you and your clients need.
Protect Your Clients' Privacy
While sharing pictures with clients, you should stay aware of privacy. To protect your client's privacy, it is better to choose a platform that offers password protection. You need to ensure that only authorized users have access to the gallery. It's also important to communicate with your clients about the photo-sharing process.
Consider File Format
If your client has any specific requirements for file type, you ought to deliver photos in that format. Don't compress the image to reduce the file size. Otherwise, it will damage the image resolution. It's important to consider the file size too. Large files take a long time to upload.
Customize Photo Gallery
You can provide your clients with a better user experience by customizing your photo gallery. You can add your branding to bring a professional look. Therefore, you need to choose a platform that allows you to customize your gallery. You can customize it with your logo, color scheme, and layout.
Conclusion
At this point, you should have proper knowledge of the 8 best way to share photos with clients. From now on, you can share large image files without any interruption.
You have got 8 different options to choose from. Try each of them and choose the most convenient method for yourself. If you need professional assistance with Image Editing Work, don't hesitate to contact us.
We have a devoted team to provide the best quality image post-processing work. You can judge our quality with a free trial now.
FAQ's
What is the best platform for photographers to share photos with clients?
Most professional photographers prefer to use "WeTransfer" to share photos with their clients.
How can I ensure my clients' privacy when sharing photos?
"Password Protection" is the best feature to ensure privacy while sharing photos. You can get this feature in ShootProof and Pixieset.
Can I share photos with clients via Gmail?
You can share photos with clients via Gmail but it isn't a good option for sharing photos. The size limitation is too low to share images.
How can I keep track of which photos my clients have downloaded?
You can track your photos with Pixieset. It allows you to check which photos your clients have downloaded.