Clipping Path is an image editing process used for selecting an object by creating vector paths through the Photoshop pen tool.
Using this technique, you can separate inappropriate and unsuitable backgrounds from your photography. As it improves the overall look and quality of a photo, the Clipping Path Service is the best way to promote product images.
Online buyers give product image the most priority while purchasing a product. Therefore, you need to be careful about choosing a photoshop Clipping Paths Service Provider.
Through this article, you are going to learn what is clipping path, different types of clipping path services, and how to do it practically.
What is Clipping path? – Exact Definition
Clipping Path is an image editing technique to select an object in Photoshop using the pen tool. Applying that method, you can select objects with any shape and isolate them from the original background with perfection.
Type Of Clipping Path Services
Considering the type of images, object's shape, and complexity level, the Clipping path is divided into four categories. Here are the details about those 4 categories.
Basic Clipping Path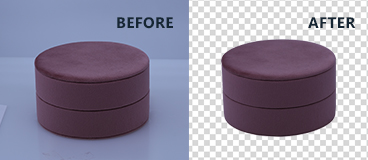 The Basic Clipping Path is applied when your product has a simple shape. A single path layer is required to create a basic clipping path. Fewer anchor points are needed for this type of path. For example, Objects like mobile, back covers, bowls, body spray and books are considered as a basic clipping path.
Medium Clipping Path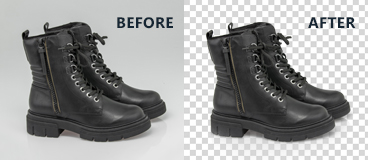 The Medium Clipping Path is applied when your product has a little complex shape. Multiple path layers and higher anchor points are required to create that type of path. Objects like jewelry, watches, and fashion accessories are considered medium clipping paths. It needs a bit more effort to do it.
Complex Clipping Path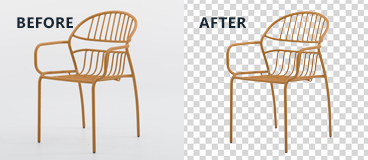 If an object has a complex shape with holes in it, the Complex Clipping Path is required. Plenty of anchor points are needed to select complex objects. Designers have to work with several path layers. It needs more effort. Car, bike, furniture, and tree tubs, groups of products are considered complex clipping paths.
Super Complex Clipping Path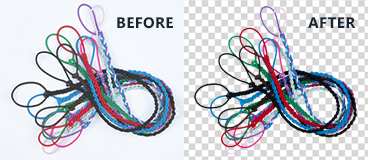 When an object has a very critical shape with lots of holes and bending areas, a super complex clipping path is required. Designers need to create a lot of anchor points with several path layers. Bicycles, ornaments, fences, and groups of complex objects are considered super complex clipping paths.
Who Needs Clipping Path?
People who are connected with the commercial use of images could be beneficial through is a Clipping Path.
The clipping path is a must-needed technique for professional photographers, freelance photographers, product photographers, product promoters, advertising agencies, studio people, Ecommerce owners, managers, and other persons who want to promote their products through images.
Know More: 15 Best Clipping Path Service Companies 2022
What Are The Practical Uses Of Clipping Path And You Have More Options?
You might be wondering about the practical uses of clipping paths. Here's the answer.
Product Photo Post Processing
The clipping path is mostly used for product photo post-processing work. Raw photos are commercially unusable without proper post-processing. The clipping path technique is used for working on raw images and making images ready to use.
Advanced Photo Editing
In Advanced Photo Editing, the editor has to work on individual items to make them look perfect. The Clipping path is required for isolating individual objects through vector paths. Without a clipping path, designers can't separate an object accurately.
Web Image Optimization
While uploading images on websites, we want to keep the images as specific as possible. A clipping path can do it by eliminating unnecessary items and backgrounds from your photography. It's a reliable option for optimizing web images.
Clipping Path Vs Image Masking- Key differences
The working principles of clipping path and image masking are totally different. Here's the explanation.
A clipping path indicates the method of selecting an object by creating paths. The pen tool is used for that.
On the other hand, Image Masking is used for hiding and revealing specific portions of an image without erasing anything.
When an object has hard edges, the clipping path technique is applicable. Make a clipping path is not applicable if the object has a hairy or furry portion.
Whenever an object has hair, fur, and transparency, image masking is the suitable option to select the object. No path layer is required for this.
The Mask Option, Brush Tool, Background Eraser Tool, Magic Eraser, and Color Range Selections are used for creating masks in Photoshop. That makes the masking technique different from the clipping path.
Clipping Path Step by Step Tutorial
You can create a clipping path by following the 7 easy steps provided below.
Step 1: Open The Image
To begin the tutorial on Photoshop clipping path, open the image in Photoshop. You can directly drag the image on Photoshop or you can import an image from the "File>Open" option.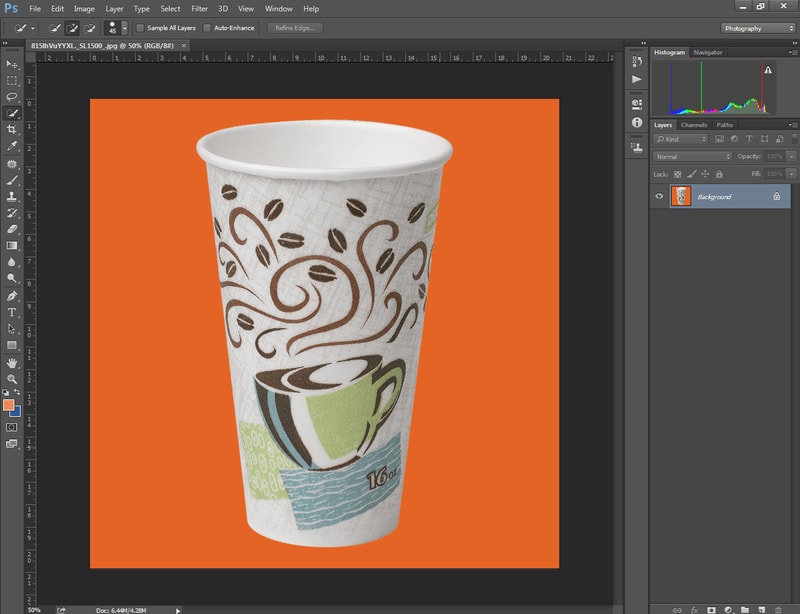 Step 2: Pick The Tool
Now, we have to pick the tool that I talked about earlier. We are going to pick the pen tool in Photoshop. Here you go.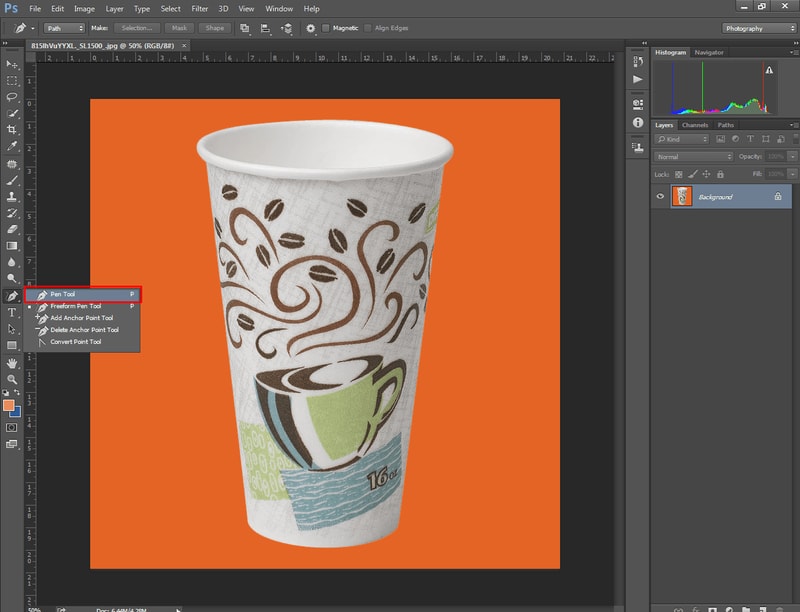 Step 3: Draw A Path
Now, we have got the pen tool enabled. We need to draw paths around our E-commerce product. To do that, zoom in on the image 300%. It will bring more accuracy to the selection. You need to spend some amount of time on this step.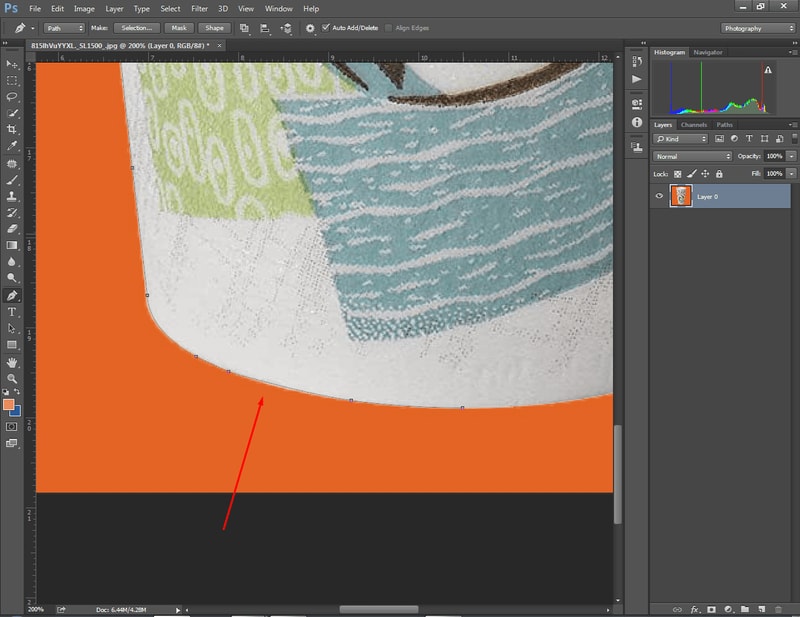 Without proper path selection, you aren't going to get a precise outcome. That's why you have to make sure that you perform this step with perfection. Press and hold the mouse then drag it to make curved paths. Use ALT & CTRL keys to edit a created path.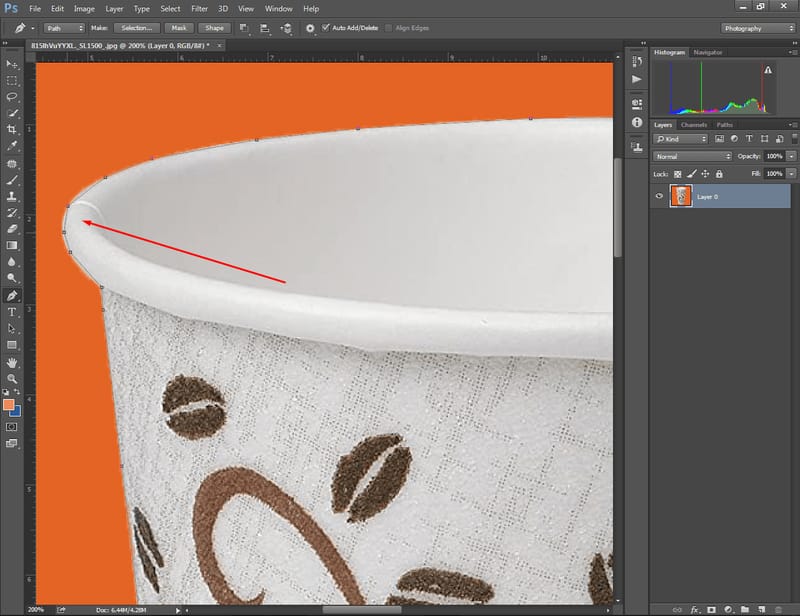 Carefully draw paths around the entire object and make sure that you have captured the product with the lines without missing any details or including anything from the background.
Step 4: Save The Path
At this point, we are going to save the path. Go to the path from this option.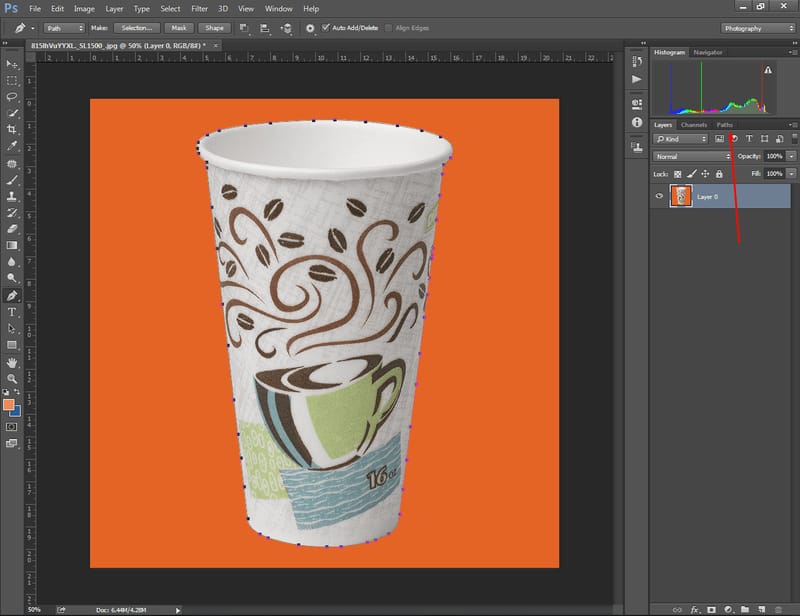 Later on, Right-click on the path and select save the path. Here you can see the option.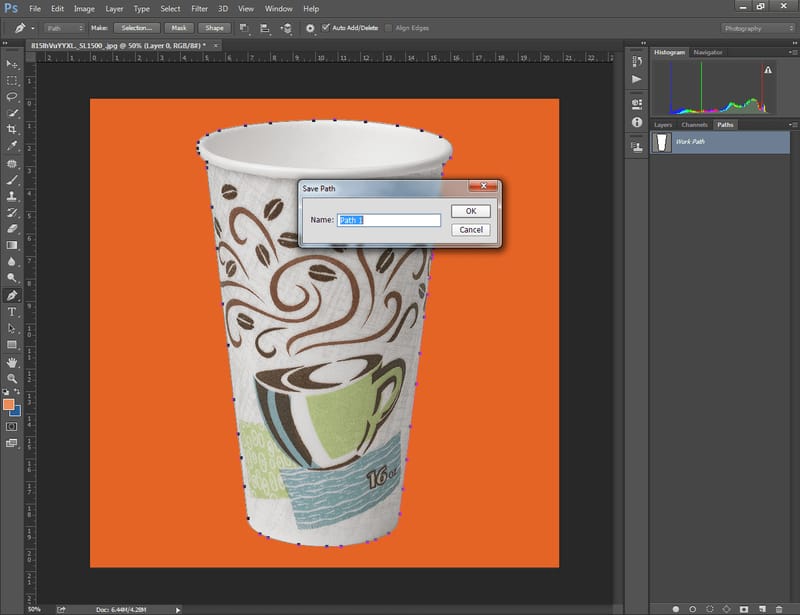 Step 5: Clip The Path
Alright, we are going to isolate the object from its main layer. To do that, double-click on the layer mask icon given below, and the existing background will be converted into a transparent background. You can also use this method to remove the background of any picture.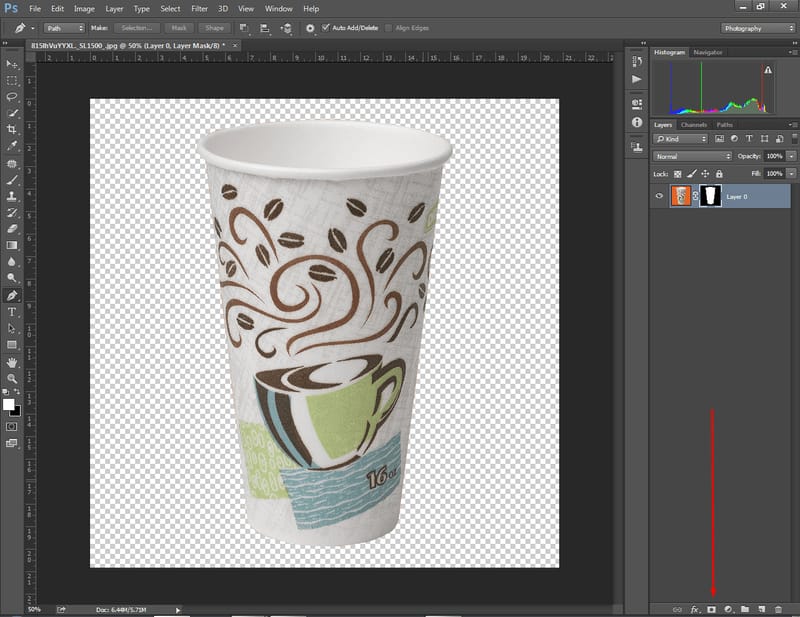 So, we have got the background transparent and we can easily replace the background with any suitable background.
Step 6: Save As JPG
Now, we are going to save the file. You can save the image in any format considering your requirements such as JPG, PNG, or TIFF. From here, you can get the option.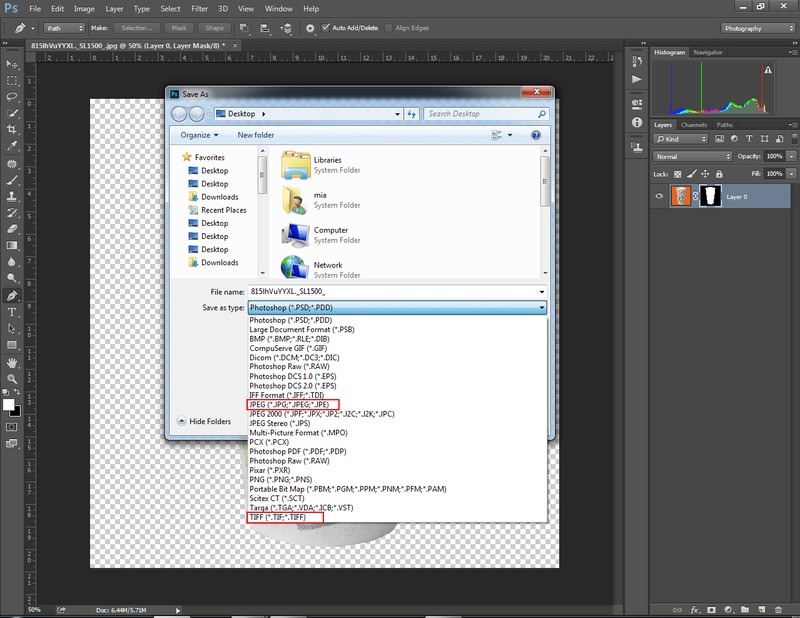 If you save the file in PNG, you will lose your created clipping path.
Step 7: Use The Image
Ultimately, you have created a clipping path in Photoshop and the image is ready to use. From now on, you have the option to change the background whenever you want. If you want to keep a plain color background, you can use the solid color option.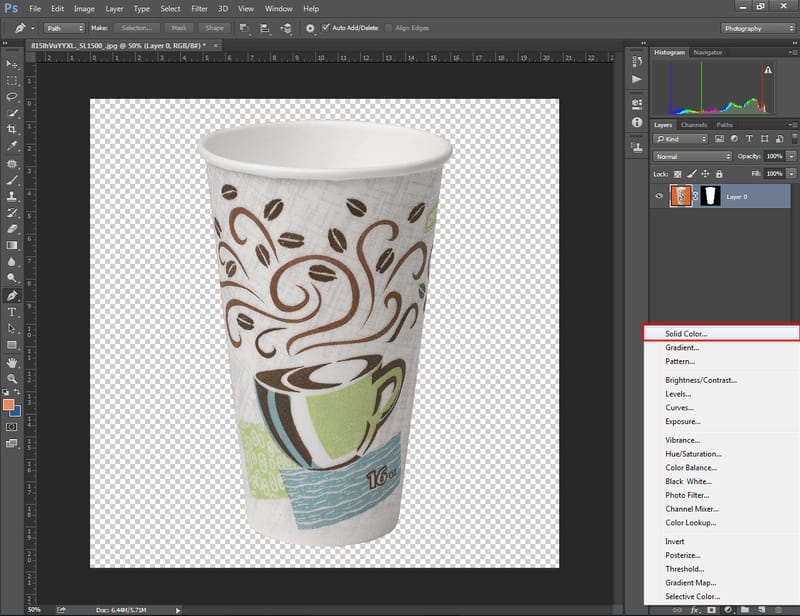 Would you like to watch a video tutorial on how to create a clipping path in Photoshop? Here you go.
Clipping Path Tutorial: (Video Step by Step)
Where Should You Use Clipping Path
When the object has hard edges.
When the object has holes and curviness.
To separate something from its background.
Where Should Not Use Clipping Path
If the object has hair or fur.
To select and isolate wool dresses.
For transparent object selection such as smoke or bottles.
Final Thought
At this point, you have got a crystal clear overview of what Clipping Path and where you should use it. We recommend you get the service from Clipping Way as they provide this service maintaining a high standard.
Customize Your Product Photo As You Like
50% discount on bulk images.
FAQ's
Why is the clipping path technique popular for editing product photos?
Because a clipping path is the most accurate way to select an object without having any edges.
Will you maintain the privacy of my images?
Obviously, Clipping Way ensures to maintain 100% privacy. We never share any of our client images and information with a third party.
How many images can you process per day?
As we have a team of 100+ designers, we can process around 3500+ images daily.
Is clipping path service applicable for Amazon and eBay Photos?
Surely, you can present your product photos with the best look on Amazon, eBay, and other Ecommerce platforms through this service.