eBay always wants to make its sellers' photos look more attractive and promising than other E-commerce marketplaces.
From that perspective, they have certain product image requirements that make their product photos stand out. One of their major rules is to remove the background of product photography. That's why E-commerce Image Editing is compulsory for eBay product photos.
Many eBay sellers don't know how to remove background on eBay photos. After reading this article, it will be an easy task for you to remove the background from eBay photos.
Alongside this, this article will help you to enhance the beauty of your eBay product photography. Here's the step-by-step procedure.
Easy Way To Remove Background On eBay Photos
BGremover is an AI tool that removes the background from photos automatically. Using that online background removal tool, you can cut out objects and humans from any picture.
The best part is that it takes less than 10 seconds to remove the background from a photo. We're going to remove background on eBay photos with that AI background remover.
Step 1: Open BGremover
First of all, you have to insert the BGremover URL on your browser and visit the website. You will see this interface on your screen.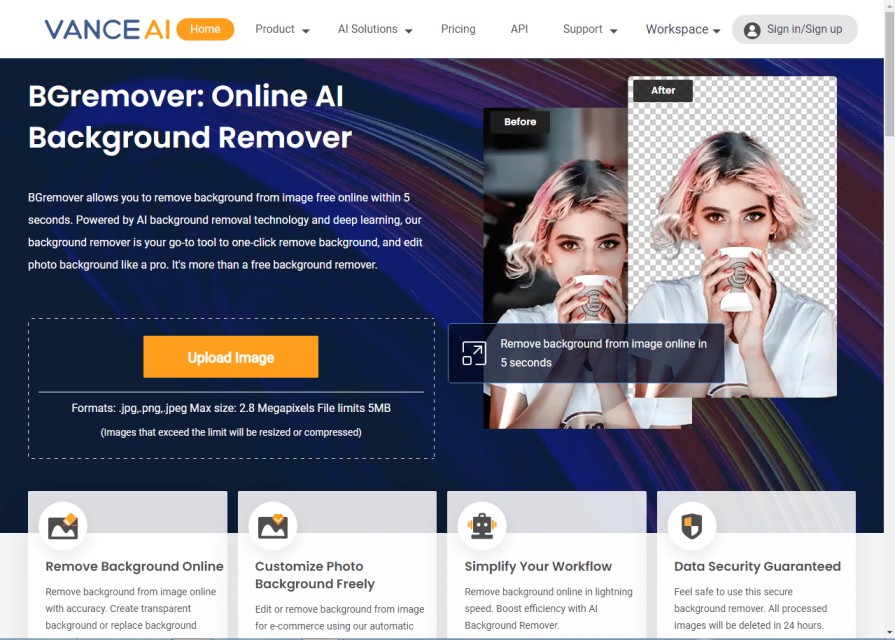 Step 2: Upload eBay Product Image
Click on the "Upload image" to select an image from your device. Then, open the file location of your product photos and press "Enter" to confirm. You will see two different image cutout modes. You have to select the cutout object from the right side. Here's an example.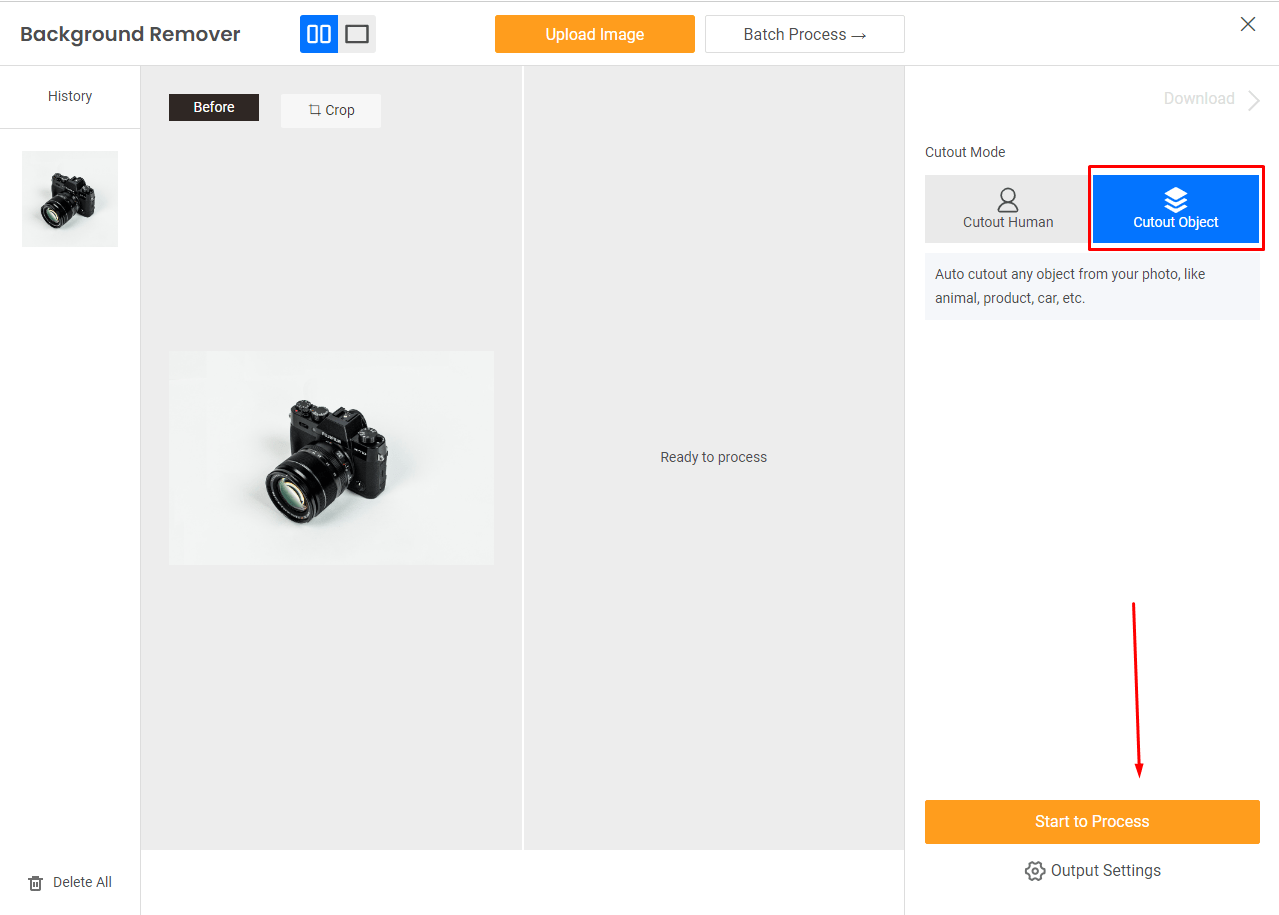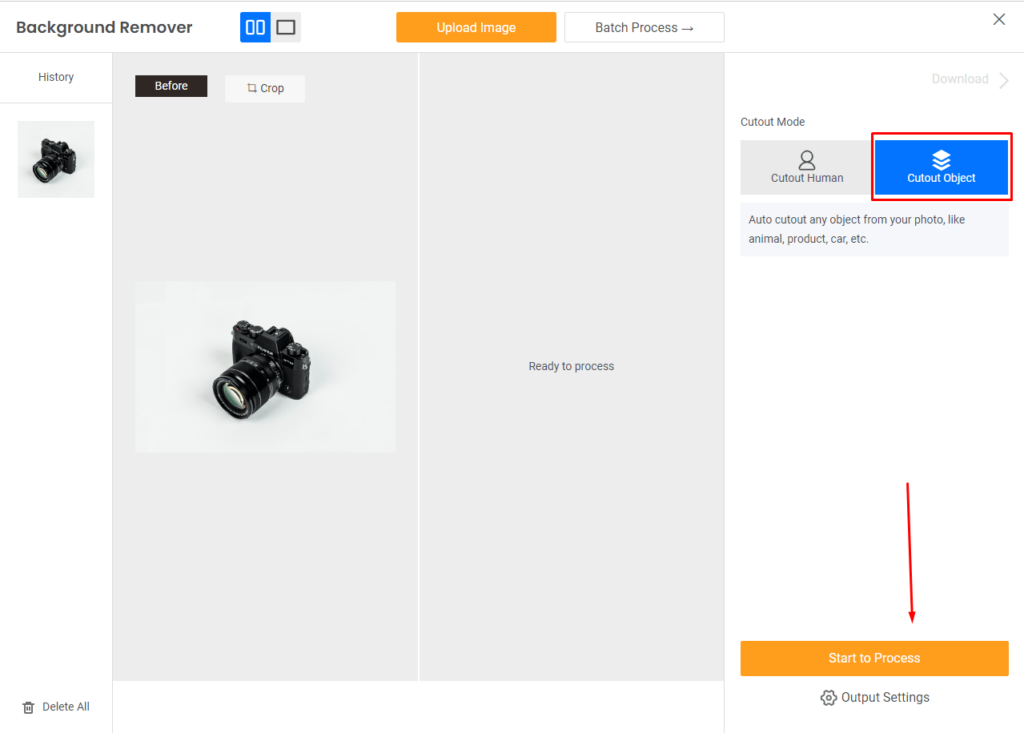 After that, you have to click on 'start the process" to remove the background and cut out your targeted object.
Step 3: Download Image
Finally, you will get the download option once the background gets removed.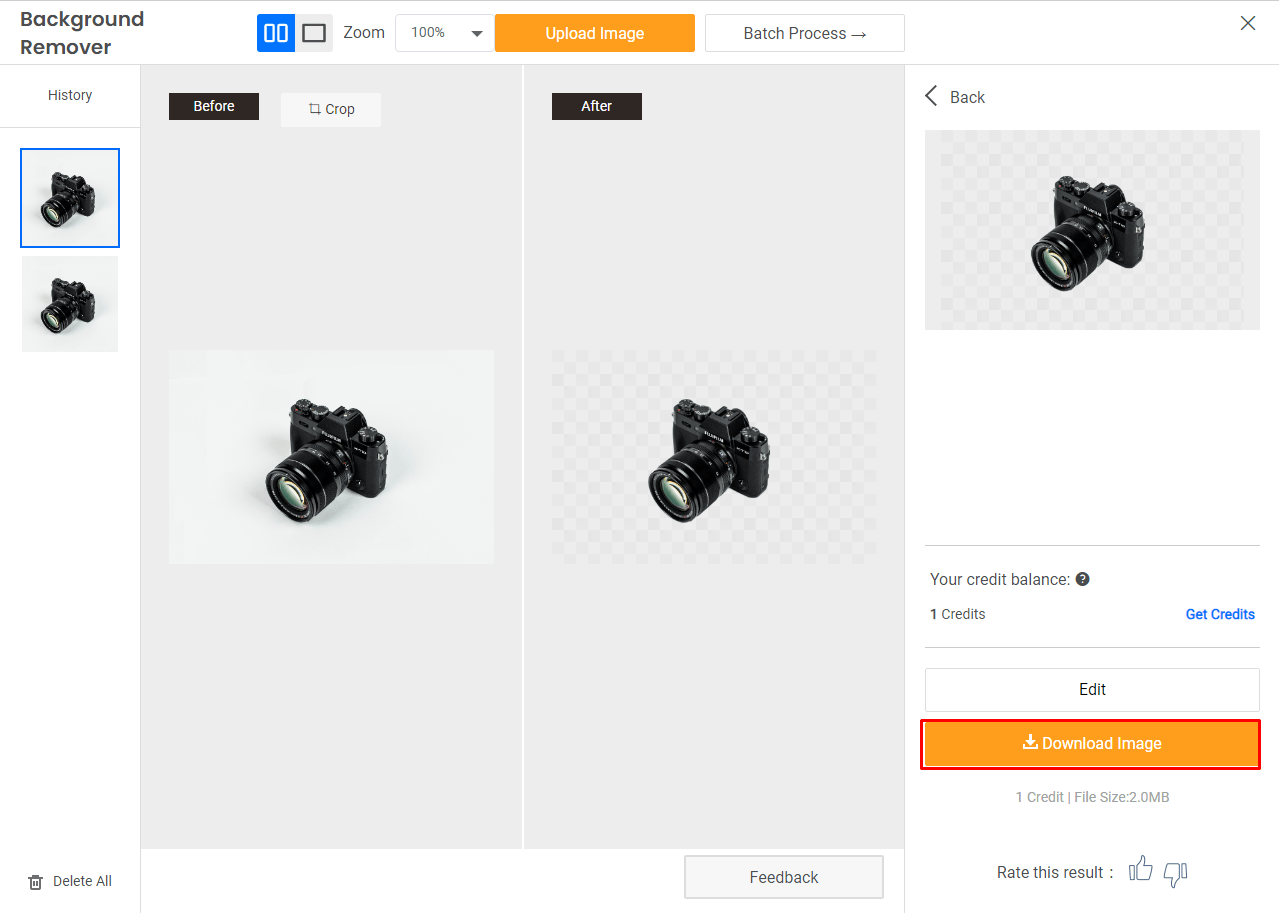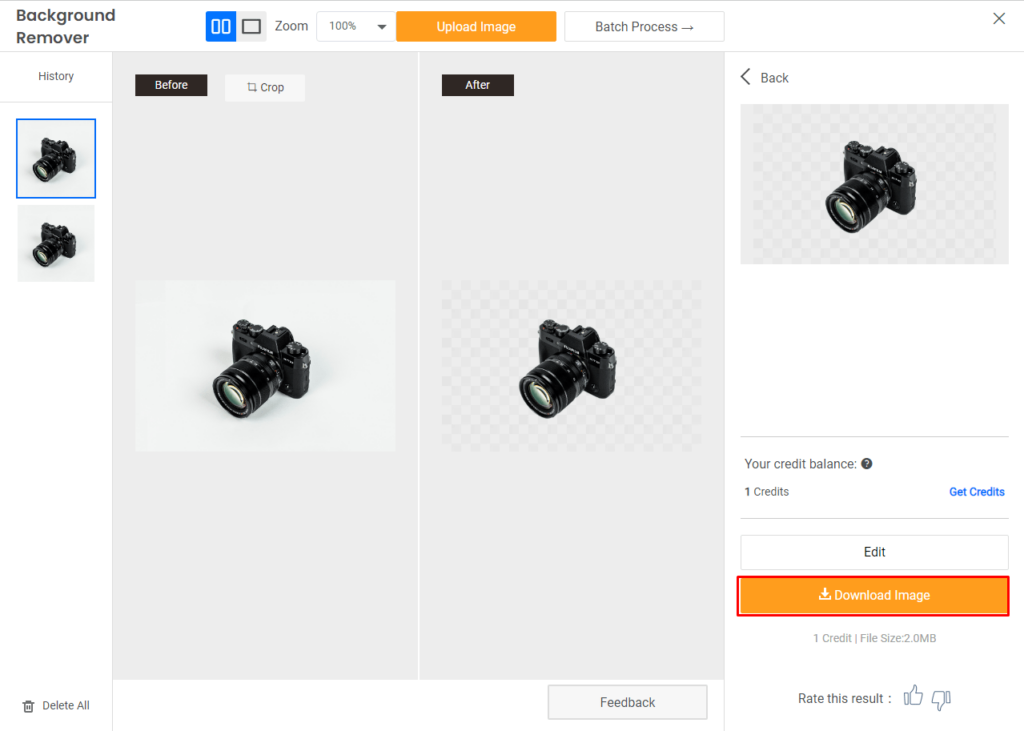 If you want to make some changes or corrections, "edit" option is available to do that. When you get your desired result, you can simply save the image to your device.
You can also remove the background for eBay photos without using any third-party application. Are you getting surprised? Permit me to narrate the easy method.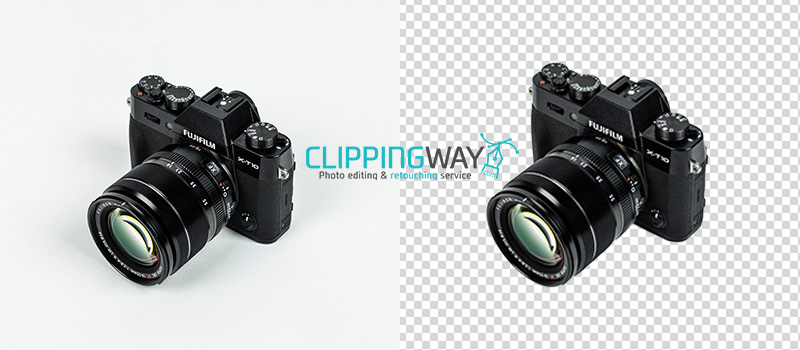 How To Remove Background On eBay Photos With eBay Mobile App?
To follow the process you need to install the eBay app on your mobile. Then, open the application and go to the "create listing" option to add a new product to your seller account. After adding a photo, you will see three options.
Those three options are: "Add as main photo", "Touch up photo" and "Not now". You have to tap on "Touch up" photos to get the background removal feature. Touch on the "continue" option from the right side to proceed forward.
After that, you have to touch on the eraser icon from below. Now, you can remove any unnecessary object from the background just by swiping your finger. Also, there will be an 'undo' option on the right side. If you want to undo any changes, click on this icon. When everything seems fine, you have to tap on "apply" from the top.
By following that method, you can remove the background on eBay photos using the eBay mobile application. You can follow this method both from IOS and Android mobile. Let me inform you that you may find it difficult to remove the background while working on complex images.
In that case, Photoshop is a reliable option to delete any background precisely. Here's the explanation for you.
How To Remove Background On eBay Photos Using Photoshop?
We can remove backgrounds from eBay photos without having any limitations using Adobe Photoshop. Along with removing the background, it also has lots of image editing features to improve image quality and product appearance. Here's the eBay product photo background removal guideline.
Step 1: Open eBay Product Photos
Firstly, you have to open the product image in Photoshop that you want to remove from the background. Photoshop has several image selection tools such as the pen tool, quick selection tool, object selection tool, and lasso tool. We are going to pick the pen tool to select the object accurately.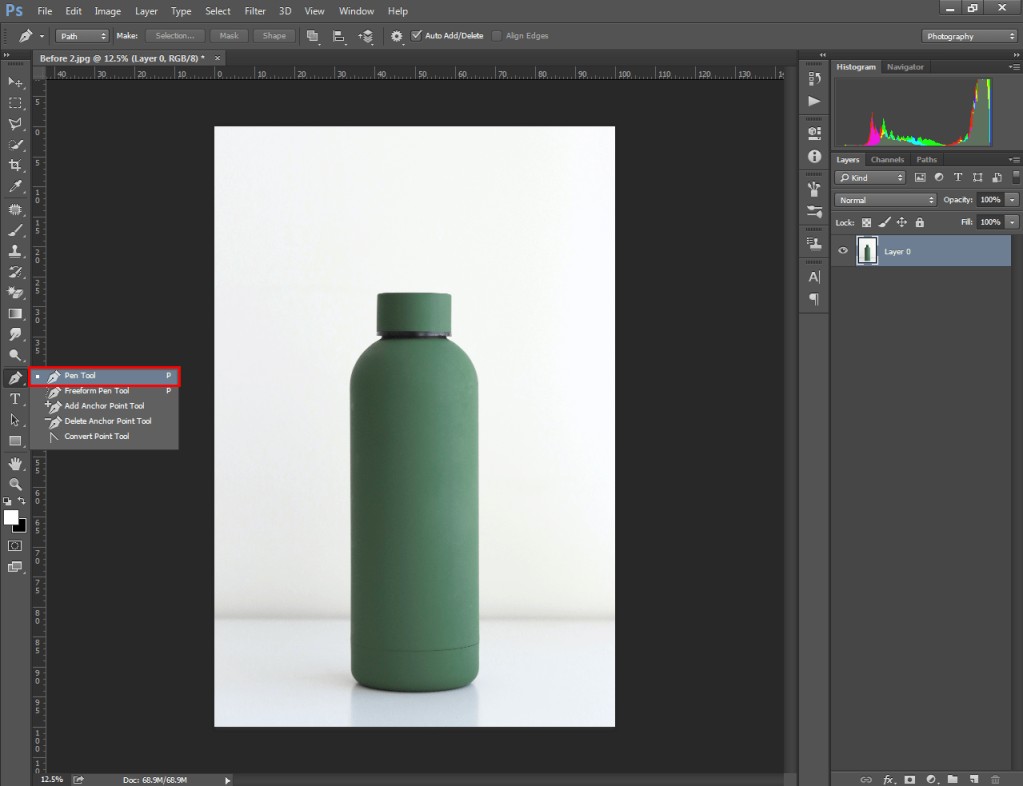 Step 2: Select The Object
As we are going to use the pen tool to select the object, we need to create paths around the object. You can save your created paths from here.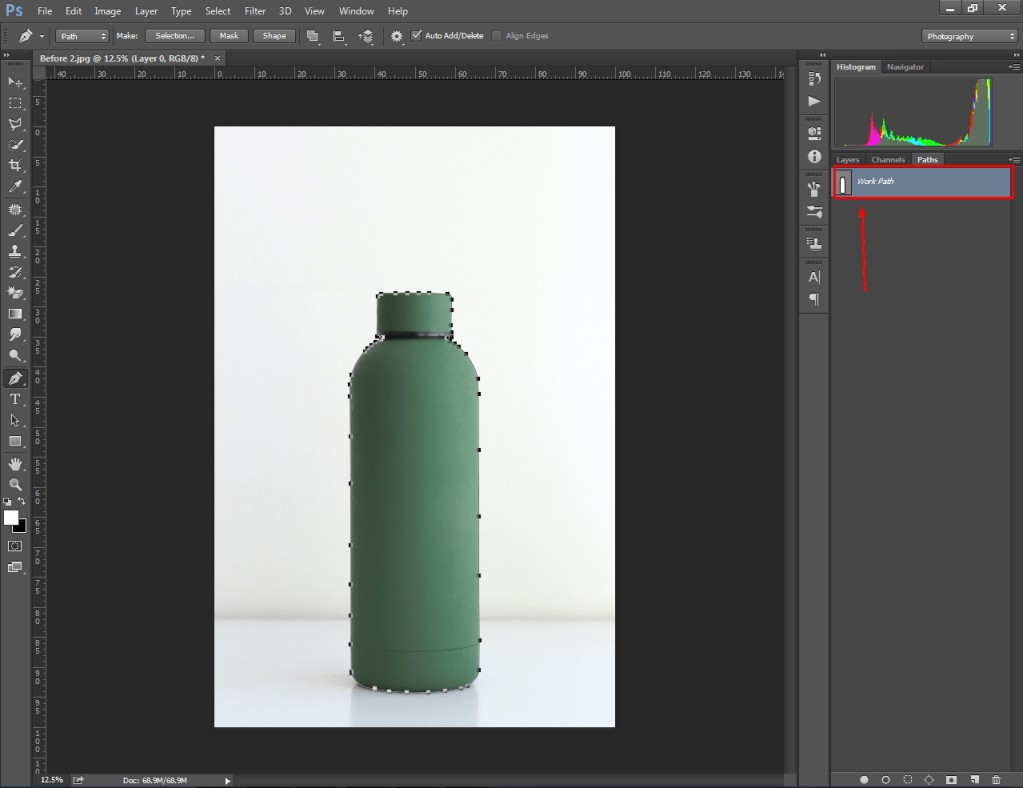 Zoom in the image to select an object accurately. "CTRL +" and "CTRL -" are two shortcut keys for zooming in and out. Besides, you can press and hold the ALT key to change the direction of a path.
Step 3: Make Selection
When you complete creating paths, press the right button and select "Make selection". Next to that, press the "Enter" key to proceed forward.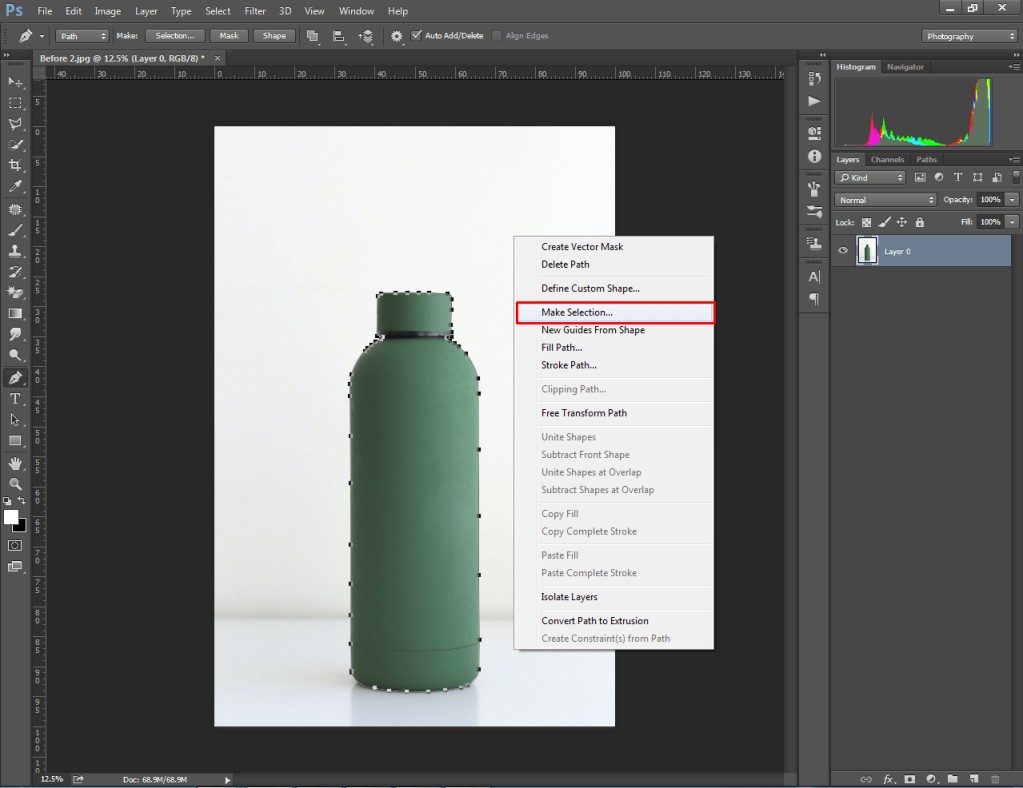 It will select the object with moving dotted lines. Go to the 'Select" option from the top and tap on "Inverse". After that, press the "Delete" key.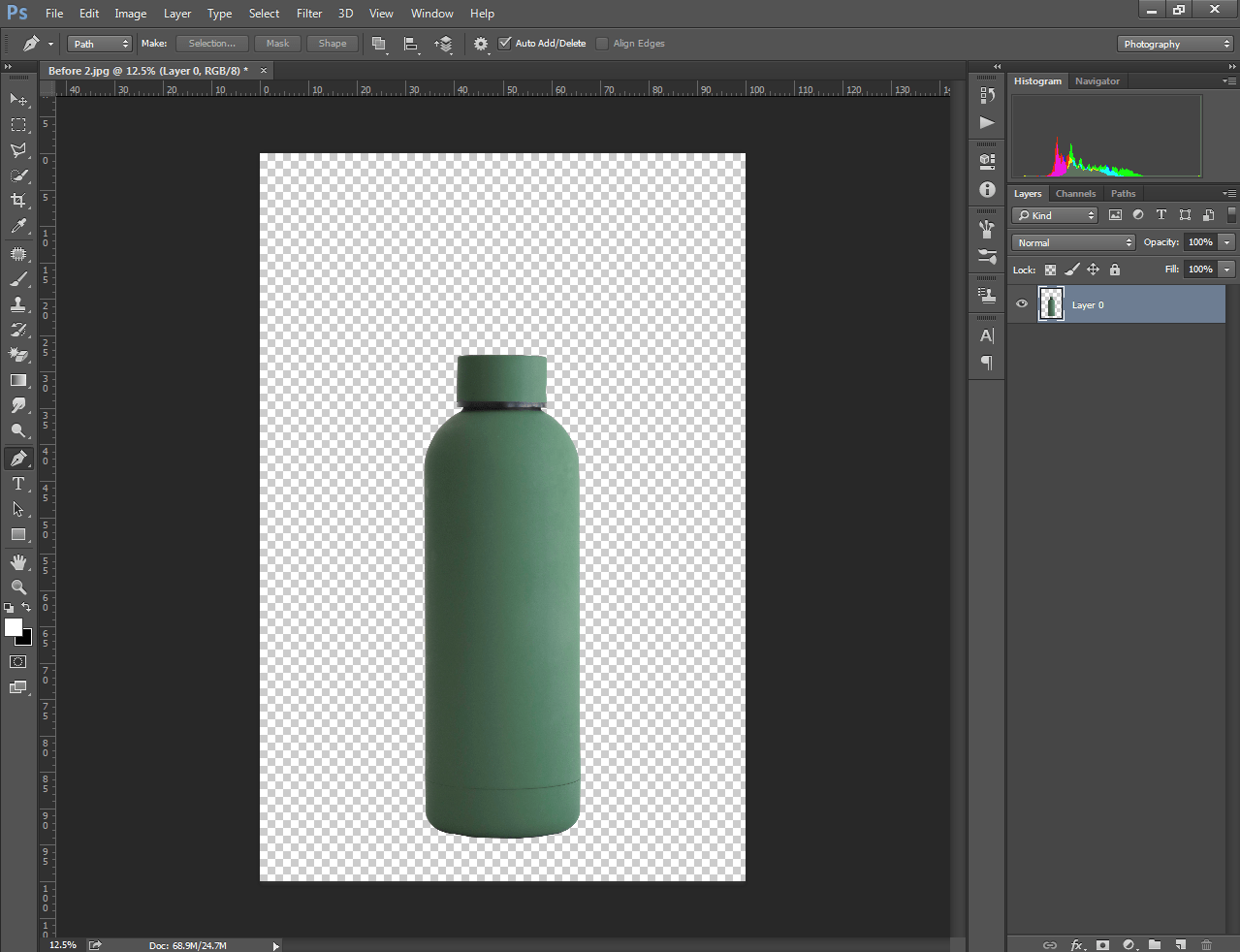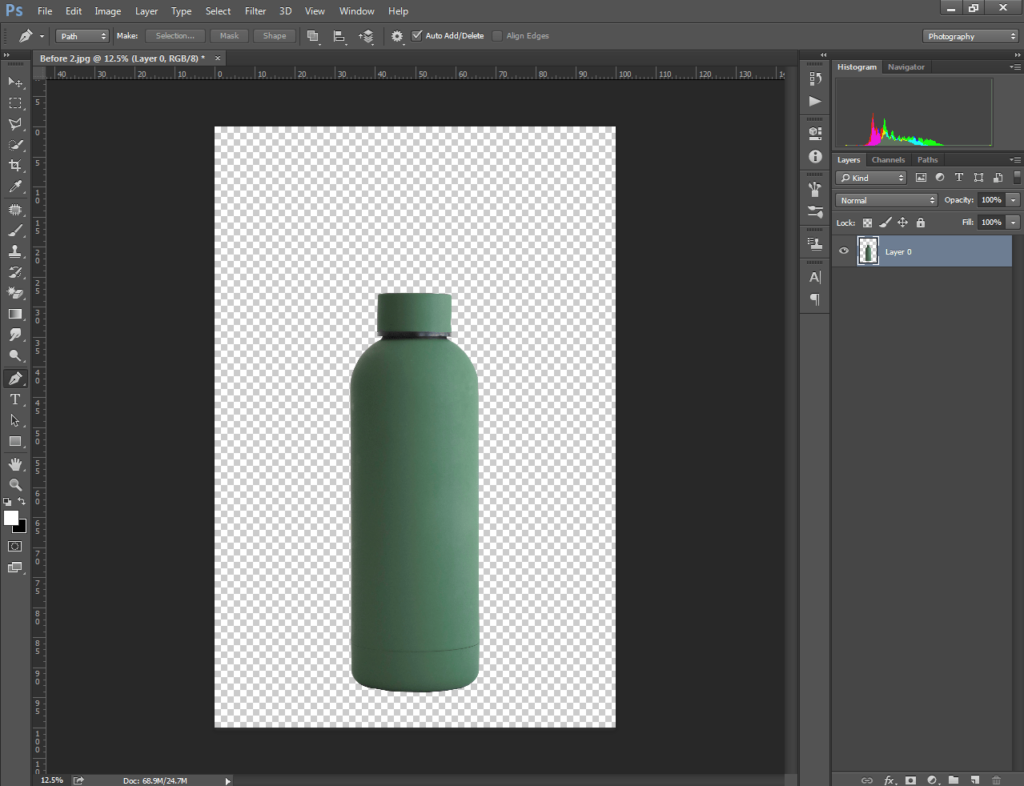 That will remove your eBay photo background. Now, you can save the image from the "File" option at the top.
How was the method? You can share your thoughts in the comment box. However, I am going to reveal a trick for you that will save you money and time. Here you go.
eBay Product Photos Background Removal Service
eBay sellers need to use thousands of images per month for their listings. It becomes too difficult to edit all photos yourself as it takes lots of time. Sometimes, sellers ask their photographers to deliver edited photos. It adds extra money to your budget. Photographers charge an extra fee for image post-production. Therefore, it becomes too costly.
You can minimize the cost by placing your orders with a professional Image Editing Service Provider Company. We recommend you select Clipping Way for your eBay photos background removal task. Their price starts at $0.25 only. Moreover, they will offer you a 100% money-back guarantee. Overall, you can get the best quality background removal service at a minimal price.
Ai Tools Vs Manual Services By Skilled Designers- Which One Is Better?
You might get confused about choosing between Ai Tools and Manual Services by Professional Designers. This section will help you to make a better decision.
When using AI Tools, you have to buy credit to edit your photos and remove the background. If you have complex images like hairy or furry objects, transparent products, and sharp edges, AI Tools will not deliver perfect outcomes. Also, you have to upload all images on the website and process them for background removal. You have to invest your time and effort in that.
On the other hand, when you place an order for online background removal services, you hand over your responsibilities to professional editors. Skilled graphic designers use Adobe Photoshop to remove the background manually.
They have a sound knowledge of eBay product image requirements. As they deliver 100% hand-drawn service, they can remove backgrounds accurately even from super complex photos.
You just need to place an order. Then, you can relax until you get your images back as you don't have to put in additional effort. Now, it's up to you to make the final call. Most of the top-rated eBay sellers are taking the Image Editing Service by expert designers and getting benefits.
eBay Product Photo Requirements
Before jumping to conclusion, here are the eBay product photos requirements for eBay sellers. Those requirements are mandatory for getting product listing approval on eBay.
Sellers should include at least one image for every listing. It will be better to add 2-3 photos from different angles.
Product image size should be a minimum of 1 x 1 pixel and maximum of 12000 pixels.
The maximum length for height and width is 12000 pixels.
Product image size can't exceed 12 MB
Don't add border, text, or artwork with the primary product image
JPG, BMP, GIF, TIF, and PNG formats are supported
RGB Color spaced is supported for JPG
JPG image quality should be at least 90%
Customize Your Product Photo As You Like
Final Thoughts
You have got a clear concept about how to remove background on eBay photos. We have shared 3 different techniques to remove background for eBay product photos.
If you have a tight schedule, you can assign Clipping Way for your product image post-production. Do you want to consult about eBay product photo editing? Don't hesitate to contact us anytime.
FAQ's
How Can I Make My eBay Photo Background Transparent?
eBay mobile app doesn't have a transparent photo background feature. To do that, you have to use 3rd party photo editing tools such as Remove BG.
How Do I Change The Background Color Of My eBay Product Photo?
You can use Adobe Photoshop CS5, CS6, or any latest version to change the background color of a product. You need to remove the original background and add a solid color layer.
Does eBay Product Image Require White A Background?
Yes, eBay has set guidelines for sellers to use a white background for product photos. You can also use a light gray background.
Does eBay Have Its Own Photo Editor?
Yes, eBay has a default photo editor feature for editing product photos. Sellers can add a white background to the photos using the editor.