Many reasons are involved when trying to swap faces. Face swap in Photoshop is not something new to us; several other apps can do justice to that too.
The Photoshop face swap technique is useful to swap the faces of different people. It's a valuable tool for Ecommerce editing/brands that want to maximize their investments in product photography.
You might want a straight face to replace a smiling face for a commercial, or maybe you want a change of hairstyle for a particular face, copy and paste it over.
Some pictures are almost perfect; why not make them complete with a face swap if that's all it takes? There are many ways you can swap faces in a picture.
Swapping faces is perhaps what Photoshop is commonly known for, and you will find enough uses as regards face tutorials. One of the most effective ways to swap faces in Photoshop is the Auto-Blend Layers command present in the edit menu.
Not only professionals can perform face swapping anymore, but with the right tool, anybody can do it. This can be considered an advanced Photo Retouching technique.
You can have a lot of fun when swapping faces in Photoshop. You can do it to maybe impress your friends or family as much as it pleases you. This tutorial gives a step-by-step process on how to swap faces.
Importance Of Face Swap
With Photoshop, there is more to just swapping faces and placing a head onto another body. The Photoshop swapping technique is useful in other aspects most notably in the e-commerce industry which means for a small investment; you can take your product to the next level.
Rendering high-quality email will raise your business's credibility. Image quality is one thing that consumers take note of when making a purchase.
So, face swap in Photoshop cc is significant in product photography which is why it is reputable. In jewellery product photography, it can be used to swap gems, pendants and stones.
It will alter the identity of this jewellery to the taste of the customers. In apparel, it can be used to switch designers on clothes. Also, you can use the Photoshop swap method to change labels on mugs, bottles, pint glass and other items. Some services offer face swap Photoshop online.
Why Need To Face Swap
There are many reasons you would want to swap faces with Photoshop. Hilarity is one reason- It is worth noting that facial recognition technology of face swapping apps doesn't discriminate which gives way for any practice you might desire.
Whether you want to know how your face looks like on another body or you just want to have a good laugh with a friend or family or vice versa, Photoshop face swap has an unlimited taste. Celebrity photos most times fall victim of these pranks.
Also, a picture could need an added variety especially in product photos that feature models. The model's face might not stand appropriately or she is wearing an unhappy face.
Face swapping such photos will go a long way to boost your sales and attract customers. They are needed to increase photo quality which consequently entices customers. It is a product photo advertisement strategy that comes in handy.
In this article, we'll teach you ten step-by-step process
Step 1
Image selection in Photoshop- Select open from the dropdown on the file tab and select the photos you want.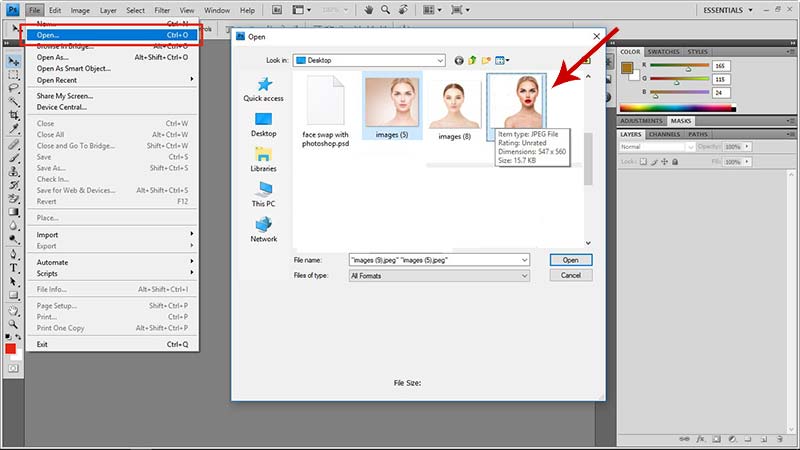 Step 2
Face selection- Click on the file tab that conforms to the face that you want in the final photo. Press the L-key on the keyboard to select the Lasso Tool.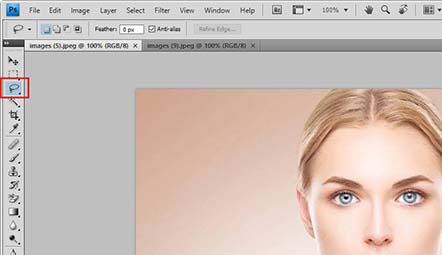 Trace around the eyebrows, nose and lips in a very gentle manner. A flashing dotted line depicts the traced portion. To get a realistic result, dealing with the most highlighted part of the face is necessary.
Step 3
Copy image- Press CTRL+C command key on your keyboard to copy the selection but ensure the dotted line is still noticeable to avoid coming back.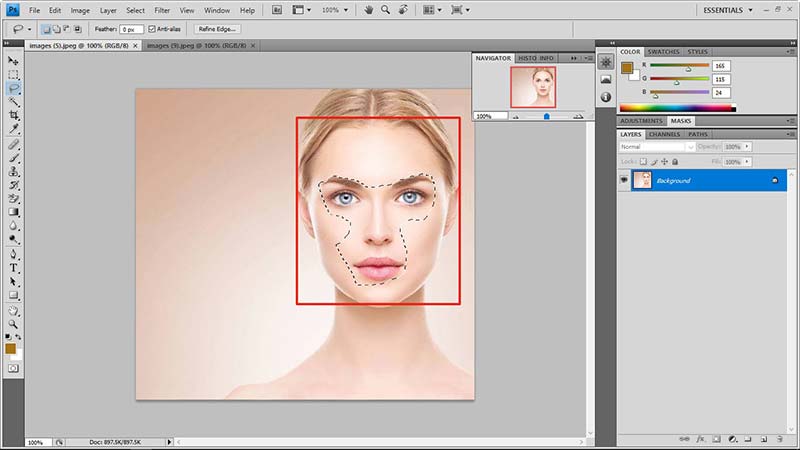 Step 4
Paste image- Press CTRL+V to paste the copied face to the original photo you want to replace on the selected workspace from the tabbed workspaces. This is called the "body" layer. Then press CTRL+D to deselect the pasted face and remove the flashing line.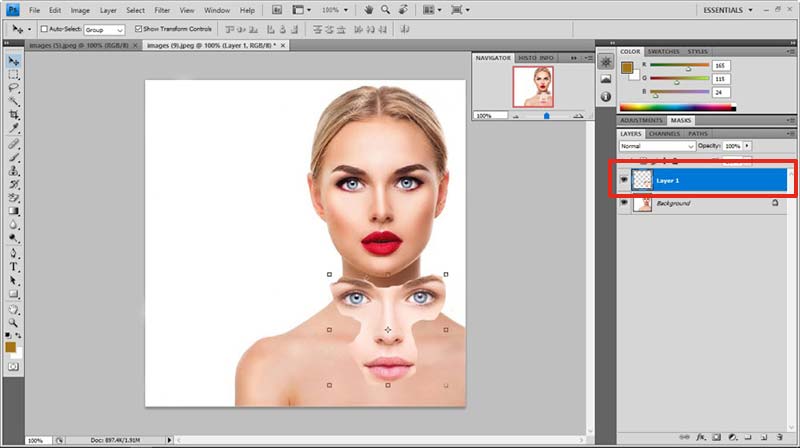 Step 5
Image resizing- To ensure that you can see the layer beneath; you need to adjust its opacity by 30%. Then you can position and stretch the face accordingly by using the CTRL+T command.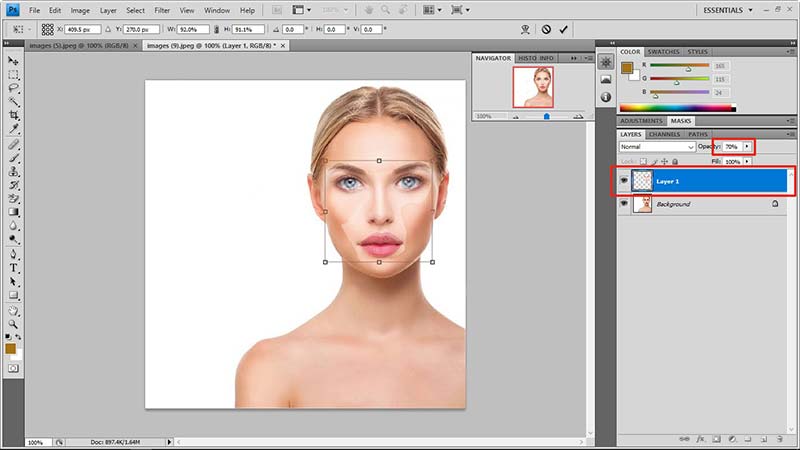 Also, you can achieve a proportionate face by holding the Shift key and dragging the box by clicking. A rotation toggle is present if needed.
Press the enter key to end it when you are satisfied with your placement after which you can return the layer opacity to 100%. You lose your work if you don't.
Although, patience and a little trial and error are needed to get a proper face alignment.
Know More: How Much to Charge to Edit Photos in 2022
Step 6
Copying the background layer- The next step is to duplicate your background layer. You can right click and select the background layer from the layer menu or use the keyboard shortcut by pressing CTRL+J. Rename the copied layer as you like because it will make up the majority of your final photo. You can hide the background layer by clicking on the Visibility Eye.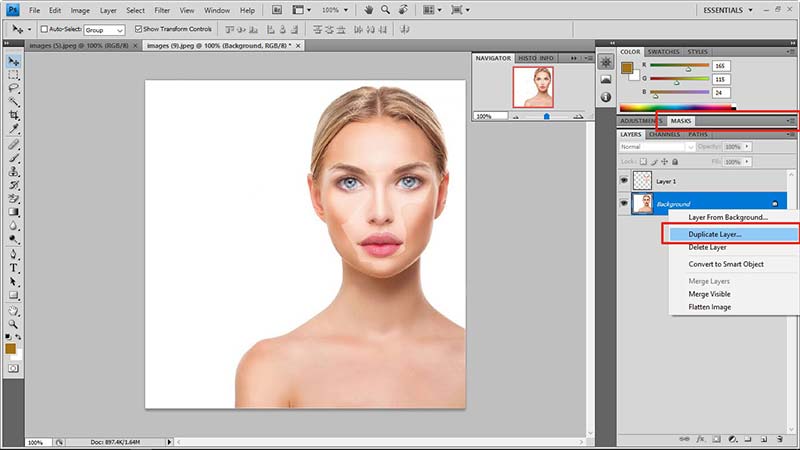 Step 7
Creating a clipping mask- Hold the CTRL key while clicking on the thumbnail of the face layer to help select the face's shape on all the available layers.
Select the body layer, and then hide the face layer by clicking on the Visibility Eye. After completion, the layer you select is the one you will see because the background and face layer becomes unnoticeable.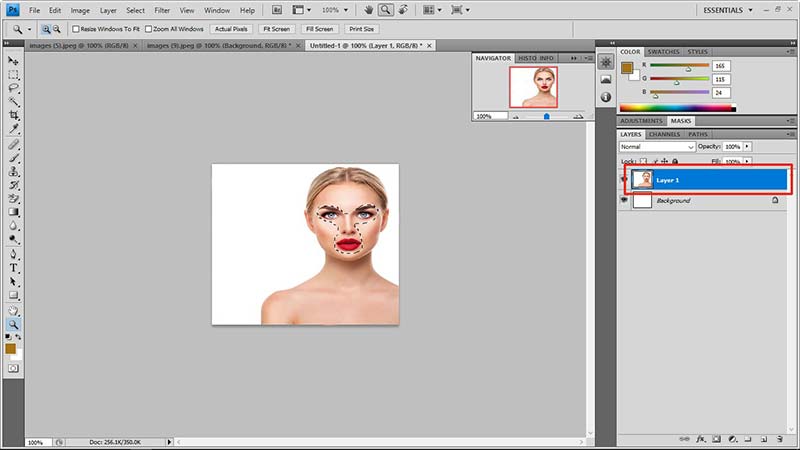 Step 8
Overlap the face with the body- Click on the menu tab in the header and pick Select. Choose Modify next and select Contract. Type 10 pixels in the dialogue box to shrink the clipping mask by 10 pixels.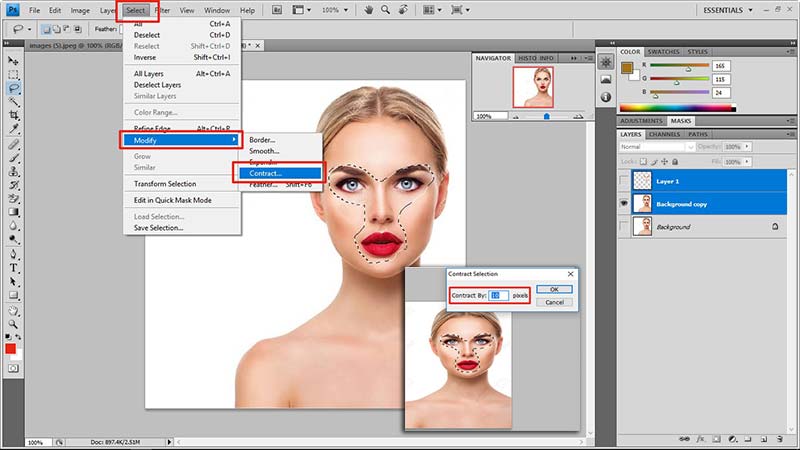 Step 9
Remove the area beneath the face- To execute this, select the body layer and press Delete or Backspace to, then deselect with CTRL+ D.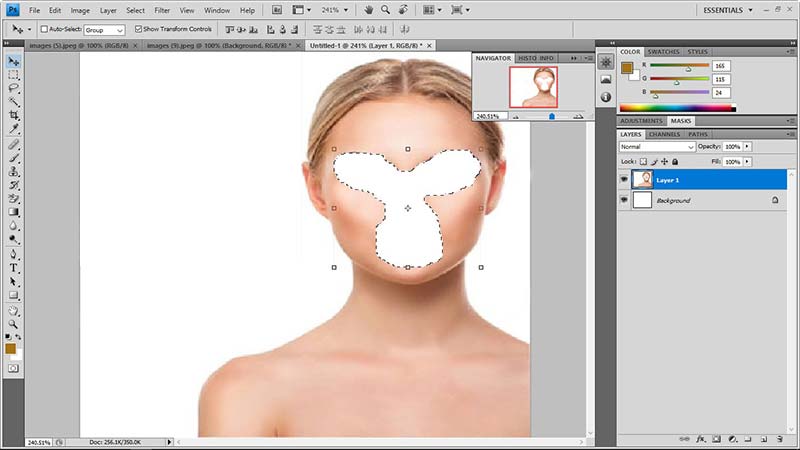 Step 10
Select the body and face layers- Select Edit from the menu tab. Then select Auto-Blend Layers from the dropdown for a dialogue box to pop up. Check the Panorama, Seamless Tones and Colors and Content Aware Fill Transparent Areas boxes before clicking OK.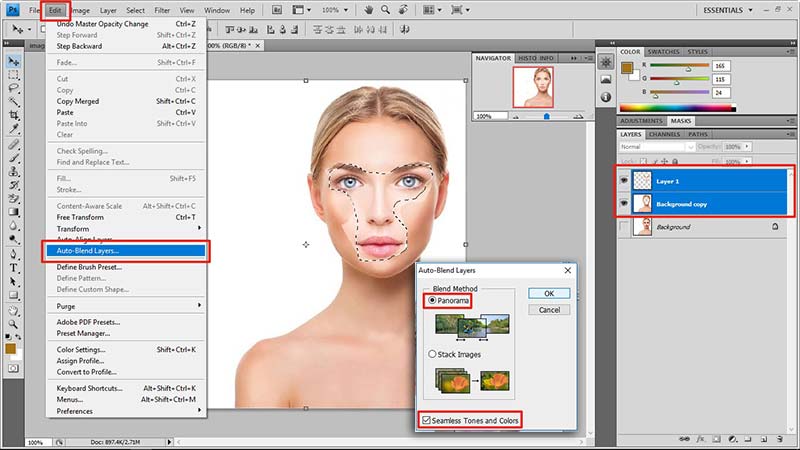 Final Photo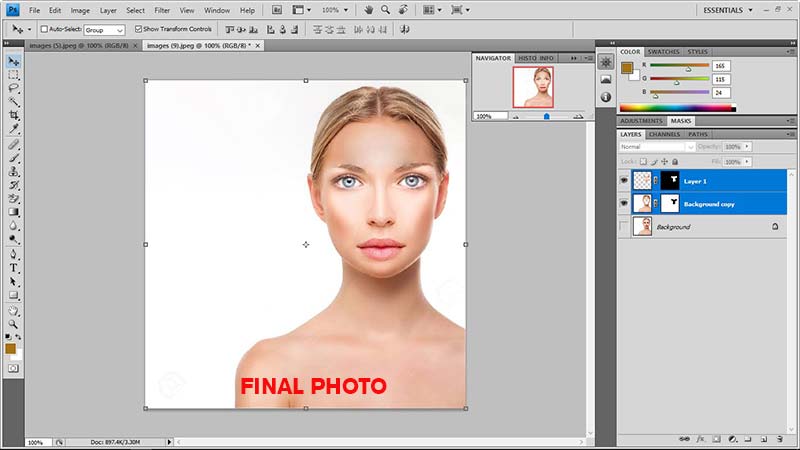 Photoshop Face Swap Online
Photoshop face swap is what you can call a quick fix. Photoshop CC is diverse enough for your professional works. There are online websites adept at doing Photoshop face swap, so are many people and you think you can do better.
Well! Here is all you need to strengthen your zeal. This article has been specially written to give you basic knowledge about swapping faces in Photoshop. Let's go!
You feel a sense of frustration considering the amount of effort you put into making everything right. This is where the use of Photoshop comes in.
You can make everything right with a simple face swap. This tutorial affords you the technical know-how to manoeuvre some pictures with surgical precision.
This article simplifies learning into ten steps for your convenience. These ten steps are accompanied by images to help navigate through Photoshop easily, and even if you have never utilised Photoshop, you have a solid template to hone your skills.
The result will amaze you and whoever sees it because nobody will be able to tell if there had been any alteration or not.
Take advantage of this tutorial and your photos will become noteworthy. There are enough reasons to swap faces using Photoshop. You get this underwhelming feeling when looking through your picture collections.
You feel the individuals in the images are not smiling enough, happy enough, or maybe that group photo would have been inch-perfect if not for the last-minute swerve of heads by your friend.
You have the fulfilled feeling that you have nailed an ideal pose with your family in the studio only to realise that not everybody looked right.
Customize Your Product Photo As You Like
Conclusion
Now you can start to use Photoshop face swap to perform multiple operations to make your photos look natural. You can retouch it to enhance its quality.
It affords you the opportunity to handle work quality and quantity of any size. You can now style your photo in any way you deem fit, and you can play with different settings to get a better hang of what to do in different situations.
Spending time on Photoshop will give you confidence, and you become conversant with the features.
Practice and master this technique and apply it to your future projects. If you need a professional image editing service for commercial purposes you can ask Clipping Way because they are experts in photo retouching service.