We often notice some excellent sports moments photography in Social Media and magazines. Sports photography is not only fun but also challenging.
Top Sports photographers in the USA earn around $90, 000 per year. In 2021, the market size of the photography industry is $11.5 billion.
Undoubtedly, the sports photography industry is highly competitive. Still, there are opportunities for new sports photographers and sport photo editors to outsourcing photo editing.
You need to have some skills and dedication. Would you like to see yourself as a successful sports photographer? This article is going to be helpful for you.
Through this article, I am going to share the 10 best ideas for sports photo editing that will help you to boost your career as a sports photographer.
Afterward, you can get started in sports photography. All of those 10 ideas are going to assist you to take better sports photos. Besides, you will know about the best sports photo editor.
Without any delay let's jump forward and get beneficial.
Get Started In Sports Photo Editing Following 10 Tips
1. Collecting Professional Equipment
To get started in Sports Photography, you need to have professional equipment. So, what is the main equipment of a Photographer? You need to have a Camera.
Lots of cameras are available in the market. You have to choose the best DSLR Camera within your budget.
Things just happen too fast in sports. Your camera should have a fast shutter speed. You should keep it in your mind as a special consideration.
In the professional field having a camera isn't sufficient enough. You should also purchase other equipment like Backpack, Tripod, Memory Card, and Battery.
Tripod will assist you to maintain stability and avoid shaking. A durable battery will assist you to take continuous photos without any interruption.
After purchasing all that equipment you are ready to jump into the 2nd step. Let me tell you what should be your next approach.
2. Best Sports Photo Strategy
Lots of sports photographers are already available. To stand out from the crowd you should adapt to a unique style. You need to set your strategy. I would like to share some golden ideas for sports photos.
Be Sportsman & Cope-Up
To be a good sports photo editor, you need to be a sportsman. I mean you have to be familiar with the game. Suppose you are going to do sports photography for a Football match.
You need to know the basic rules of football. It will give you an idea about which moments will be the best ones for the fan. You have to wait and capture those special sports moments. Then, lots of people will show interest in your sports photography.
Know More: Ultimate Amazon Product Photography Guideline (Must See)
Perfect Shots
While doing sports photography, you get only a few seconds to capture the best moments. Once you miss the shot, you can't retake that moment. You need to be quick enough to adjust the speed.
Focus on Face
I have seen many beginner photographers make a common mistake. Most of the time, they end up capturing blurry faces of players in special moments.
You should not make the mistake. Focus on the face of the player and take a clear shot when you get the opportunity.
Skip Chimping & Flash
Are you familiar with the term "Chimping"? Suppose a sports photographer is checking his photos and misses an exciting moment. That is called chimping in the photographic term.
You have to stay away from it. Also, keep the flash off while capturing photos. That's one of the best ideas for sports photos.
Proactive & Keen Eye
Sports photography is all about patience. You can't lose your attention till the last second of a match. Otherwise, you may miss a super exciting moment. You need to be proactive.
Shutter Priority
As i have mentioned earlier, you need to purchase a camera with fast shutter speeds. Keep the shutter speed high while capturing a sports photo. It will make your shot precise.
Give Focus on the Gallery
Fans are important for any sport. You should also keep an eye on the gallery. Almost in every game, you will find something interesting in the gallery. Capture the moments and attract the viewers.
3. Editing Sports Photo
Sports Photo Editing is the key to success for a sports photographer. Typically, you may take lots of photos during a match. You have to choose some of the best shots and edit those photos.
If you don't know how to edit an image, you outsource your images to a professional photo editor for sports photo editing.
Proper photo editing will boost up your Sports photography career. Even some of your dull shots will look interesting and catchy.
Without photo editing, you can't beat your competitors whatsoever. Which tool to use for professional sports photo editing? You will know about that in the next point.
4. Adobe Photoshop
Adobe Photoshop is one of the best sports photo editors. Adobe Photoshop will make your image editing task easier and exciting. You will be able to turn a poor-looking image into an appealing image. Now, permit me to introduce you to some essential image editing tasks.
Remove Maze:
It is common in sports photography to capture unwanted elements in the frame. Photoshop's cropping tool will help you to remove the maze from sports photography. Using the crop tool, you can also resize the image.
Correcting the Exposure
Adobe Photoshop gives you control over the exposure. You can use the Curves and Levels options in Photoshop to correct the exposure, brightness, and contrast.
Color Adjustments
The proper color adjustment will make your sports photography look attractive. Using the Color Balance, Hue-Saturation, and Selective color feature you will be able to make color adjustments to your photos.
Removing Spots & Background
Would you like to remove spots and backgrounds of sports photography? You can use the Healing Brush tool to remove spots. Selection tools and the mask option can remove the background from an image.
5. One-click Editing
Would you like to edit your sports photos with a single click? Photo Editors like "Pixlr" or "Befunky" allow you to do one-click sports photo editing.
Using automatic tools isn't a good idea for sports photo editing. The outcome isn't going to be as good as the manual photo editing.
6. Online Photoshop Service
Most sports photographers don't get enough time to edit their photos. For beginners, it becomes too difficult to focus on Photography and photo editing at the same time.
In that case, you can take an online Photoshop service from a Professional Photo Editing Service Provider Company. You can choose Clipping Way for that.
Professional photo editors will edit your sport images. You are going to get 100% hand-drawn Photoshop editing services.
7. Prioritize The Photo
To make your photos look special you have to prioritize the captured photo. Let me explain. Suppose you have captured a goal-scoring shot in Football or the winning shots in Baseball. These photos will be an asset for you. Spend more effort on the post-processing work of those photos.
8. Organize Workflow
While starting your career as a Sports Photographer, you need to have an excellent portfolio to get more clients and projects. So, you have to create an eye-catching portfolio.
Choose your best-captured photos and add the photos to your portfolio. A professional Image Editing Service Provider Company can assist you to build an amazing portfolio.
9. How to Earn
Last but not the least; you have to know how to earn money from Sports Photography. Well, lots of websites buy images. You can submit your images to those websites. Here are some recommendations:
Shutter Stock
Alamy
500px
Adobe Stock
iStock
Getty Images
You can also create a new website and upload your images to your website. Besides, you can also work for a sports magazine or sports-related company.
I've shared the 10 Best Ideas for Sports Photo Editing. Now, you know how to get started in sports photography. Before we jump to a conclusion, permit me to introduce you to our Photoshop sports editing services.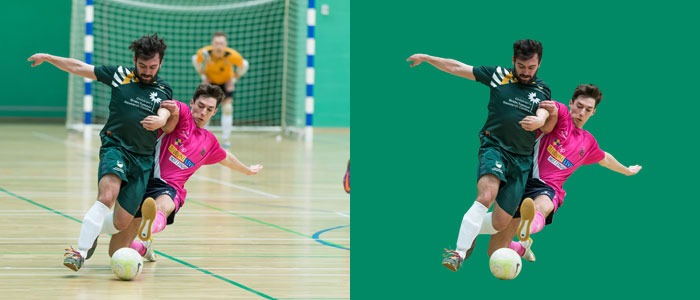 Sports Photo Editing Categories
We can feel how difficult it is to concentrate on photo editing for a professional sports photographer. You can choose our Photoshop Sports Photo Editing Services to hand over the responsibilities of your sports photos to us.
Services We Offer
Sports Photo Editing
Sports Photo Retouching
Sports Photo Color Correction
Sports Photo Hair Masking
Are you feeling concerned about the quality? Clipping Way offers you a 100% money-back guarantee. Let's check the quality now with a free trial.
We won't charge you for that. Ask for a quote now. We are available for 24 hours. Clipping Way can process more than 3 thousand images per day. You should have a try now.
Conclusion
We have come to the conclusion of the article about Sports Photo Editing. Hopefully, the 10 ideas that I have shared with you for sports photo editing will help you to grow as a Sports Photographer. Do you have any other questions? Don't hesitate to contact us.
Stay with Clipping Way to get more valuable articles. Thank you.
Customize Your Product Photo As You Like
FAQ's
How Do You Edit Sports Photos?
You can edit sports photos professionally in Photoshop.
How Do You Edit Sports Photos In Lightroom?
You can edit sports photos in Lightroom using the presets.
How Do I Edit An Action Photo?
You can use Adobe Photoshop for editing an action photo.
How Can I Improve My Sports Photography?
Professional Image Editing Service is needed to improve sports photography.