In sports photography, the photographer needs to be absolutely best to capture exciting memorable moments during sports. In other types of photography, the photographer can repeat a shot if the picture doesn't look perfect.
That is not possible in sports photography as you can't revive the moment that has passed. That's why Outsource Photo Editing Service is compulsory to make the photos look perfect. 
Capturing sports event photos is the first step to getting attractive-looking sports imagery. Without professional sports photo editing, the raw photos remain unsuitable for online publication.
Through this article, I am going to inform you about the types of popular sports photo editing services and some excellent tips on editing sports photography.  
Overall, this article will be informative and helpful for sports photographers and other people who are connected with sports. Here are the types of popular Sports Photo Editing categories that you can outsource from Clipping Way.
Football Photography Editing
Undoubtedly, football is the most popular game in the world. Demand for football photography is also high. If you want to attract people to your photography, perfectly edited photos can help you to get more attention. We are going to assist with that through our editing services.
Baseball Photography Editing
Having more than 500 million fans, baseball is another exciting game in the United States and other European countries. Do you want to make the moment evergreen of hitting a special home run? Our expert sports photo editor will edit your baseball-playing photos to make them look elegant.
Tennis Photography Editing
Tennis is such a sport that is not only popular in America but also in Europe. In recent times, it is also gaining popularity in Asia. We have a dedicated photo editors team to enhance tennis photography. We can edit the special moment of a crucial serve or a tricky shot. We will remove shakiness from your photograph. That'll make them look sharp and attractive. 
Volleyball Photo Editing
Volleyball has approximately 1 billion fans in Europe, Australia, Asia, and America. As the players shake too much while playing, it is too challenging to express the best moment without post-processing work. Our skilled photo editors will remove shakiness from your photograph, remove unnecessary portions and retouch your photos.
Basketball Photo Editing
Being one of the most popular sports in American countries, photographers can earn lots of revenue from this sport. At this point, your photograph should be capable enough to attract fans and viewers. Try our Basketball Photo Editing Service to get that look for your imagery. It'll make your portfolio impressive.
Golf Photography Editing
Being an outdoor sport, golf photography needs some extra effort in post-processing work. Our professional sports photo editing team will put that special effort into your golf imagery. As a result, your images will gain your expected look. Do you want to try it now? Ask for a free trial now.
Hockey Photography Editing
According to NHL policy, viewers can use non-flash cameras for shooting a hockey game. Professional camera lenses longer than 6 inches are not allowed to be used in a hockey game. Exposure correction and light correction works are needed to make the photography look complete. We have an experienced team to do the task.
Boxing Photography Editing
Demands are always high for boxing photographers in American and European countries. To shine in this highly competitive sports photography genre, there should be something exceptional in your photos. Top-notch post-processing work is needed for that. Outsource your boxing photography to us to get that professional editing.
How to Edit Sports Photography Professionally?
To bring a professional look to your sports imagery, you have to apply several post-processing methods to your images. Here's the list of those 5 steps.
Image Cropping
First things first, you need to keep in mind that there should be nothing unnecessary in your sports photos rather than the main object. Otherwise, the viewers can lose their attention.
By cropping your image, you can make your photography meaningful. It will make your photograph suitable to use on different platforms.
Fix Exposure
Sports photos look more elegant when they are published with higher exposure. You can also increase the contrast to get bright-looking sports photos.
To get that type of look, you have to adjust the exposure using curves from the image adjustment settings. Photoshop will be the best choice for this method.
Color Adjustment
Proper color adjustment can be different between an ordinary sports image and a professional-looking photograph. You have to work on hue, saturation, and vibrance to make the color balance look perfect.
Along with this, you need to enhance specific colors to improve the overall look. You can do it by applying selective color.
Know More: Ultimate Amazon Product Photography Guideline (Must See)
Fix Noise
Most sports photographers use high ISO to capture sports photos. As a result, noise becomes visible in the photograph which makes the picture look ordinary. To get rid of that, you can use the mask feature to remove noises from your photos and add more details to get sharp-looking images.
Work On The Main Object
In sports photography, players are the main object in most cases. To get a professional look, you have to work on the players' faces. You should not apply any filter or apply the brush tool to the entire image.
Use a selection tool to specify the main object and enhance those portions. That'll be enough to make your sports images look far better than before.
Do you want to improve the look of your photography even more? Well, we are going to provide you with 5 tips on sports photo editing.
5 Tips On Sports Photo Editing That Improves Image Quality
Add Depth Of Field
To add depth of field to your sports photography, you have to apply a blurry effect on the background. You can apply a focus lens effect to make your object look floating. It's an effective way to add depth of field to the main object and improves the overall presentation.
Work On The Background
You should never overlook the importance of the background by focusing only on the main object. Without a perfect display of background, your photography will never look perfectly polished.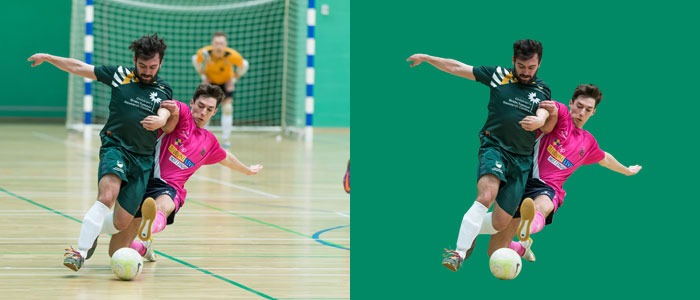 If there is anything distractive in the background, you should remove that. Also, you can blur the background to hide distracting elements.
Fix Shadows and Highlights
If there are unwanted shadows, it will put up a negative impression in viewers' minds. So, you have to fix unwanted shadows.
Also, you can add custom shadows such as reflective shadows or realistic shadows using Photoshop to improve the appearance of the players. But natural shadows look distracting in most cases.
HDR Processing
HDR processing is important to showcase small details while capturing the image. It will highlight small details that increase the quality of sports photos.
You have to capture several images with different exposure settings. After that, combining those pictures into a single image brings the best possible outcomes.
Panorama Stitching
Panorama stitching is an extremely popular effect for sports imagery. You need to combine several images to produce a panorama image. With that effect, you can express a story through a single image. You need to be highly skilled at image post-processing work to do it with perfection.
Should Follow
Always work on the background along with the players.
Copy the original layer before starting editing.
Add a new adjustment layer while working on exposures.
Use selective color to modify specific colors.
Should Avoid
Don't apply any specific effect in the entire image without selection.
Don't crop your image to in awkward angle.
Don't apply the auto adjustment effect, it can ruin your hard work.
Don't apply blur on the main object.
Conclusion
At this point, the concept of sports photo editing should be clear to you. Do you want to outsource your images to a professional Photo Editing Company? Clipping Way will be the reliable option for that as they offer a 100% money-back guarantee.
If you want to edit your sports photos by yourself, the above tips will be useful for you. Do you have any other queries related to sports image editing? Feel free to consult with us. Click on the contact button and send us your queries.
Customize Your Product Photo As You Like
FAQ's
How much do you charge for sports photo editing?
Clipping Way's photo editing prices start at $0.25 only. Ask for a quote now to get exact pricing according to your requirements.
Which is the best sports photography editing mobile app in 2023?
Adobe Photoshop Express is one the best image editing applications to edit any photography using mobile phones.
Which is the best sports editing app on the PC?
Professional photo editors use Adobe Photoshop, and Adobe Lightroom to edit sports imagery.
Should I use the magic wand tool to select players while editing sports pictures?
As there are lots of details in sports photography, the magic wand tool won't be sufficient enough to provide accurate selections.
What are the best camera settings for sports photography?
Fast shutter speed, wide aperture, and higher ISO settings are the best option while capturing sports imagery.