As the automotive industry is getting bigger, demand for automotive photography is also increasing. Car photographers can generate a decent amount of money by shooting car photos.
Do you have an interest in knowing about automotive photography pricing? You're going to get all of your answers through this article.
It'll help beginner Automotive photographers to set their pricing charts. Besides, car sellers can set their photography budget based on how much car photographers charge. In a word, that information will be helpful for all the people connected with the automotive selling industry.
Let's begin.
Overview Of Automotive Photography Pricing
First of all, you need to know that photography pricing varies in different areas based on different criteria. In the United States, you have to pay around $300 per hour on average to hire a professional car photographer. Most of the time, a 1-hour photoshoot package doesn't fulfill the requirements of automotive dealers.
$300 Per Hour On Average ( For Professional Photographers)
$800 Per 4-Hour On Average ( For Professional Photographers)
For 4-hour automotive photography, you have to set a budget of around $800. This price range also can differ based on the states that you're living in. For example, average photography charges are a bit on the higher side in Los Angeles.
If you're living in this state, you have to pay around $200 extra than the average automotive photography pricing. In Los Angeles, professional photographers charge around $1000 for 4-hour photography packages.
How Much Do Car Photographers Charge?
Depending on the photography skill, knowledge, and experience car photographers charge from $50 to $300. According to your budget, you can hire a car photographer that suits your requirements. Here's the comparison of average automotive photography pricing.
# Beginner Photographers: Within $50 Per Hour
The average cost of hiring beginner photographers is the lowest among those categories. You can get automotive photography for $50 per hour only. In that case, you have to check the portfolio of the photographer before you hire a beginner.
Do you have a low photography budget? Beginner photographers can be the perfect match on that note. Alongside, you might not get the highest quality photo as a beginner photographer doesn't have enough experience.
# Amateur Photographers: From $25 To $100 Per Hour
Amature Photographers charges from $25 to $100 per hour on average. You should look for an Amateur Photographer who has worked with at least 2 clients earlier. Those amateur photographers understand client expectations in a better way.
Overall, you can get automotive photographers at a reasonable price. One thing to remember, you can't expect top-notch outcomes from this type of photographer. If you look at the budget, this can be a good deal.
# Intern Photographers: From $50 To $100+ Per Hour
Most of the time internship photographers work with full-time photographers. As they have the experience of working with professional photographers, they can capture quality Automotive photos. Do you have a mid-range budget?
You can hire intern photographers for your automotive photography. You can hire intern car photographers at $50- $100 per hour. The hourly rate will be reduced for longer photoshoot sessions.
# Semi-Professional Photographers: From $75 To $150+ Per Hour
Semi-professional car photographers come with more than 1 year of experience in the automotive photography field. They charge around $75 to $150. A few experienced semi-professional photographers charge even more than 150 dollars.
These sorts of photographers have a sound knowledge of Automotive photography. As a result, you are going to get a better output. They can bring the best look both from the outside and inside of a car.
# Professional Photographers: From $100 To $300+ Per Hour
As you can expect, professional automotive photographers have excellent photography skills, proper educational knowledge, and years of experience. A professional photographer can present a vehicle with the most attractive look.
They know how to play with the angles and highlight key features of a car. Most importantly, they also have a sharp knowledge of vehicles.
Professional photographers have the skill to showcase a car with an extremely appealing look. You can hire professional photographers at $100 to $300 per hour on average.
# Top Class Professional Photographers: From $250 To $500+ Per Hour
You need to have a big budget for hiring Top Class Professional Automotive Photographers. These types of exclusive photographers charge around $250 to $500 per hour.
Top-rated car dealers and advertising agencies hire top-class professional photographers for their automotive photography. You can see the difference in the picture quality.
Top-class professional photographers take care of every aspect of a picture properly. That's why their charges are higher than other types of photographers.
How Much Do Car Photographers Make Per Month?
The answer varies depending on the number of projects that a photographer handles in a particular month. In some seasons, photographers get more projects and work more compared to the off-season.
On the other hand, some seasons are less busy for professional photographers. On average, car photographers in the United States earn around $3k per month.
It also depends on the location of the photography and client's requirement. Urban photographers can make more money compared to rural areas.
According to the stats, 10% of top-class professional photographers generate more than $5.5K per month from Automotive photography.
How Much Do Car Photographers Make Annually?
Estimated, most car photographers generate $30k to $45k per year. The annual salary of cat photographers also depends on their skills, educational knowledge about photography, and real-life working experience.
A few car photographers earn more than $45k per year. Also, some in-house photographers work for a particular company at a high salary range.
Beginner car photographers earn around 20$ in the starting year. As time passes, their earnings increase gradually. The annual earnings of a professional photographer also depend on the amount of time he works and the quantity of project management.
Average Automotive Photography Pricing
At this stage, we can calculate an estimated automotive photography pricing for different budgets. Do you have a budget of around $50 to $300 per hour? You can hire car photographers whose charges meet your budget.
For a low budget range, you can hire beginners and amateur photographers. For a mid-range budget, you can choose Intern photographers and semi-professional car photographers.
If you have a budget of around $300 per hour, you can hire professional or top-rated professional car photographers. Now, it's your call to make the final decision.
How Do i Minimize The Cost Of Automotive Photography?
By following some tricks you can minimize the cost of your car photography. Are you getting excited to know about those photography cost-minimizing tricks? Here you go.
First of all, automotive dealers have bulk image requirements most of the time. Suppose, you hire a car photographer for 1 or 2 hours, thrice a month. In Spite of that, you can hire once a month for 8 hours. That will save you around $150. Alongside, that will save your overall time.
Secondly, if you change the location frequently while capturing car photos, it will increase the total budget of your automotive photography. Rather than you can set a standard location and capture all photos in that area. After that, you can take Car Image Editing service to erase or replace unwanted backgrounds.
Automotive Photography Editing
To get professional-looking and perfectly polished car photos, you have to go through 3 major steps. The first step is pre-production which indicates the planning and preparation before the car photoshoot. The 2nd step is the photography session.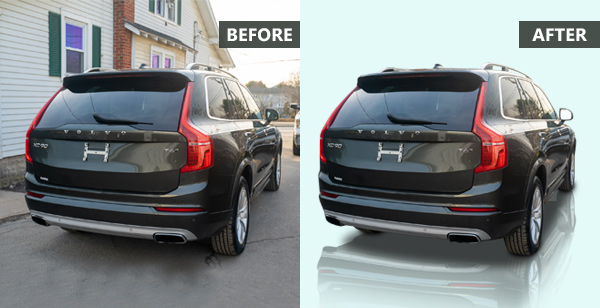 You need to execute your photography planning properly in the photoshoot session. Last but not the least, Car photo editing is the final step that provides the finishing touch to your photos. Professional editing works by expert car photo editors will improve your photography quality by a huge margin.
Lots of car image editing service providers are available online. It can be difficult for beginners to find out the best image editing company.
More than 100 Professional Photographers recommend Clipping Way for car image editing services. You can get Car Background Removal, Car Photo Retouching, and Color correction services. Moreover, you can afford those services at a reasonable price.
Automotive Photography Editing Pricing
Some car dealers assume that car photo editing needs a high budget. Thankfully, Clipping Way delivers Professional Car Photo Editing Services at a reasonable rate. Their photo editing price starts from $0.25! Moreover, you will get a satisfaction guarantee and 100% money refund policy.
Professional car photographers should also try the service to enhance their photography quality. Alongside, that will save lots of time. Car dealers can utilize that time for their business strategy development.
Photographers can utilize that extra time to work on more projects. Thinking about taking your first step? Well, you should start with a free trial now.
Customize Your Product Photo As You Like
Final Words
At this point, you should have got a decent knowledge of Automotive Photography Pricing. So, how much do car photographers charge?- this question should not be confusing for you anymore. Our pricing guide will help you to get maximum output within your photography budget.
At the same time, photographers can set their pricing chart based on the above criteria. Hopefully, that will be a win-win deal both for car dealers and car photographers.
FAQ's
How Much Does Automotive Photography Cost?
Estimated automotive photography costs from $50 to $300 per hour.
How Do i Find A Good Automotive Photographer?
You can find a good automotive photographer based on criteria such as portfolio, photographic knowledge, and working experience.
What are The Different Types Of Automotive Photography?
Car photography, Commercial Car Photography, Racing Car Photography, Car Interior Photography, etc are different examples of automotive photography.
What are The Most Common Automotive Photography Mistakes?
Not preparing the car, choosing an unsuitable background, and shooting from the wrong angle are some of the most common automotive photography mistakes.
Where Can i Outsource My Automotive Photography For Editing?
Clipping Way is one of the Best Image Editing Companies to outsource car photos.