When it comes to running your own business or service, there are certain skills and knowledge you would have to be familiar with what is product photo editing. This would be a good advantage for you despite all odds.
Fortunately, some professionals are open to the task of carrying out these skills on your behalf. However, knowing these skills would help you to guide them while they do their job.
Product photos are what I can refer to as professional photos. eCommerce site takes them very seriously. No amount of content writing would appeal to your potential customers on badly taken product photos. Most times, the only way potential customers can tell the quality of the product they wish to purchase is through photos.
Certainly, the product photography is a good and incredible skill but photo editing skills are also necessary. You have indeed learned how to take super-duper pictures with your camera, whether with a phone or a DSLR, but what next?
This article is focused on the next after you have taken your beautiful photos. We are about to dive into reasons for editing your product photos and tools that are highly proficient for doing that. Technically, these are tools that you can apply to your raw photos and incredibly transform them.
BEAT YOUR COMPETITORS WITH BEST QUALITY IMAGES
What Tools Do We Need To Use For Product Photo Editing Services?
Taking photos can be challenging. Often, there are little mishaps that make the photo a little less professional. Editing your product photo gets you that balance or touch that the image needs to be appreciated by your fans. To be frank, product photo editing is not optional. It is highly recommended.
Photo editing is not a new trend. Before now, the negatives of film photography went through color adjustment, dodging and burning, and other processes.
Those were the photo editing process back then. Today, the story is quite different. With digital photography, these processes have been replaced. However, adjustment still has to be made.
Many cameras can make these adjustments for you but such adjustment cannot be compared to manual editing. Because machines do not know everything, most especially, they don't know your customers. You as a product photographer need editing skills for the following reasons:

Know more: Travel Photography Tips in 2021 | Complete Guideline to Street Photography for Beginners
Correct Size and Ratio
Certain things cannot be overemphasized. One of such is image size. When it comes to product photos, image size is a big deal. Online shoppers have a zoom tool they can use to view image close up.
This tool would be a waste if your photos are quite small and look low quality. Remember, a low-quality image would imply a low-quality product. Also cropping your images at the right ratio is vital.
Image Tones
Your image exposure, shadows, highlights have to be adjusted to look real. These make up the tone of your product image. Our cameras cannot capture perfect pictures despite their sophistication. Sometimes they cannot exactly capture a scene the way we visualized it. All these adjustments are necessary to have a good outcome.
Colors
We need to edit our product photos to tweak the colors. Your photos must be properly edited so they don't look different when a customer buys them. For instance, a blue jug should be blue and not purple when it is ordered.
When carrying out product photography, endeavor to emphasize color accuracy. However, there is room for editing making use of certain software.
Know More: Complete Product Photography Pricing Guide
Professional Reasons
Editing our product photos would make your photos look professional. Quack photos are like spoilt food, they drive away potential customers. Interestingly, when it is all said and done, it all boils down to professional looks.
Photos that reveal quality would have the hearts of customers. High-quality product photos would always make them reach for their wallets or cards.
Now, we are about to start talking about photo editing tools. But before we dive into that let us consider how to edit your product images.
How to Edit Your Images
Before you begin editing, endeavor to have a clear goal in mind. How do you want this product to look like? Consistency in imagery would make your site easier to surf and potential customers would commence the purchasing process.
Background Removal
This is the most common edit common with product photography. Most times, shooting products on a white background is advisable. With a white background, it is easier to apply this technique. There are several benefits to background removal.
This technique allows you to have a consistent background for your products. Also, there would be no distractions, customers can easily see what you want them to see the product.
Photo editing programs such as Microsoft paints, PowerPoint, Photoshop, and preview are top-of-the-list software to make use of. To remove the background, follow these steps. Let's make use of photoshop:
Open the image
In your select menu click "subject"
From the select menu again click on "select and mask"
Adjust your view mood and opacity.
The edge detection needs adjustment
Global refinements: make use of smooth, which is the main refinement for photo editing
Make use of the left side tools to refine the picture to your taste
At this point, you can apply the layer mask
Color Correction
A bit of color correction is needed to balance the product photo, even though a good color background was used for the photography. It would bring uniformity and accuracy in color presentation, even a small touch can boost the quality of the image.
Lightroom and Photoshop are two incredible software to make use of, balancing the light in the photo.
For your color correction, it is better to take the necessary steps:
Think of your color correction before you even shoot your footage.
Adjust the black, which is also called the lift or shadows
To get a good exposure, take care of the highlights and mid-tones.
Adjust the saturation to get a good vibrant image.
The last tip I would leave with you is that you should be creative. Don't be scared to try out new things. Allow your imagination to guide you to a land of opportunities, new ideas, and new findings.
Let's Check Out Some Of The Tools That You Can Make Use Of In Editing Product Photos.
Clipping Path
Sometimes we would take a picture, and discover that the picture is fine but the background is not. Making us want to edit the background. Remember, you don't need to be a professional to handle these tools. With clipping path and affordable service, any background can be removed and replaced.
You don't like the current background of a product photo; all you need to do is remove the product and place it on a better background. Let's describe what the clipping tool can do making use of a descriptive image
Canva
Interestingly, Canva is one of my best image editing tools. It has lots of incredible features and templates for users. Most of the features there are free except for a few premium icons and templates. Also, your files can be exported directly to your computer.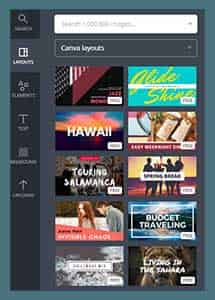 Portrait Pro
This tool is efficient if you make use of models for your product photos. If you want to save costs rather than hire a professional for touchups on the photo. the portrait pro can be just the solution you require. This tool is quite different from your usual photo editing tools.
It focuses mainly on portrait photos. With this tool you can carry out editing on the hair color, smooth out the wrinkles, and other corrections needed.
Rotary View
With this tool, you can upload the photos taken on a website as 360-degree interactive photos. For editing purposes, it has editing options in the rotary view itself.
BRING THE LOOK THAT CUSTOMERS EXPECT TO SEE
PicMonkey
This is another helpful tool for photographers or image editors. Also, if you are not a professional graphic designer and you want a good output on your images, this is one of your best shots. PicMonkey has various features that surpass other image editing tools.
It is a multipurpose kind of photo editor. Users can either download it or make use of it from their desktop browser. It has lots of editing tools that are the perfect kit for an eCommerce site.
Adobe Lightroom
This is a great tool for image editing. It is part of the adobe creative cloud app. There are several advantages to making use of this tool. Such as it can organize and catalog your product photos.
Adobe Photoshop
This is one of the most famous photo editing tools available to photographers. It has incredible features that include everything you need to edit your product photos coupled with some additional tools that you might need to do anything you can think of. There are chances that you might not need all the tools, yet this editing tool stands out among many others.
Pixlr
Pixlr is an amazing app and one of the best for eCommerce product photos. All changes can be made using this app, cutting from color correction to background removal. Drop shadow and many more can be edited using this app. this app can also be used from your browser window or can be downloaded. There is also a pro plan for users to upgrade to.
Paint.Net
This tool is one of the easiest photo editing tools to make use of. Paint.Net has the necessary features that you would need to edit your product photo from color correction down to retouching and many more.
GIMP-GNU Image Manipulation Program
GIMP is not a new tool for image editing. It is one of the oldest tools in the business of image editing. This tool has almost all features. When compared to other tools, it has more features.
Although it does not have a learning curve, you can easily make use of videos from YouTube to learn more about this tool. From its simple technique to the more complex ones. Of truth, you can do almost everything with this tool.
Know for a fact that you do not need to have a big budget for your product photo editing. These tools are free and available to use. Some of them can be used through your web browser. For others, you would need to download the software. These tools are highly needed and recommended for users or product photographers.
If you have gone through this article, you would have found out one or two product photo editing tools that you would like to try out. It is good to try out any of them, know which you would prefer, and stick to it. Also, if you already have a preferred one you can also try out others, you never can tell what you might discover in this adventure.
Product images are very vital for eCommerce sites. They have the power to chase away potential customers or draw them close to you. As an eCommerce site owner, you must take product photography and product photo editing seriously because of what it can do.
Having followed the necessary lessons on product photography and product photo editing, you are now ready to experience huge traffic to your website. Improved sales are one of the signs that your website optimization plan is working.
OUTSOURCE YOUR IMAGES TO THE EXPERT DESIGNERS
Don't take these tips for granted. They are vital to the success of your business. Nevertheless, a true-to-life accuracy of your product photos keeps your customers glued to your website.
By applying these tips, you increase and improve your online outlook and trustworthiness, customers would have a nice view of what they are buying.
With these tips on tools for product photos, you can be confident that you would launch into a great atmosphere of limitless possibilities. And a huge fan base of customers who stick with you always. Get started today, there is so much to achieve.