Whenever it comes to controlling the visibility of a Layer, Clipping Mask is one of the best tools available in Photoshop. It allows designers to mask and connect several layers. You can also create any shape using the clipping mask tool. Most importantly, you can control different parts of a layer to hide and reveal.
It seems like you are eager to learn this essential Photoshop image editing technique. After reading this article, you will learn how to create a Clipping Mask in Photoshop. Besides, you will also know about the basics of Clipping Mask. That will help you to control the visibility of a layer.
Let's make a dive forward.
What Is a Clipping Mask?
First of all, I would like to inform you what Clipping Mask actually is. So that you can execute it to bring your images in any shape as you want. Some people misjudge it by thinking clipping masks are similar to layer masks. But there are some major differences. The clipping mask is a method of controlling the content transparency of a layer with other layers. Designers need to create minimum of two layers to create a clipping mask in Photoshop.
When you are working with 2 layers to create a clipping mask, the bottom layer indicates the mask as it controls the visibility of the above layer. Therefore, the second layer controls the visibility. It will become more clear after reading the tutorial section. Are you thinking about how it's going to be to create mask in Photoshop? That will be an easy process. Let's jump to the step-by-step tutorial.
BEAT YOUR COMPETITORS WITH BEST QUALITY IMAGES
How To Create A Clipping Mask In Photoshop – Step By Step Tutorial
Step 1: Create Canvas
In the beginning, you have to start with creating a new canvas. You need to run the Photoshop application and go to the 'New" option from the top. This box will appear on your screen.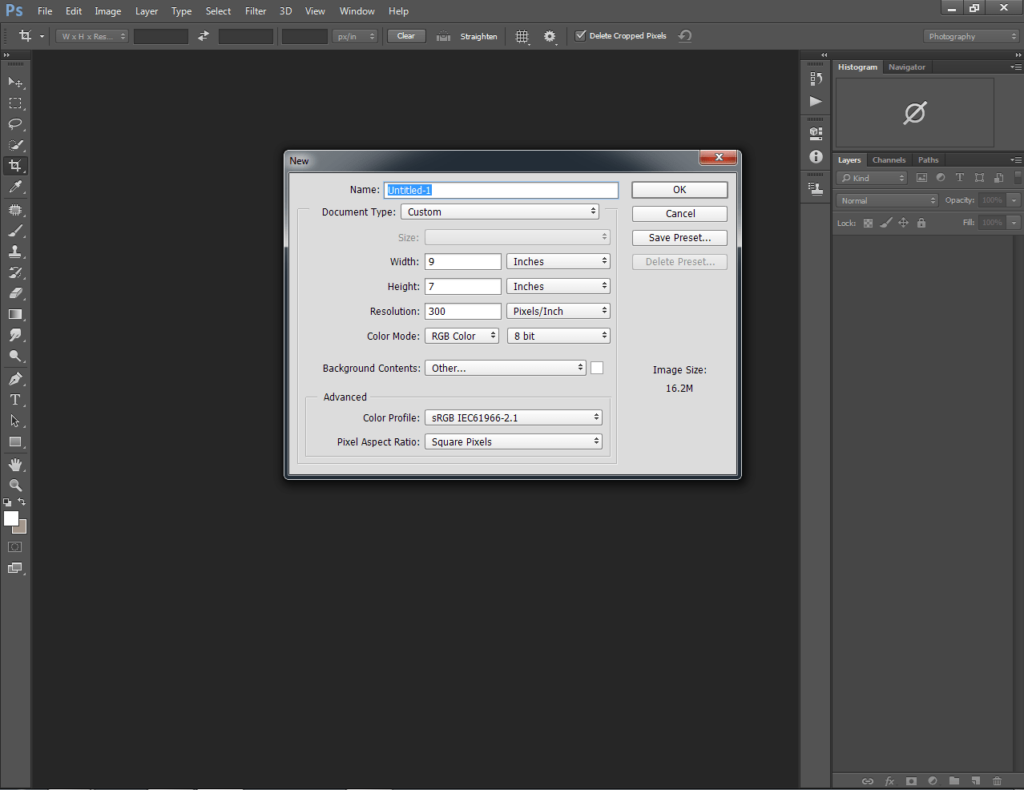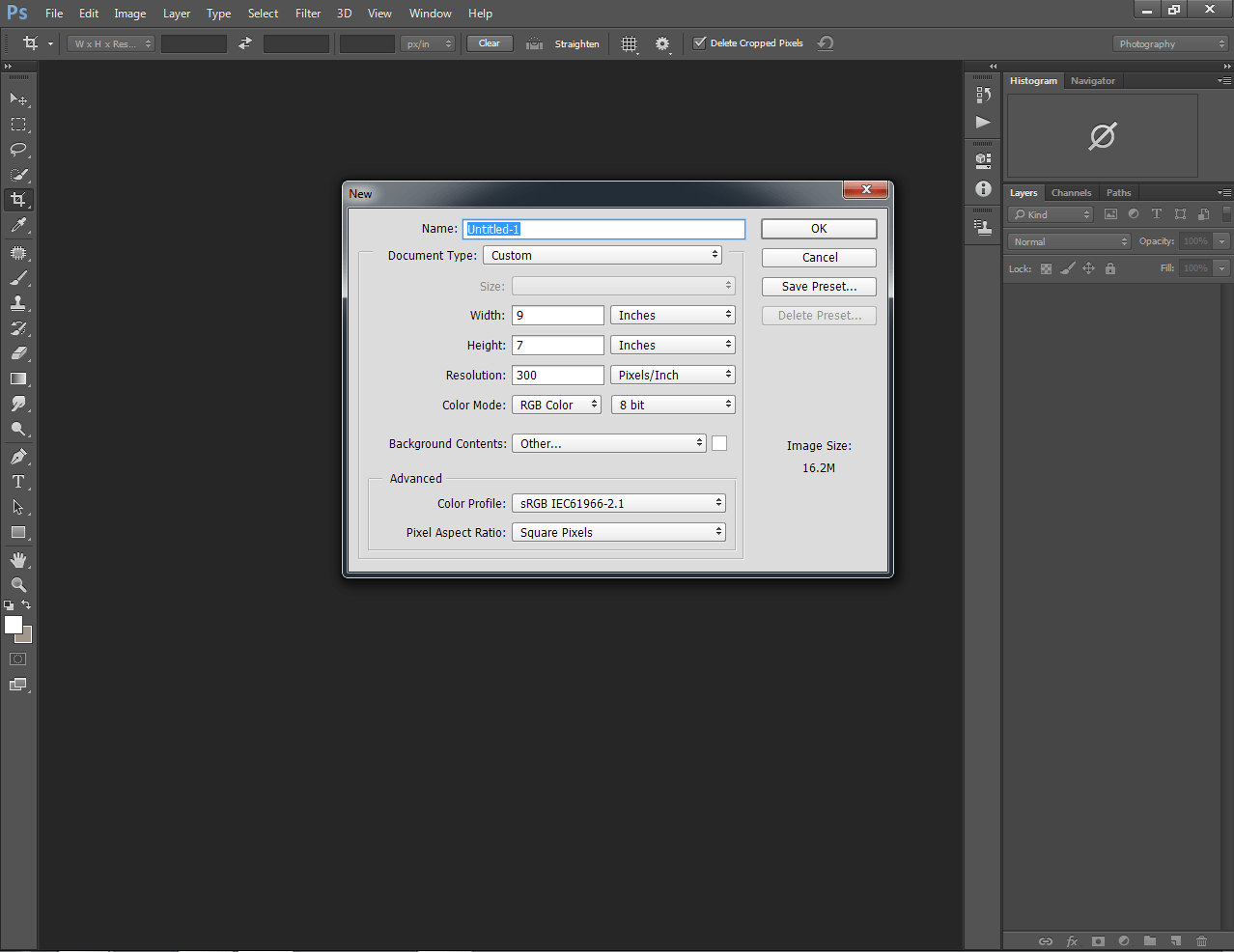 You need to set your preferable size, resolution, and background color. My recommendation is to start with white background. At the end of creating a clipping mask, you can replace the background that suits your image's object color.
Step 2: Create Shape
In the second step, you have to create a shape for putting your object inside the shape. You can find different shapes in that option. I would like to select the Ellipse tool.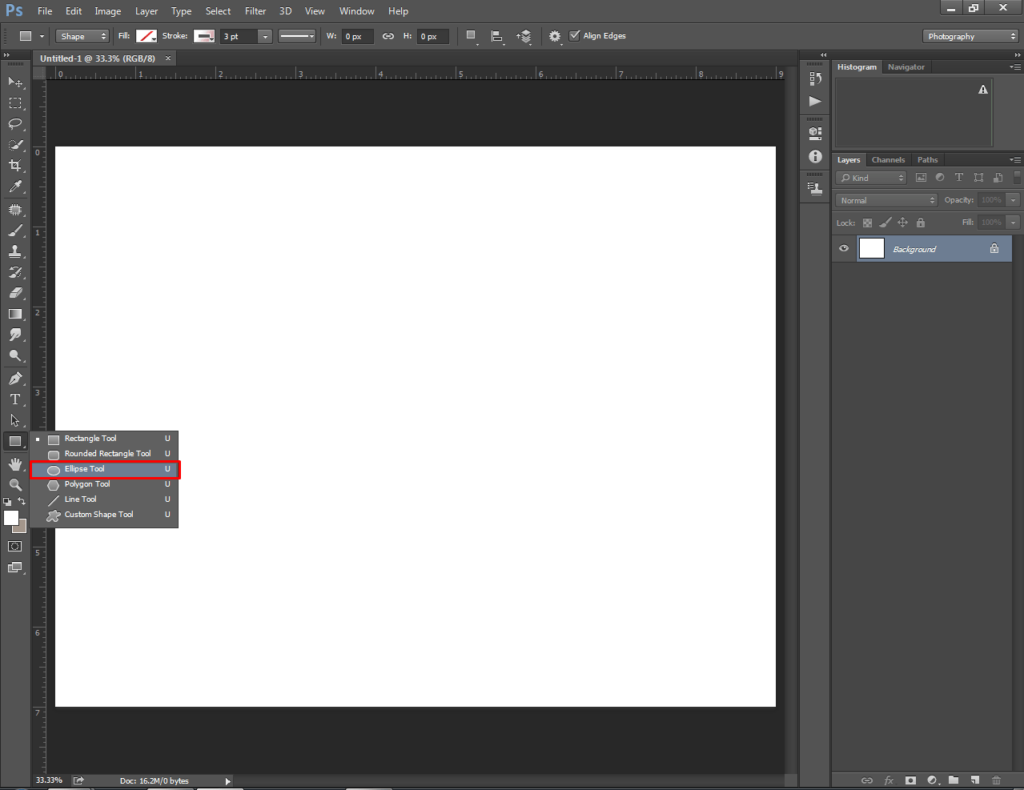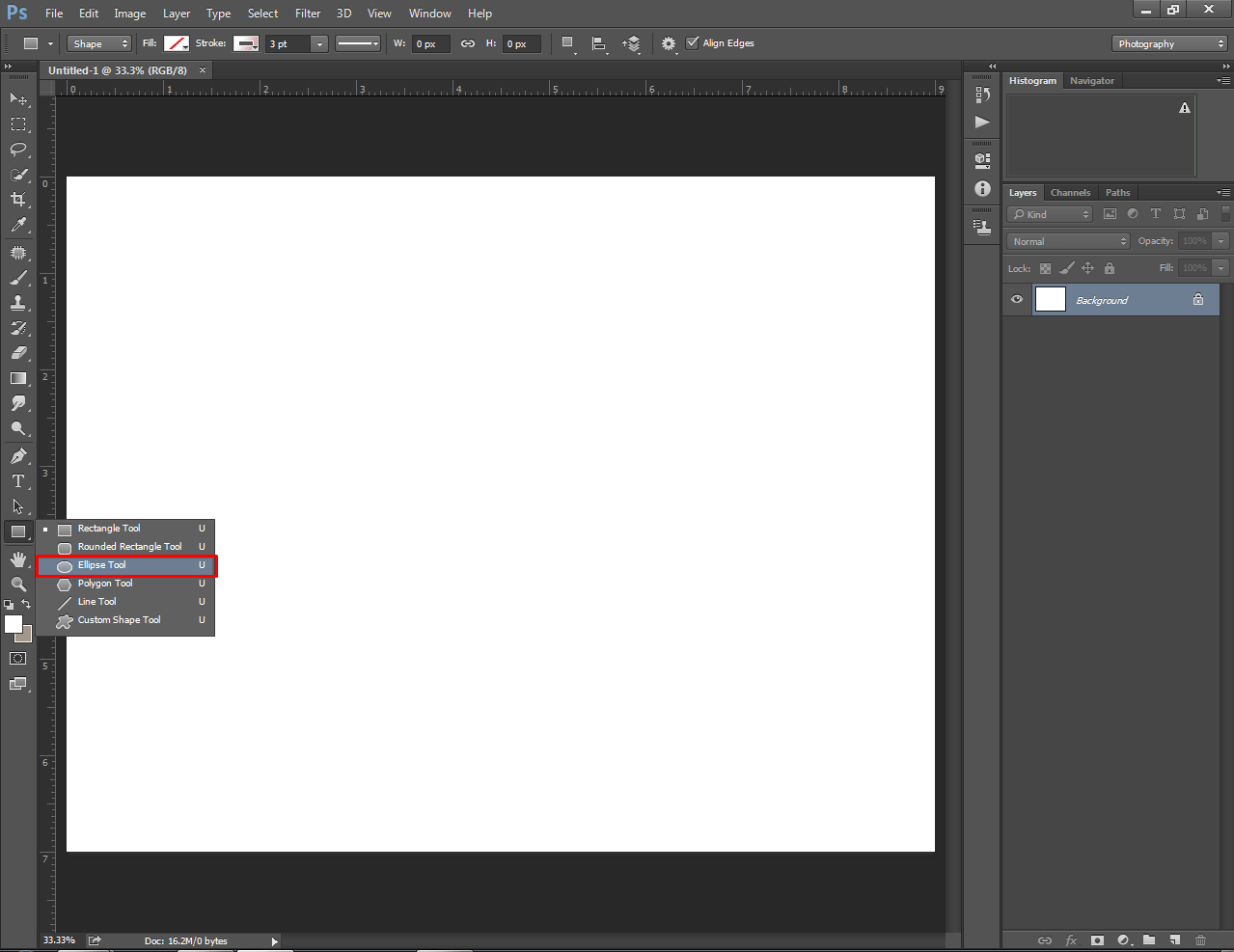 By clicking on the shape details feature, you can change the color of the shape. Would you like to see an example? Here you go.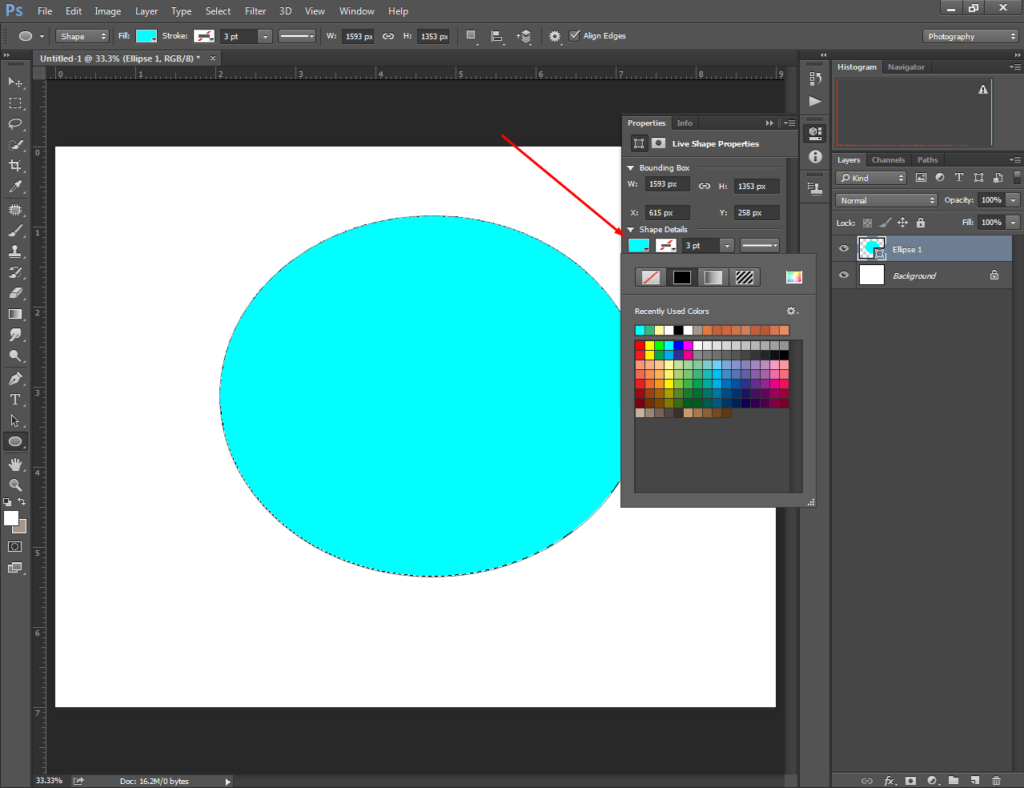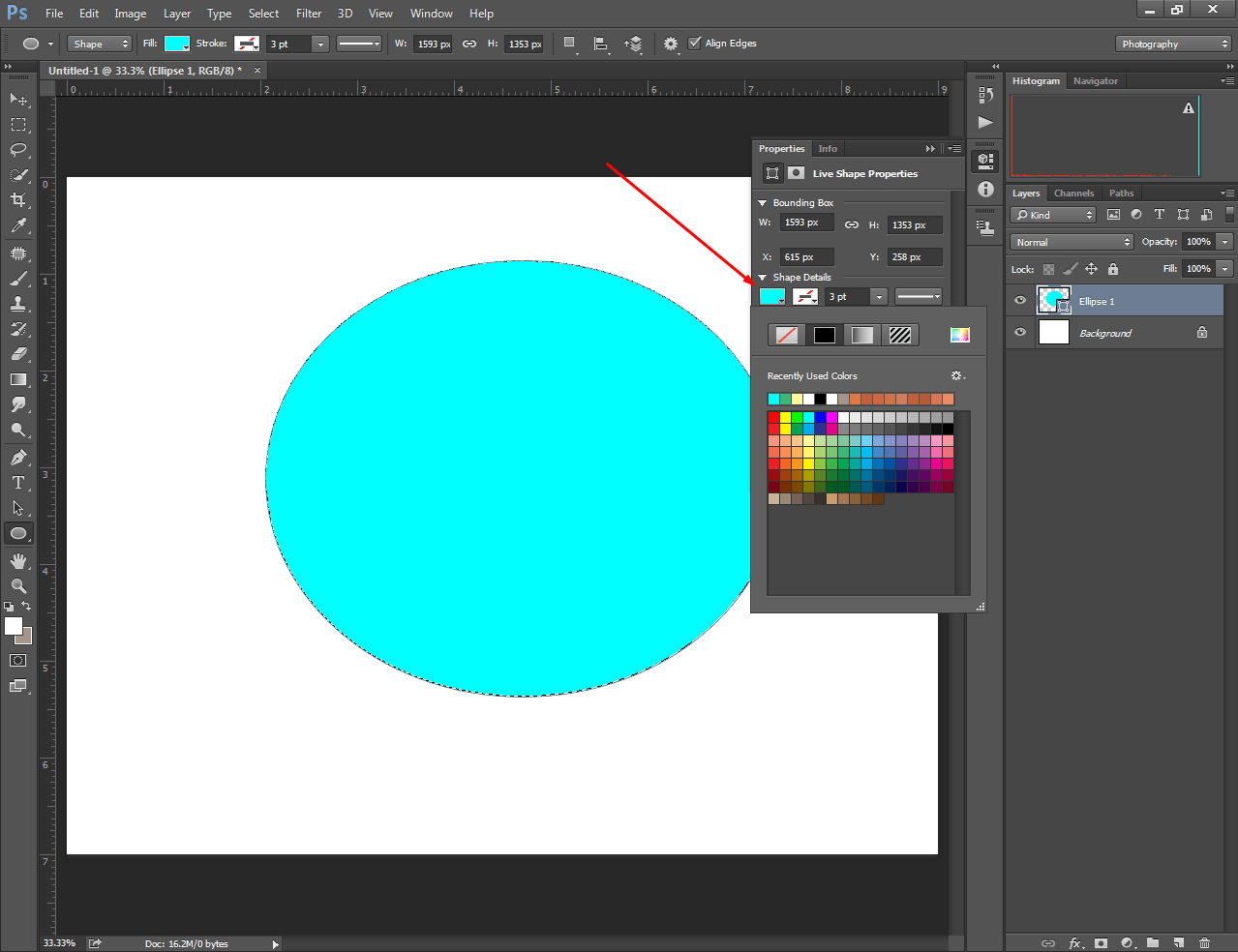 Step 3: Insert Image
At this point, you have to select your preferred image on which you would like to apply a clipping mask. You have to left-click on that image and drag it to Photoshop.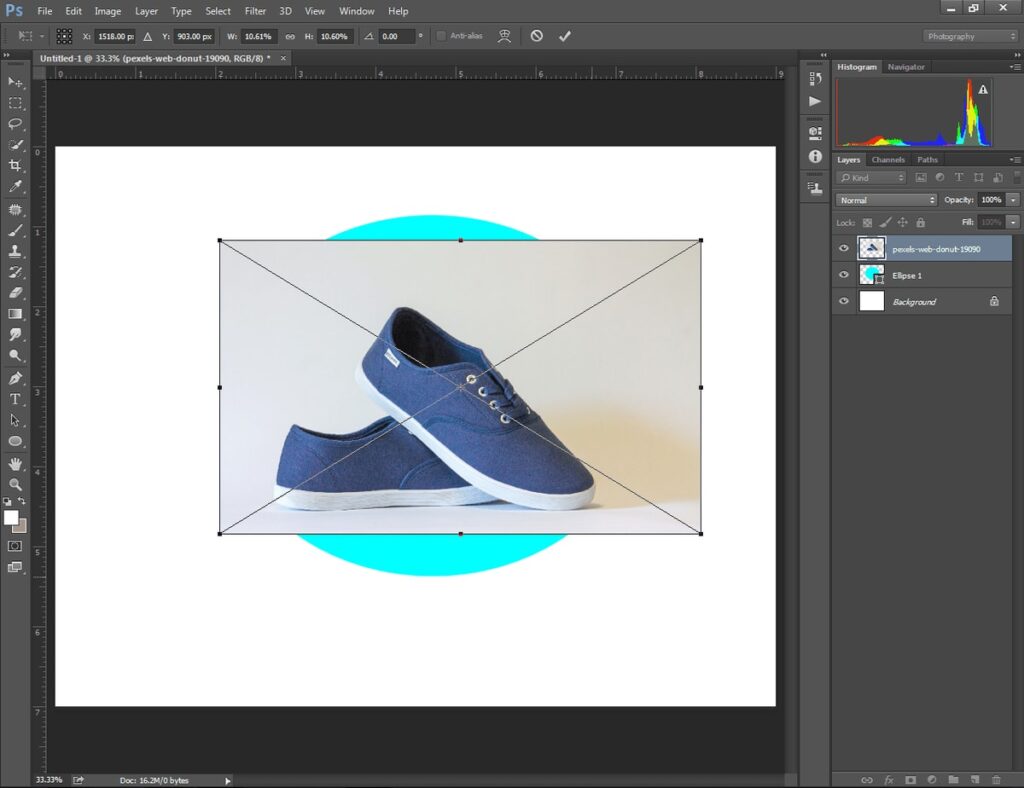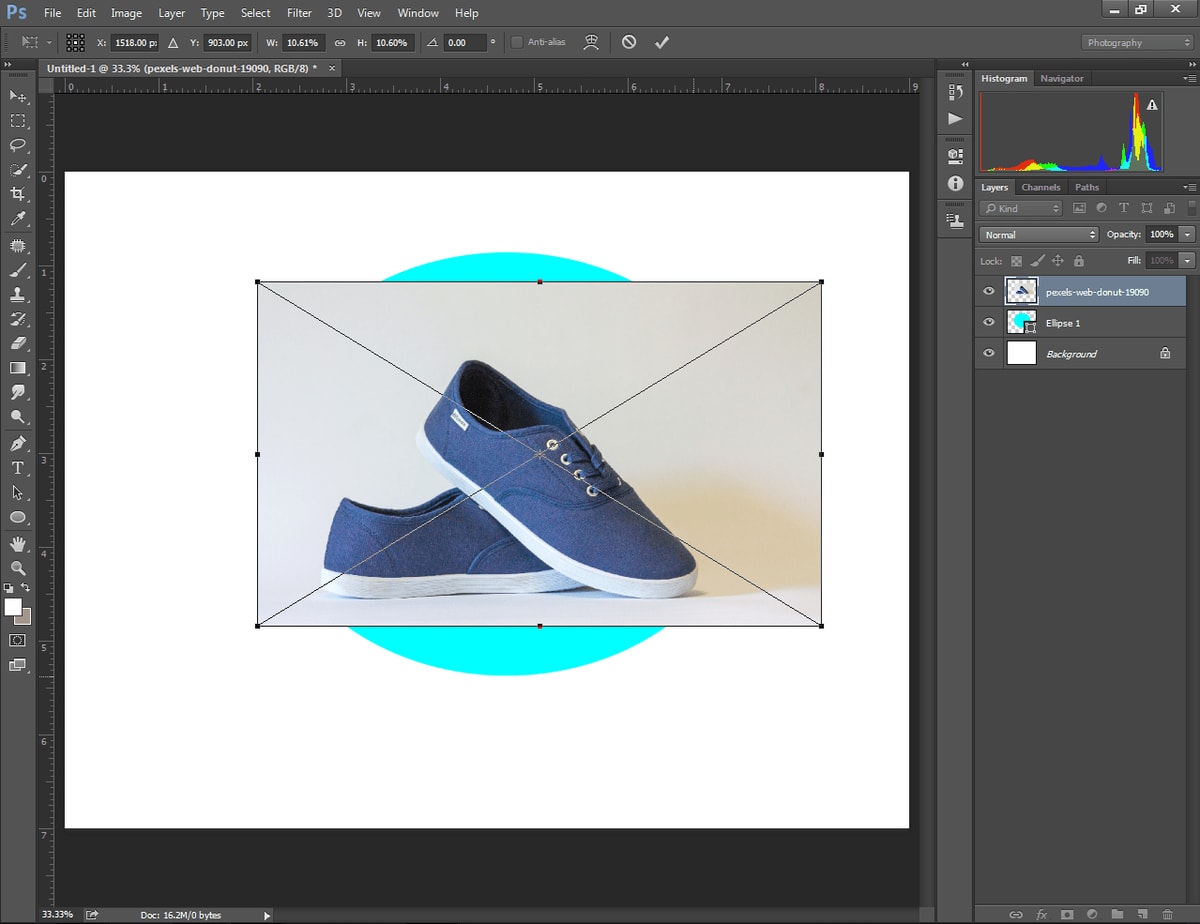 Move the image and position it in a suitable place. After that, you have to press the Enter key to place the image.
Step 4: Create A Clipping Mask
Now, press the ALT key and click on the below of the top layer. That will put the element of that layer inside of the second layer. Here you can see the example.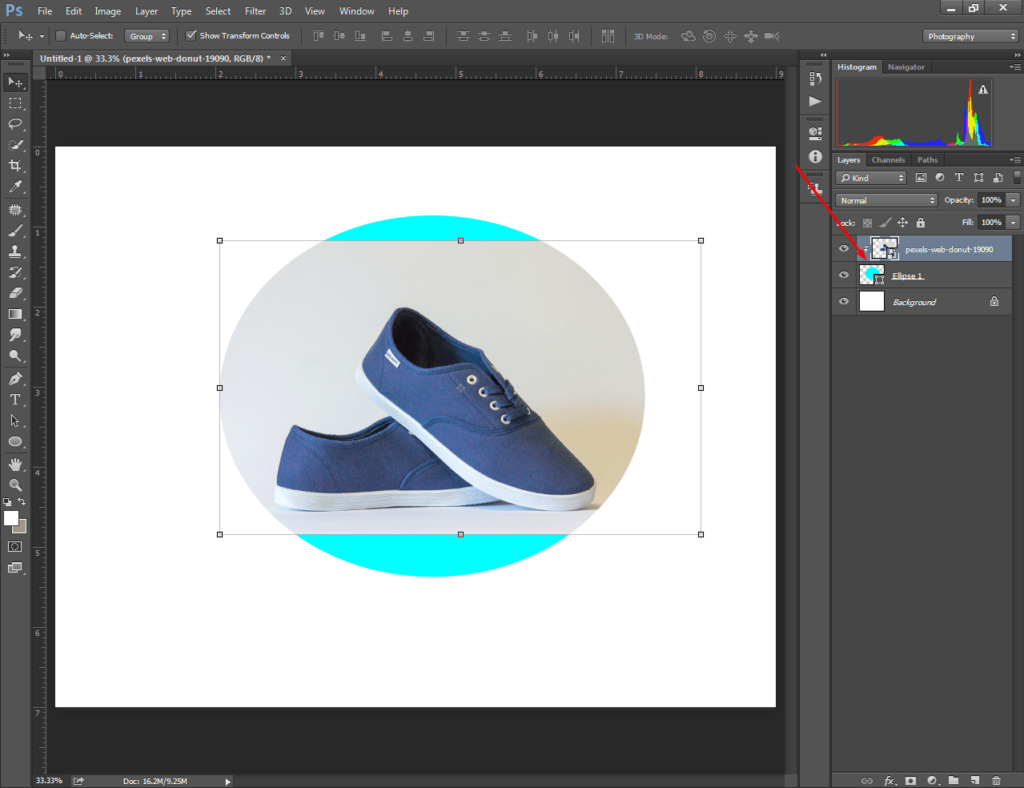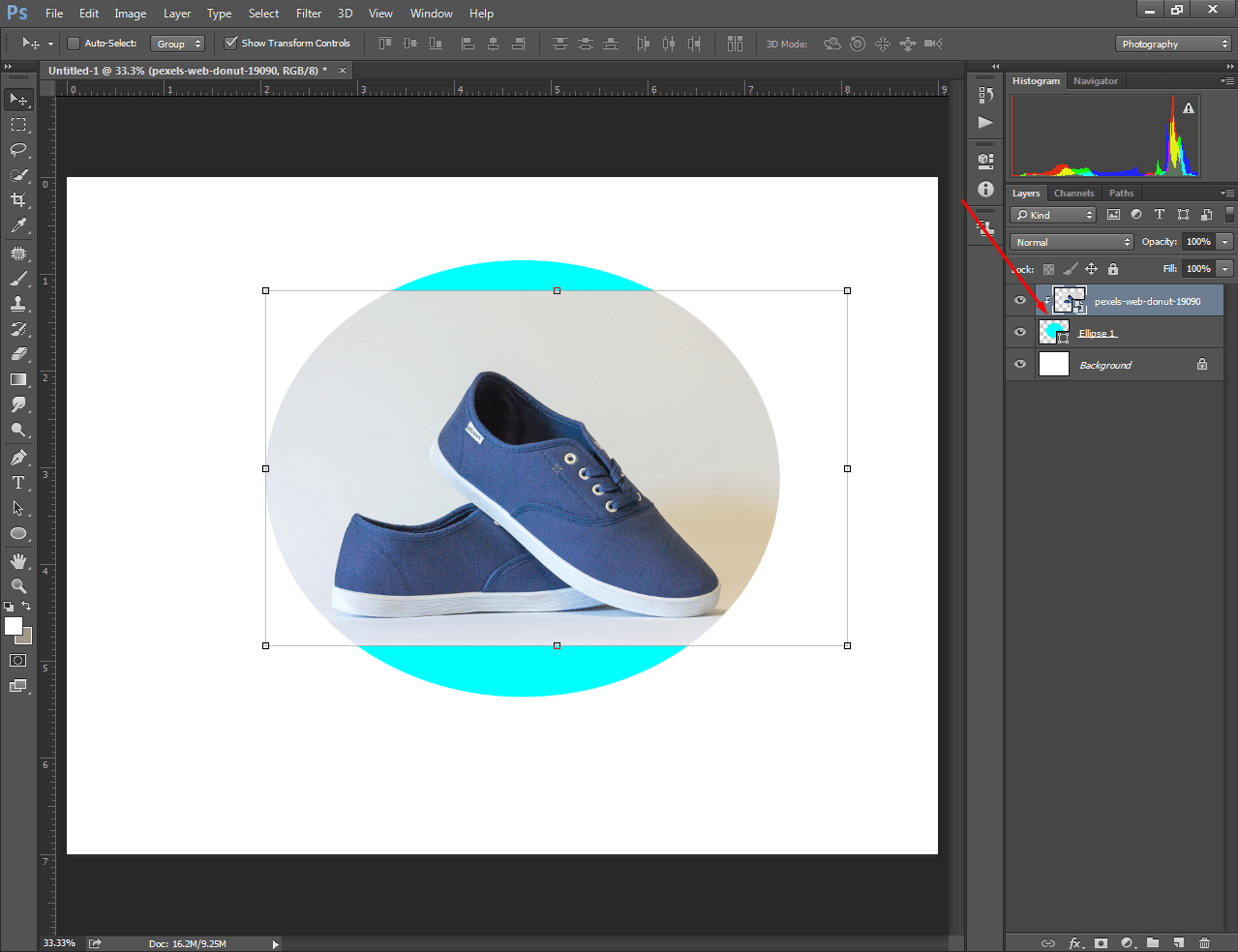 If you find the position unsuitable, you can replace and resize the object with the help of the arrow key. I have placed the shoe in the middle of the ellipse just like this.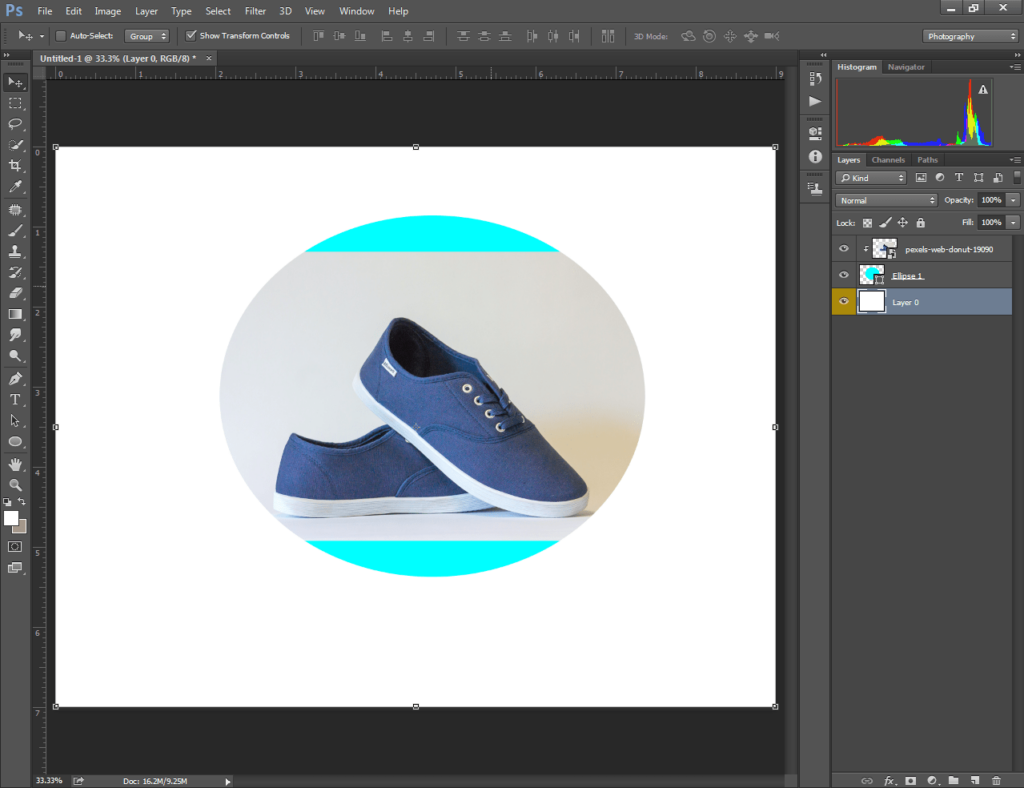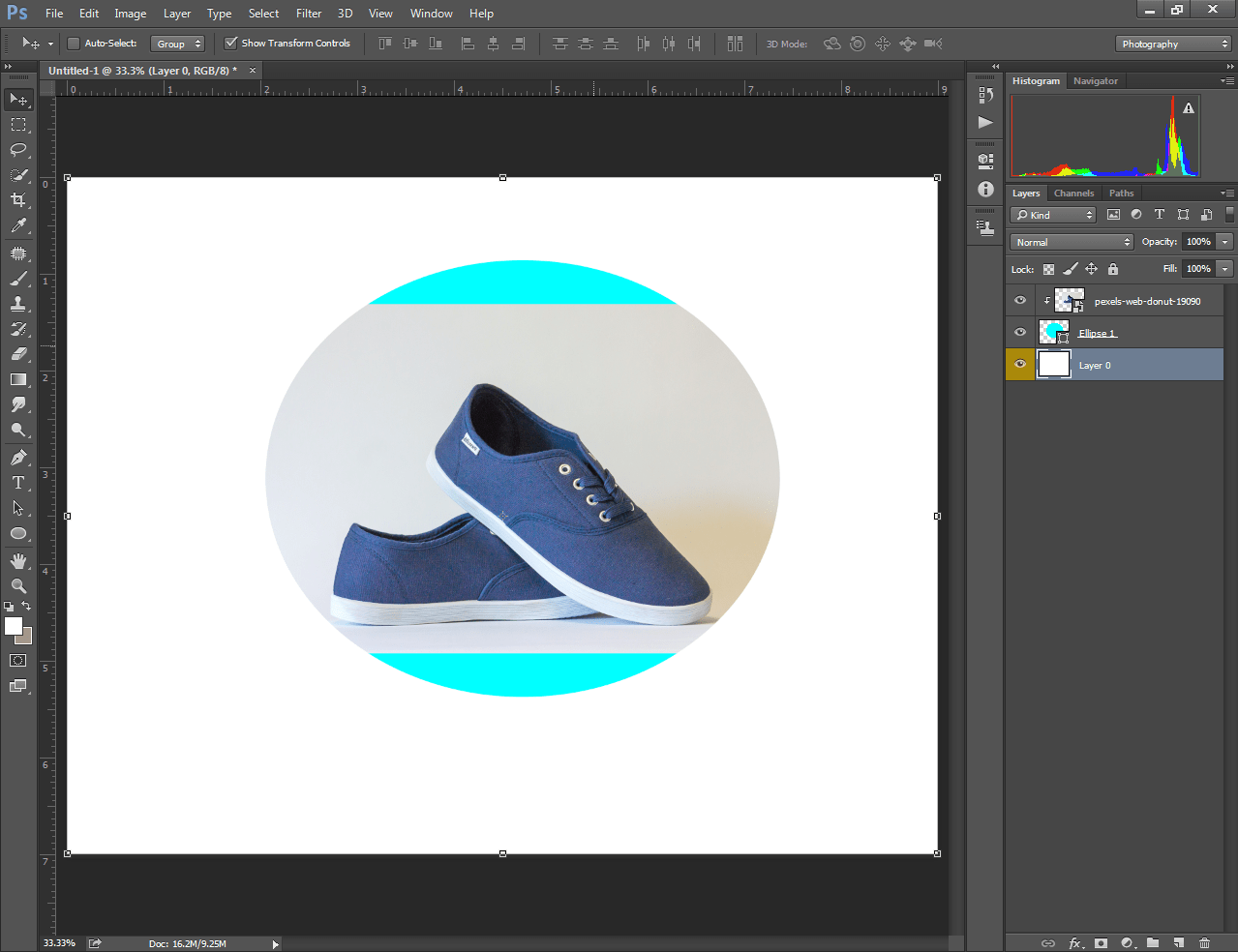 What about changing the background color? Let's do it.
Step 5: Set A Solid Color Background
To set a new solid color background, you have to click on the "Create Adjustment Layer " from the bottom of the layer section. Next to that, you ought to select the "Solid color" option from the top.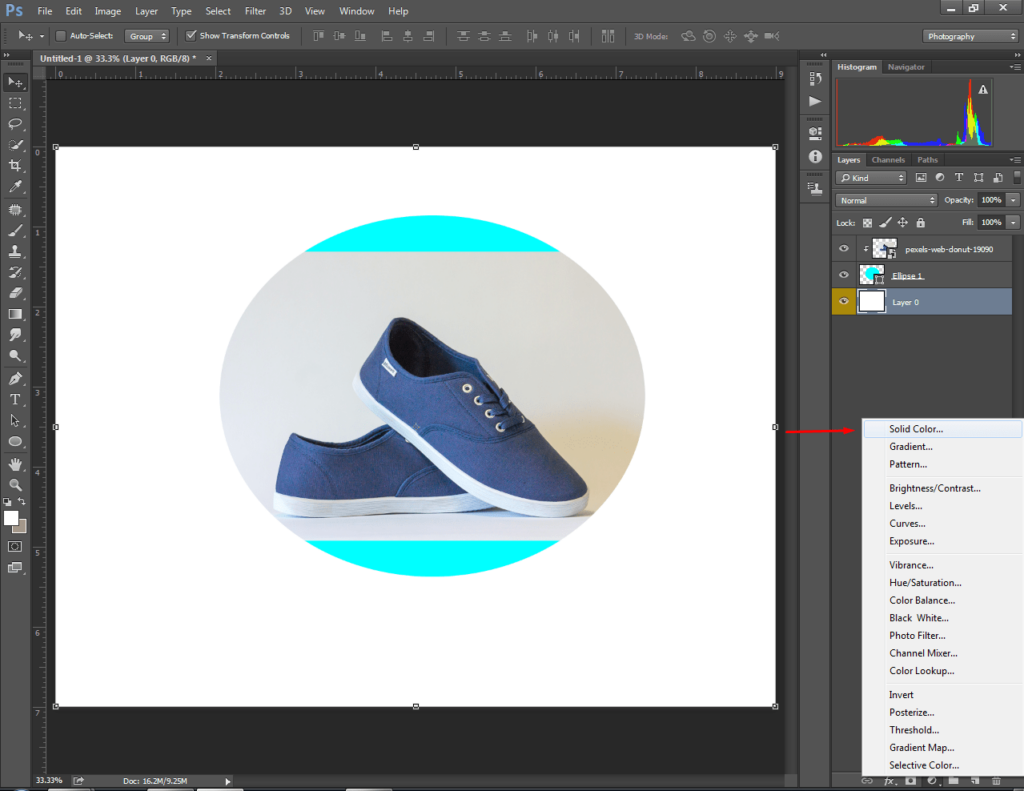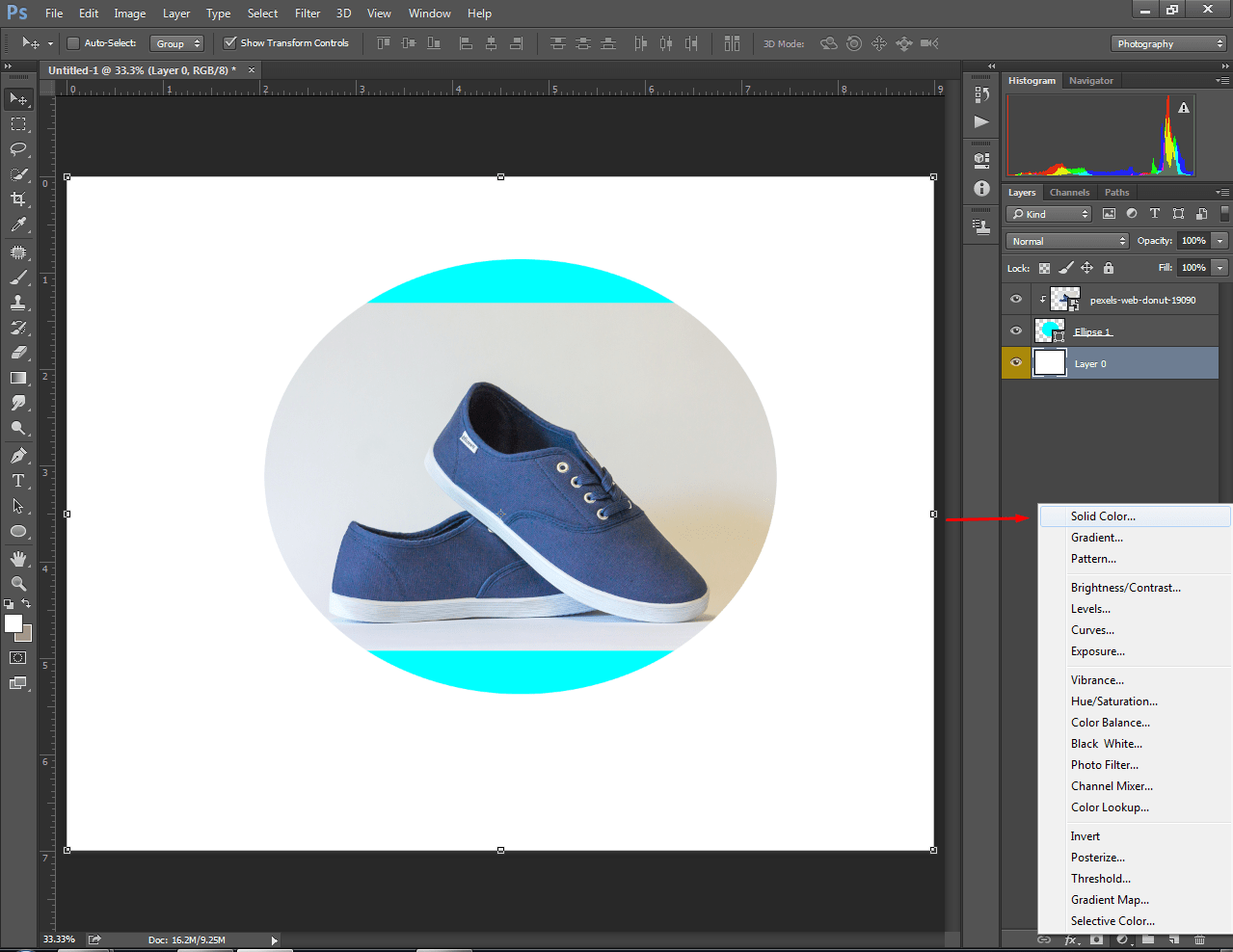 Select a suitable color that looks suitable as the product image background. I have picked that color.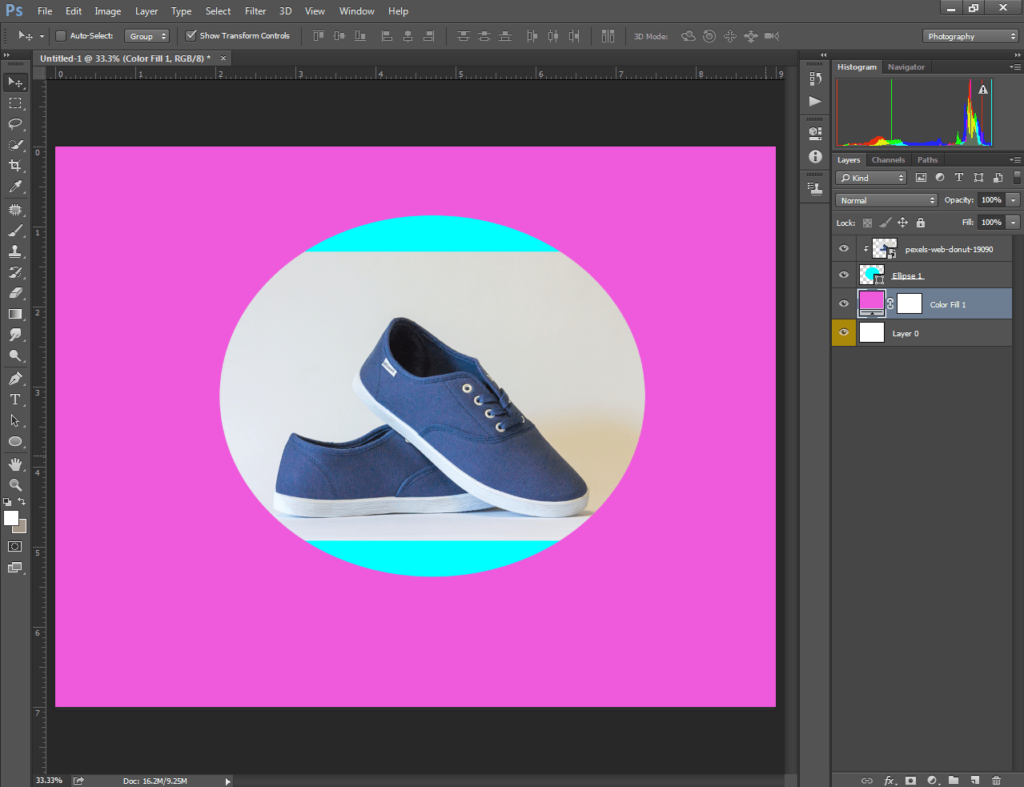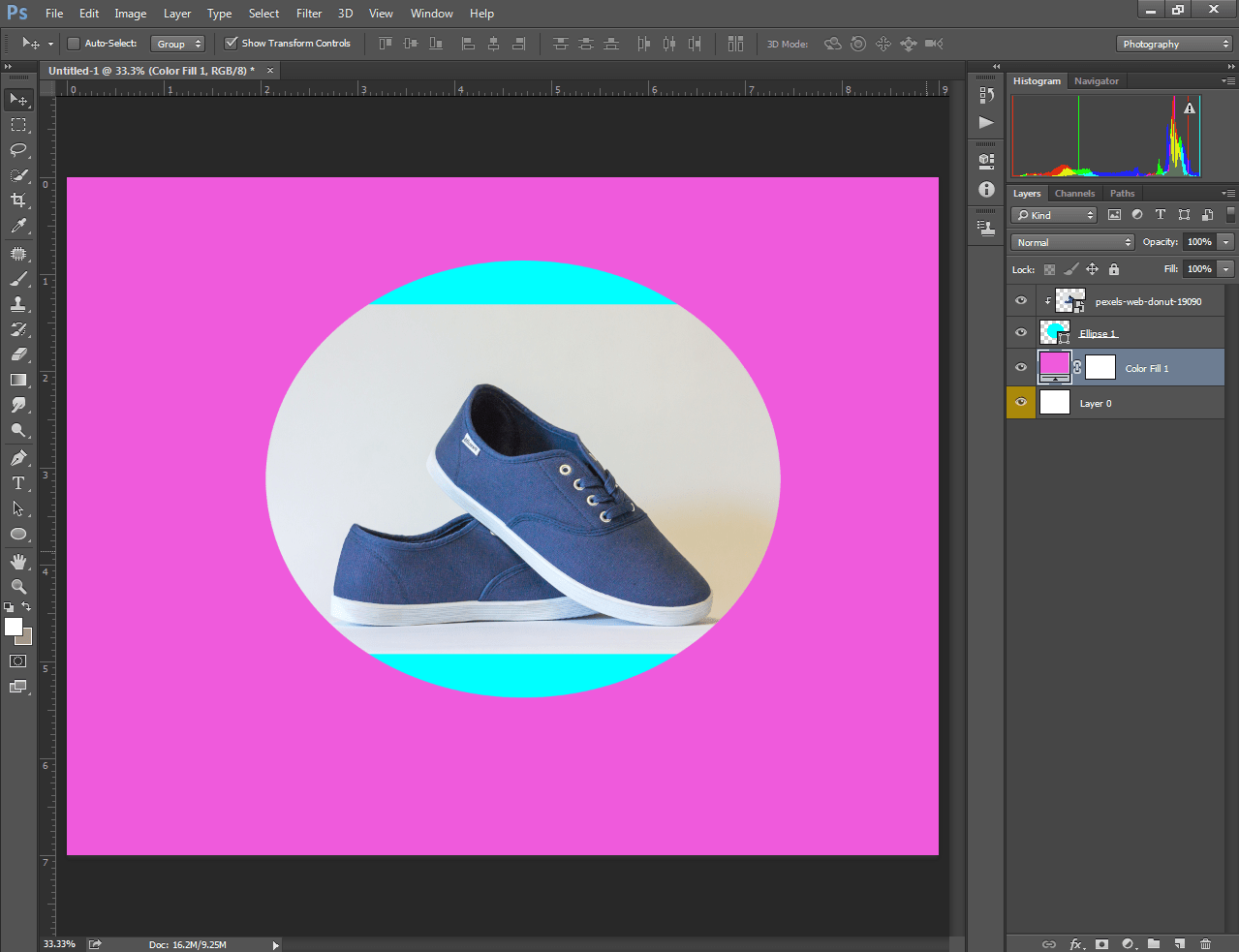 Some portions of the ellipse background color are still visible. If you also find that sort of existing color on your image, you can erase it with the assistance of the Brush tool. You need to pick the brush tool from the left side.
You have to click on the brush tool and select the product background color as the foreground color. Here is an example.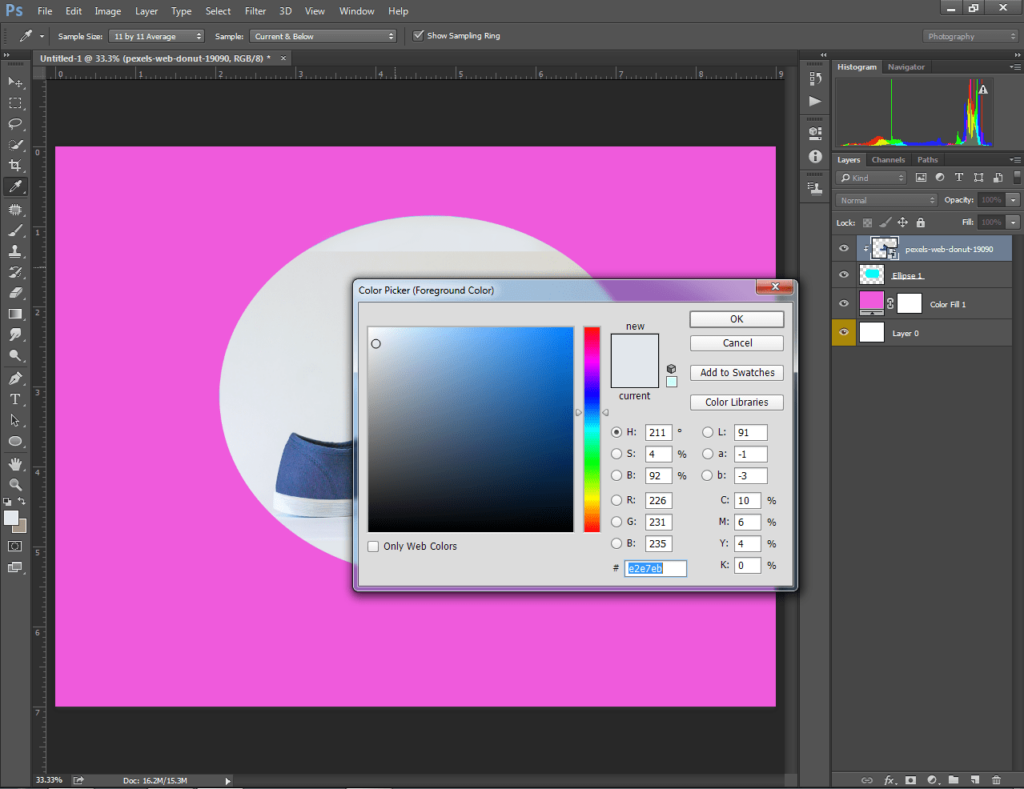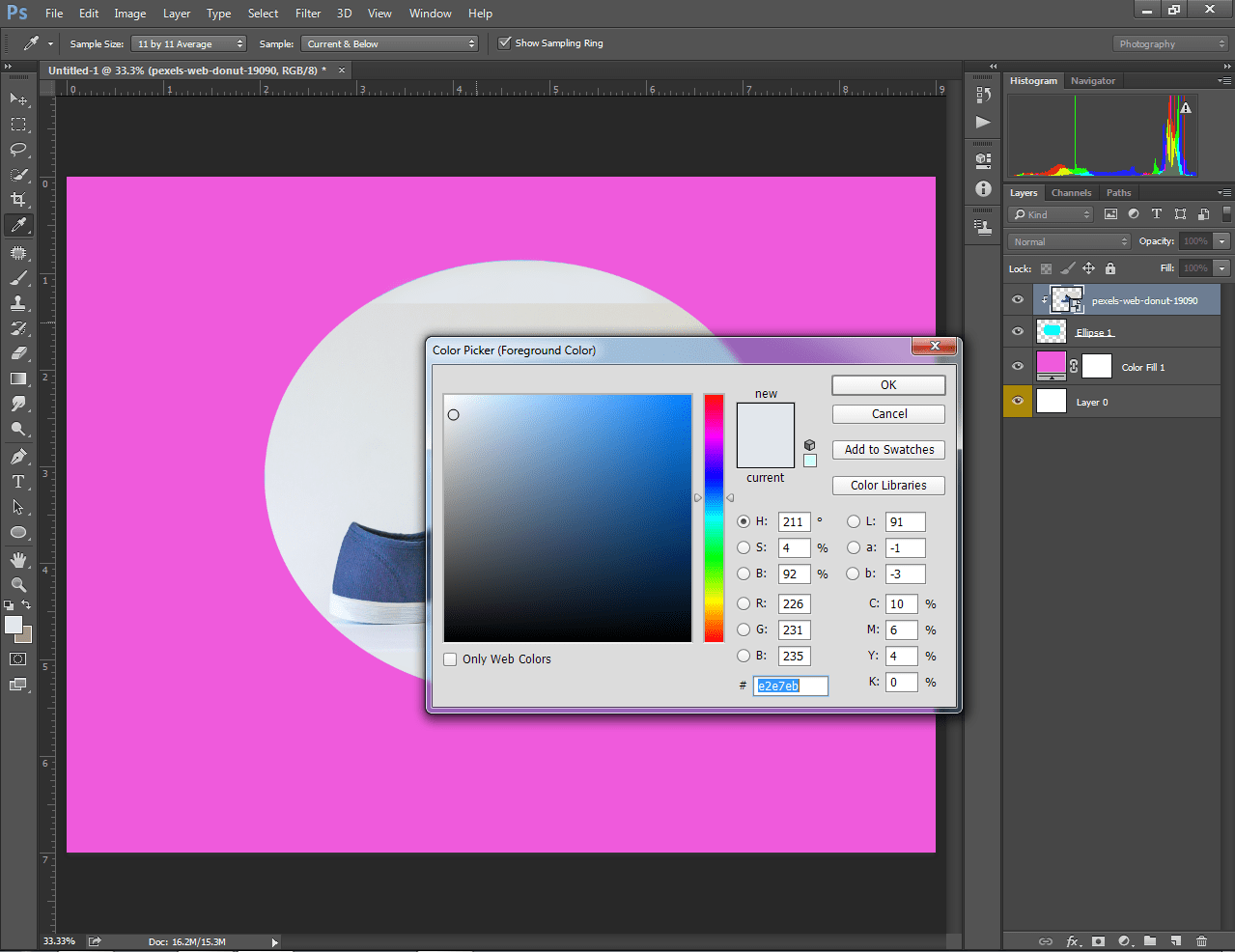 Then, you should paint on the ellipse background color areas. While dealing with the brush tool you need to click on the ellipse layer. That's all about how to create a clipping mask in Photoshop.
How to Release A Clipping Mask?
At some point, you may want to release a clipping mask. Thankfully, you can remove layers from a Clipping Mask within a few seconds. Let me tell you how to release a clipping mask with ease.
You need to press and hold the ALT key. If you are using MAC, then you have to press the option key. After that, click on the bottom line of the masked layer. That will release the clipping mask and you will get your image back in normal shape. You can release the clipping mask from the layer option by choosing "Release Clipping Mask".
OUTSOURCE YOUR IMAGES TO THE EXPERT DESIGNERS
How A Clipping Mask Works?
You might be wondering how a Clipping Mask works. Permit me to clarify this. In a clipping mask, the second layer or the bottom layer works as the base layer. That defines the visible area of the second layer or the top layer. At least two layers are needed to apply a clipping mask.
Usage of Clipping Mask
Basically, a clipping mask is used for placing an image within a specific shape or text. Applying the clipping mask technique, you can put your images within a photo frame. Besides, you can define which portion of a layer should be visible. Clipping mask is also a popular method to apply for inserting images within texts. That makes the text more appealing to see.
Clipping Mask Vs Layer Mask
As I have said earlier, there are some confusion surrounding clipping masks and layer masks. The layer mask is the method of hiding and revealing different portions of a layer. It can be applied on a single layer too. There is no primary layer or base layer or second layer. On the other hand, multiple layers are mandatory for clipping masks.
Final Words
At this point, you have learned how to create a clipping mask in Photoshop. Besides, you have got a clear concept about what is a clipping mask in Photoshop. Now, it's time to execute the technique. You can try to apply the technique to your image.
If you face any difficulties, feel free to Clipping Way. Have you got bulk images? You can try our Photoshop Masking Service to take off your extra pressure.
Frequently Asked Questions
Q: How Can I Fill Texts With My Image?
A: You can fill texts with an image by applying Clipping Mask.
Q: How To Insert An Image Within A Frame Using Photoshop?
A: Clipping mask is the best option for inserting images within a frame or any Shape.
Q: How Do You Create A Clipping Mask in Photoshop 2021?
A: You can create a clipping mask in Photoshop 2021 by pressing ALT + G.
Q: What Is The Shortcut For Clipping Masks in Photoshop?
A: ALT + G is the shortcut key for clipping masks in Photoshop.
Q: How Do I Mask Part Of An Image in Photoshop?
A: Using the mask tool and Brush Tool, you can mask part of an image in Photoshop.