27.2% of people buy products online worldwide. Perfect product photos help to increase people's engagement instantly. And improper photo representation decreases engagement and sales.
About 60% of customers revisit their online service providers to take the same or other services. So, it will be easy for you as an e-commerce business person if you can showcase your products properly to get the attention of your customer.
Ecommerce businesses will grow around 25% in the next 4 years. It is a great chance to grow on a bigger scale. So, if you are interested to enhance your e-commerce clothing store engagement and sale, you have to edit your product photos properly. So, you have to know about this if you want to enhance your e-commerce business.
Here I will try to discuss everything that you need to know about e-commerce product photo editing for e-commerce clothing stores. You will surely get benefits by reading this article.
So, let's go through it.
Why Product Photo Editing is Important for Ecommerce Clothing Store
Almost 99% of e-commerce product photos are edited anyhow that we can see online. For e-commerce clothing stores, it is really necessary to show realistic, right colored, and shaped product photos. The photos also must provide attention-attractive details. Most importantly, good product photos are a key to attracting more customers.
When a customer visits an e-commerce clothing store, their main focus will be on the products that they need or feel to have. If the site cannot showcase its products with proper photos, the site will hardly get customer engagements.
For this kind of e-commerce business, you need these kinds of e-commerce image editing. Background removing, Image reflection shadow, Color correction, Hollow man mannequin effect, etc. This photo editing can bring the best out of the e-commerce clothing store's products to ensure a more attractive representation. So, before posting the product's photos on the site, it is important to have proper e-commerce product photo editing.
Discounts are available. Don't miss this exciting opportunity.
How to Do This Type of Work
You can do this type of editing using Photoshop or other photo editing software and tools. If you have expertise in photo editing, it will be easy for you to do it yourself. But it requires a fair amount of your time and effort. So, if you want to do it yourself, keep practicing and improve your skills. Then you can easily do the editing you need for your work.
As a professional, it may become hard for you to provide always those time and efforts. So, you can use online photo editing services for your product's photos. The services have to be affordable and also properly finished so that you can be benefited. You can choose the services of Clipping Way because they can provide you with quality services and suggestions that will help you the most.
Type of Product Photo Editing Services for E-commerce Clothing Store
Here you will learn about 9 product photo editing services for e-commerce clothing stores. This part will help you to understand what kinds of e-commerce image editing you may require for the products and how they work.
Let's begin.
1. Product Background Removing
Background removal is one of the most used editing services for e-commerce clothing businesses. It is used to put more focus on the clothing products and replace them with some simple backgrounds. This gives the flexibility to capture photos with complex backgrounds. It also helps to shrink the file sizes.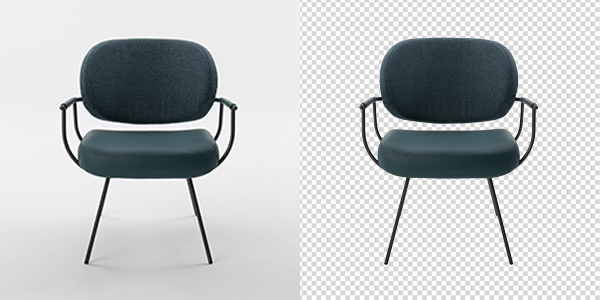 The process of removing the background is quite simple. You can do it by using the Pen Tool, Object Selection Tool, Eraser Tool, Magnetic Lasso Tool, Quick Selection Tool, and so many ways in Photoshop. You may find some free background removing software online. It is ideal to avoid those. Always try to do the task manually for better results.
2. Product Image Shadow Effects
Shadow effects can increase the realistic look and make the object more attractive. This image editing often happens after the background removal. It will give a fresh touch to your images. You may have to use this editing task in all the e-commerce photo editing for your business.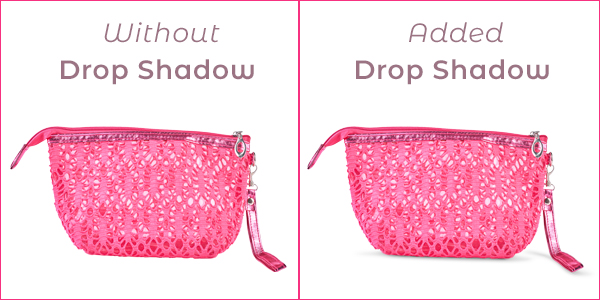 There are 3 types of shadow effects that you can add to your product images. Such as natural, drop, and reflection shadows. Natural shadow is seen when we put an object directly under the light. By adjusting color balance, we can simply show the shadow perfectly. You can choose between drop and reflection shadow creation according to your thought on creativity. It is totally up to you.
3. Adjusting Light Levels for Photos
More or lack of lighting commonly ruin our images often. If you can adjust the light levels properly, it will increase the beauty of your product images. For adjusting the light level, you have to balance the contrast, white balance, saturation, and sharpness of the photos.
This thing become so known that almost 70% of general people edit their photos to balance the light levels and then they upload those online. So, as an e-commerce professional, you have to understand how to use this editing properly on your clothing product images.
4. Product Photo Cropping and Resizing
Photo cropping and resizing processes are quite simple but these have huge impacts. These techniques help to decrease the file size but hold the quality of the image which is great for your customer to browse your site with fewer internet buffer issues. Moreover, you can ensure your website browsing speed remains fast.
These types of photo editing require less effort. And if you take the services from the service provider, the service charges are super affordable. Try to remember excessive cropping or resizing can decrease the quality of the e-commerce product photos. So, try to avoid excessive cutting.
5. Product Photo Color Correction
Product photo color correction is not an easy task to do. You must have good color sense, image editing knowledge, and creative ideas to complete the task. You also have to know how to improve color tone, combination, and saturation. So, it can be said that it is the task of professional e-commerce product photo editing service providers like Clipping Way to do it.
You can add bright colors to attract your customers. Sometimes dark colors can do magic for your showcasing work. You can also use different colors on the same clothing and represent them uniquely. For these reasons, this editing work requires more effort and time. But don't worry. If you choose a quality service provider for your work, you will see the changes differ in the editing work.
6. Product Photo Cleaning
It is a common issue that all of your product photos may not capture perfectly during photographing. This can be happened because of low light, bad background, and so many causes. But it is not a complex task to clean your photograph. You can use the healing Brush tool, Clone stamp tool, and other tools in Photoshop to clean your product photos.
Product photo cleaning is a very important issue for eCommerce clothing product photos. Because the customer may watch your product at a glimpse. So, it can be vital to represent a clean and nice look for your products. You may not require this kind of service if you try to stay cautious when you will capture the product images and also it the processing period. If you feel that you need to clean some of your product photos before uploading, don't hesitate to go for it.
BEAT YOUR COMPETITORS WITH BEST QUALITY IMAGES
7. Ecommerce Product Image Compositing
Sometimes putting several photos together and creating a new one can brighten out the best for the product advertising images. This will help you with a different concept to work on and your customer surely will notice the differences.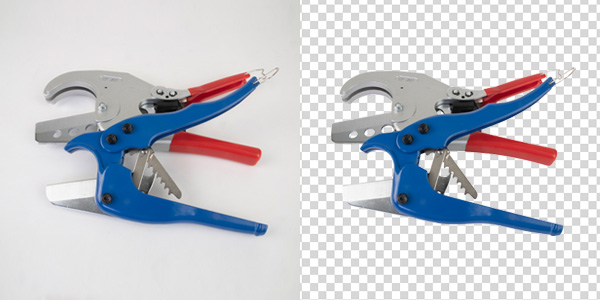 This type of editing work demands more time and effort. You have to remove backgrounds, collapse objects, adjust light levels, work on color correction, and maintain the proper shape and ratio for the products and then you can call it for the day.
8. Hollow Man Mannequin Effect/ Neck Joint
When customers think to buy clothing, they surely think about how the clothing will fit them. That's why we can use the mannequins are used in clothing stores almost everywhere to provide some ideas about fitting. However, the mannequins don't look great in photos. So, you can remove the mannequin but retain the effect after some photo editing. This will give a more attractive look to your e-commerce clothing product photos.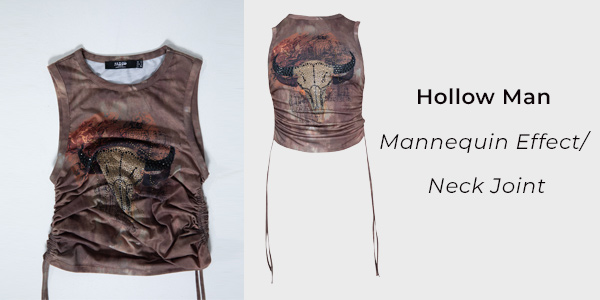 This type of work requires expertise and experience. You can become an expert by practicing more using Photoshop. The Object selection tool, Pen tool, Eraser Tool, and other tools can help to do this.
9. Product Color Matching
Color matching means you have to use the appropriate colors for your product as well as for the background. Otherwise, the whole work can become a failure. It is important to use brighter colors on the product than on the background. If the background color is brighter, then your product will not appear appealing to the customers.
It is also important to choose the appropriate color for the products you are displaying. Adding more color is not good. So, try to maintain the simple and bright colors according to the products and feel how they look. When you are satisfied, you can post it on your website.
Things Need to Consider
Properly captured photos can lessen the processing or editing work by over 50%. So, when photo shooting your clothing products for your e-commerce store, try to capture fresh and clear photos without disturbances. Here are some points that you need to consider before and after you edit your product photos.
Use the right equipment to capture the product photos.
Always try to use proper lighting sources when you are shooting the photos.
Don't forget to balance the light levels, color combinations when you are processing the product photos for uploading them online.
It will be great if you can keep it simple. So, don't do over or excessive editing to ruin all the efforts.
Always keep in mind what your customers want and what are the things they will like most when editing.
Never think that spending money on editing photos for e-commerce products is a waste. Believe me, it is a kind of investment for the e-commerce business.
RIGHT PLACE TO GET YOUR JOB DONE. IF YOU ARE A ECOMMERCE OWNER
Final Words
The e-commerce business is the future business model. Thousands of brands and companies like Amazon, Alibaba, eBay, etc. are selling their clothing products online and generating huge revenues. If you follow their product showcasing, you will see how they use photo editing and represent the simple products nicely.
So, if you want to enhance your e-commerce clothing business and stay ahead of your competitors, you have to think differently. Bringing new ideas can make big difference. You can create new product images by editing them properly. You can use appropriate and quality e-commerce image editing to ensure quality showcasing.
Have a nice day!